5 Customer Service Expectations You Absolutely Must Meet
The power of the consumer has never been greater. Believe it or not, your ability to meet certain customer expectations can make or break your overall business success and ability to grow.
Here's why:
1. The internet has put a plethora of options at consumers' fingertips.
2. Customers care about experience more than anything else — even price.
3. Buyers are making decisions based on reviews from real customers.
If you're not providing an exceptional customer experience and consistently meeting customer expectations, it's likely you're losing customers to competitors. The good news? If you feel like this is the case for your business, you can take steps to quickly get your customer engagement strategy on track.
In this guide, we'll tell you how to do it. We'll walk through 5 customer expectations to be sure you never miss, plus actionable strategies for meeting them effectively.
Quick Takeaways
Customers now expect response times of 4 hours or less. In some cases, customers even expect an immediate real-time response.
Three-quarters of customers expect highly personalized brand experiences and are disappointed when they don't receive them.
Omnichannel engagement is now a standard expectation at every stage of the buyer journey and throughout the entire customer relationship.
Customers want to engage with brands that are thought leaders. You can demonstrate thought leadership by creating consistent high-value content.
Quality customer service should include a smart balance of automation and human engagement.
5 Customer Service Expectations to Never Miss
Quick Response Time
It wasn't so long ago that a 24-hour response time was considered impressive. Today, however, nearly half (46%) of customers expect companies to respond in 4 hours or less, and 12% even expect a response within fifteen minutes of making an inquiry. 
When customers have a specific need from your service team, expectations are even greater — 90% say they want 24/7 immediate response availability.
To boot, three-quarters of customers consider response time to be the most important attribute of their experience with your organization.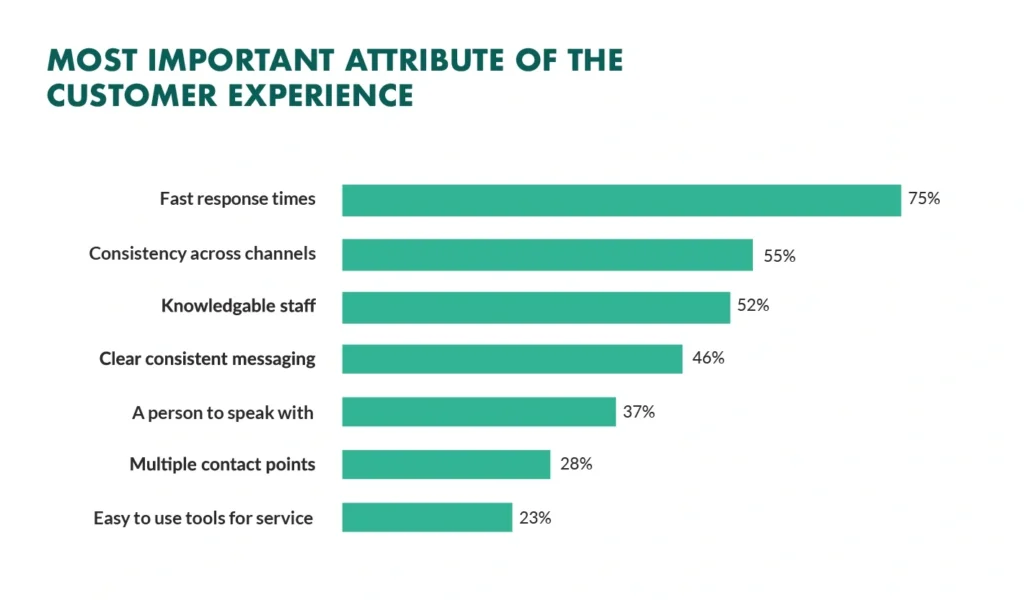 The takeaway: Lagging response times are one of the surest ways to send your customers elsewhere. To meet this expectation, leverage automation tools to supplement human support teams.
Be sure to track and continually optimize your processes to shrink response times as much as possible, especially in situations where customers are experiencing a challenge.
Personalization
Personalization has become table stakes for effective customer engagement. McKinsey research reports that 71% of customers expect personalization from brands they engage with, and 76% are disappointed when they don't receive it. Customers want to buy from companies that know their unique needs and deliver an experience specifically tailored to meet them.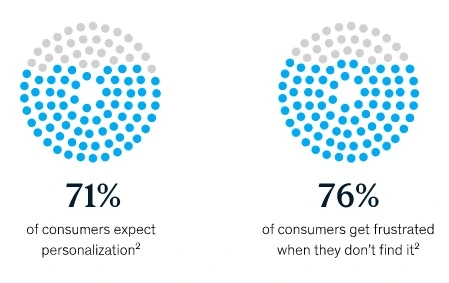 A high-quality personalized experience requires a smart balance of data-driven automation and real human engagement. For example: You can use customer data to segment lists and develop targeted engagement strategies (i.e. email newsletters with dynamic content or personalized product recommendations) and to ensure your human customer support teams can always be up to speed on a specific customer's preferences and interaction history.
Both are equally important. Leaning too heavily on automation can lead to personalization attempts that feel shallow to your customers. On the other hand, relying too much on manual and human engagement can be time consuming and impractical.
Balancing both is what allows you to deliver on customer expectations around speed and scale of your communications while prioritizing the human element when needed (like for customer support calls).
Omnichannel Engagement
The average B2B purchase decision maker uses 10+ channels to interact with suppliers during their decision journey, up from just 5 in 2016.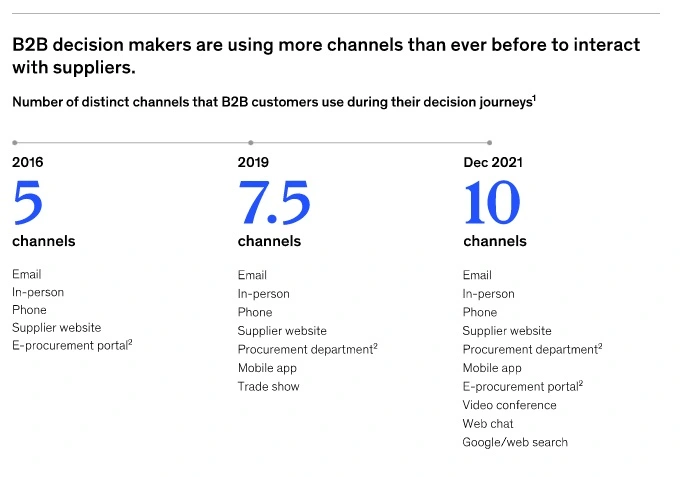 The expectation for seamless omnichannel engagement continues after prospects convert to paying customers. They want to be able to move across channels (think social media, email, your website, mobile apps, and more) while maintaining the same customized preferences and interaction history.
It's up to you to adopt and integrate tools and technologies that automate and enable this type of customer experience. Doing so is mutually beneficial for both you and your customer. They'll have a more seamless experience, and you can collect customer data that delivers insights you can use to improve your strategy and drive growth.
Thought Leadership
Customers want to engage with and buy from brands who have established reputations as thought leaders in their space. You can deliver on this customer expectation by creating and publishing high-value thought leadership content.
There's a wide range of content types you can make part of your strategy to do this — a survey conducted by SEMRush of 300+ marketers found that brands consider inspirational content, educational content, industry trends analysis, industry research, and opinion content to all fall under the category of thought leadership.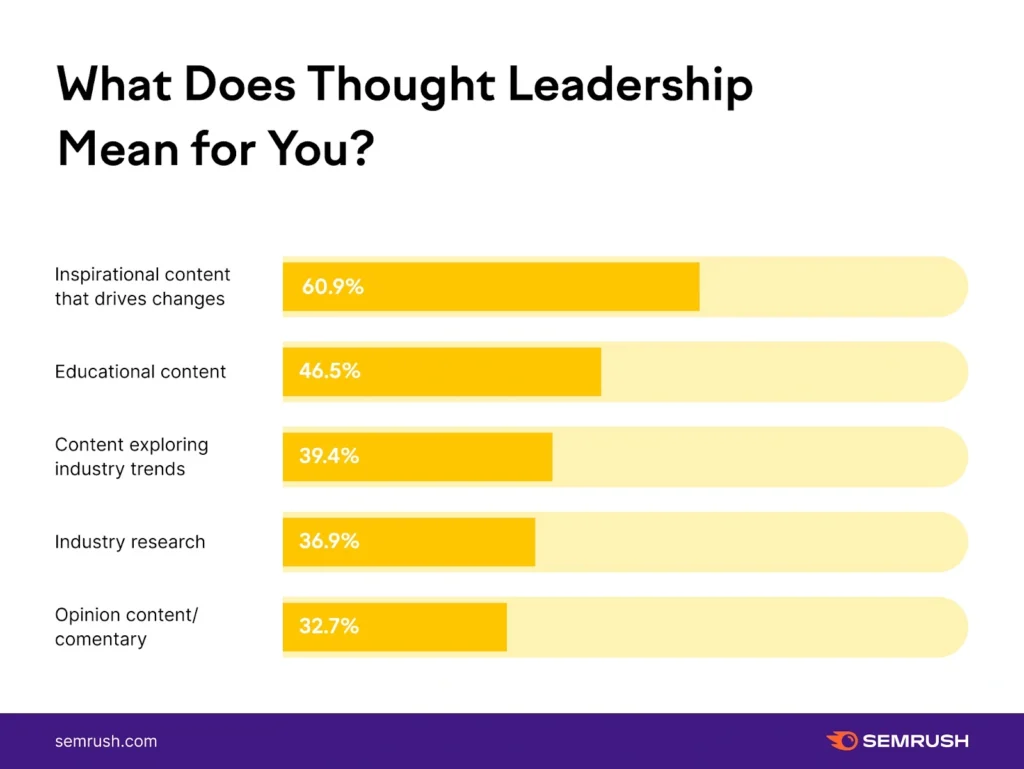 That means you can choose the types of content that align best with your brand personality and goals. The key is to publish consistently to add value for your audiences through content through their buyer journey and during their relationship with you as a paying customer.
Quality Customer Service
You might think that quality customer service should be able to go without saying, but the truth is that even in this straightforward category customer expectations have evolved and elevated. A perfunctory customer service operation won't be enough for modern buyers.
The best way to create an exceptional customer service experience is to equip your teams with the tools and training they need to deliver on expectations. Be sure they have access to customer data and have quality equipment, from audio/visual equipment to software tools to easy-access resources for addressing common challenges.
Enhance the experience by adopting automation tools like live chat bots that can supplement human support during non-business hours or for easy-to-answer FAQs. Provide resources online in the forms of content or customer forums for self-service support options.
Outsourcing customer service is also an effective and commonly-used option when companies need additional support and resources to meet customer expectations.
Over to You
One of the most effective ways to optimize your customer experience is to lean on third-party support when you need it. Outsourcing allows you to stay focused on mission-critical activities without ever sacrificing the level of care you provide to your customers.
Televerde's comprehensive customer service solutions include highly-trained call center staff, customer winback outreach, order fulfillment report, tech support, reservation services, and other extended support options.

To explore how our solutions can help you better service your customers, contact us today.