7 Customer Service Trends for 2023 and Beyond
As customer service teams begin to plan for the future, they should be aware of the trends that are likely to shape the industry over the next few years. From artificial intelligence to customer feedback systems, technology is quickly changing how customer service teams do their jobs. We'll look at seven customer service trends that are likely to become more prevalent in 2023.
Key Takeaways:
The shift back to in-store service is becoming more common, leaving many customers disappointed with the lack of digital customer support they've become accustomed to over the years.
AI technology can help when it comes to budgeting but will no longer be able to replace the human touch in customer service.
Marketing and customer service teams must work together to ensure that customers are satisfied and their needs are met.
7 Customer Service Trends for 2023
Staying ahead of customer service trends is essential to ensure your team provides the best service possible. From AI-driven customer service solutions to more personalized customer experiences, these are the trends that will have the most significant impact on customer service teams in the coming years:
1. There's More Demand for Self-Service Options
The self-service trend is increasing as customers expect quick solutions to their problems. Companies are trying to meet this demand by creating self-service models that allow customers to find answers to their questions without needing to contact customer service. You can do this through several methods, including:
A knowledge base
FAQ section
Chatbots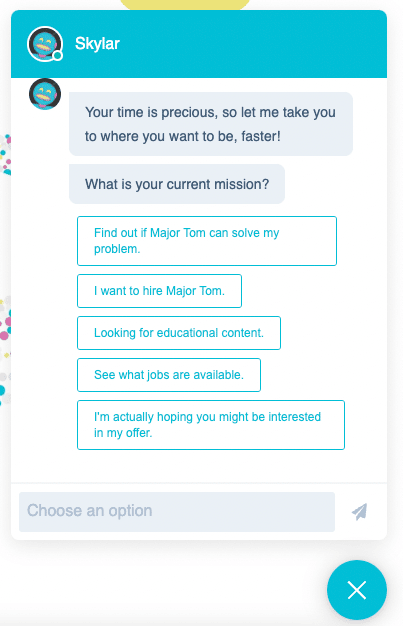 While this trend will likely continue in the coming years, it's important to remember that self-service can't replace the human touch. Customers will always need to speak to a human customer service representative to resolve their issues.
2. The Need for Proactive Customer Service Increases
Proactive customer service is when a company takes the initiative to reach out to customers before they experience a problem. You can do this through regular check-ins, surveys, or even just monitoring social media for mentions of your company. Proactive customer service aims to prevent problems before they happen and build relationships with customers.
Customers today expect solutions to work as they are supposed to, and they also expect brands to reach out and meet their needs. Proactive customer service not only shows that a company cares about its customers, but also that it's invested in ensuring that its solutions are working as they should.
3. AI Becomes More Essential to Make Staff More Effective – Not Replace Them
AI technology is becoming a standard part of the customer service landscape. While they can be used to automate repetitive and time-consuming tasks, they're not meant to replace your physical staff. Combining self-service support and AI tools can help you cut down on support queues while ensuring that your team can still provide quality customer service to those who need it.
So, instead of using AI to take the place of your staff, you should invest in the right AI tools to help make your team efficient and effective in their work. A few tools that could prove beneficial include:
Natural Language Processing: AI transcribing tools can help transcribe communications across a range of channels in a way that is both accurate and easy to understand while analyzing the data to help your team identify critical trends and opportunities for improvement.
AI Training Tools: These provide an excellent opportunity to help your team train more efficiently and effectively by providing them with the right information and content to help them grow and improve. This can include anything from training videos to help your team get familiar with the new technology to online courses and more. With the right AI software, each new employee would be placed on a personalized path to success that automatically moves them through the training process.
Machine Learning Tools: These tools can help your team identify trends and opportunities for improvement to create a more streamlined and efficient work environment while also helping you improve your overall customer experience.
4. Consumers Demand a Shift Back to Digital Services
Late 2021 and all of 2022 gained the name "The Great Reopening," and the shift back to in-person services and interactions came with it. Unfortunately, with many flocking back to in-person shopping, dining, and other interactions, businesses started spending less time on digital services. Research shows that the overall customer experience has decreased by 19%.
However, in 2023, customers expect brands to shift back to digital services, despite splitting their time between in-person and digital interactions. Customer expectations for digital customer service will still be high.
5. The Omnichannel Approach Will Continue to Grow
An omnichannel approach to customer service is when a company provides support through multiple channels, such as phone, chat, email, social media, and even in person. An omnichannel approach aims to provide a consistent customer experience, no matter how a customer chooses to contact a company.
This is becoming increasingly important as customers expect to be able to reach a company through their preferred channel, making it more critical than ever to embrace social media as a customer service channel.
6. Marketing Teams Will Become Active Players in Customer Service
With more emphasis being placed on the customer experience and adopting an omnichannel approach to support, marketing teams will start to play an increasingly active role in customer service.
As more customers prefer to use social media and messaging apps to communicate with companies, studies show that fewer customer service reps are available to cover these channels. One study found that 32% of brands say that their marketing team is exclusively responsible for handling customer service inquiries on these channels.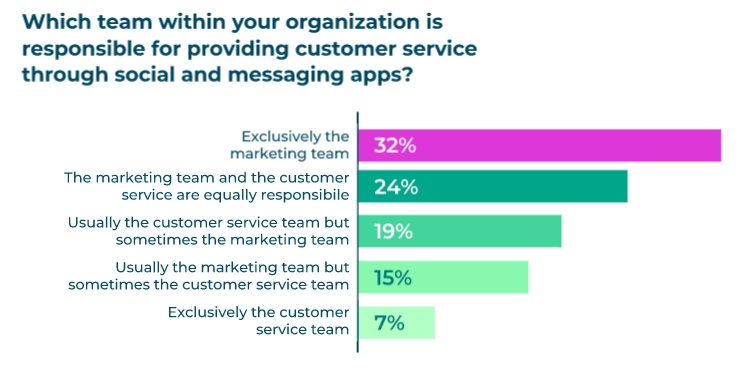 7. Personalization Gets More Personalized
As customers continue to demand the highest service levels, personalization is no longer limited to a "one size fits all" approach. Customers increasingly want more personalized experiences, including through customer service interactions.
In 2023, this will become even more important as companies invest in technologies such as AI and machine learning to help tailor the customer experience. Companies will use these technologies to better understand each customer's needs, allowing them to tailor their offers and interactions to each individual.
For instance, instead of simply receiving a greeting with the customer's name, customers will be greeted with their name and a detailed acknowledgment of the concern they've arrived with. For example:
"Hello, Clarissa! We're/I'm sorry to hear you are experiencing trouble with your (product/service). I'm here to ensure that we get you back on track. Here are a few steps we'll be taking: (lists specific troubleshooting tasks)."
Customer Service Done Right with Help from Televerde
Businesses should be aware of the many customer service trends in 2023. To ensure that your company provides the best possible experience for your customers, Televerde can help you stay ahead of the curve with our cutting-edge customer service solutions.
Contact us today to learn more about how we can help you take your customer service to the next level.