Download this case study to discover how our partnership with Broadcom Software generated the following extraordinary results:
75%
MQL to SAL Conversion Rate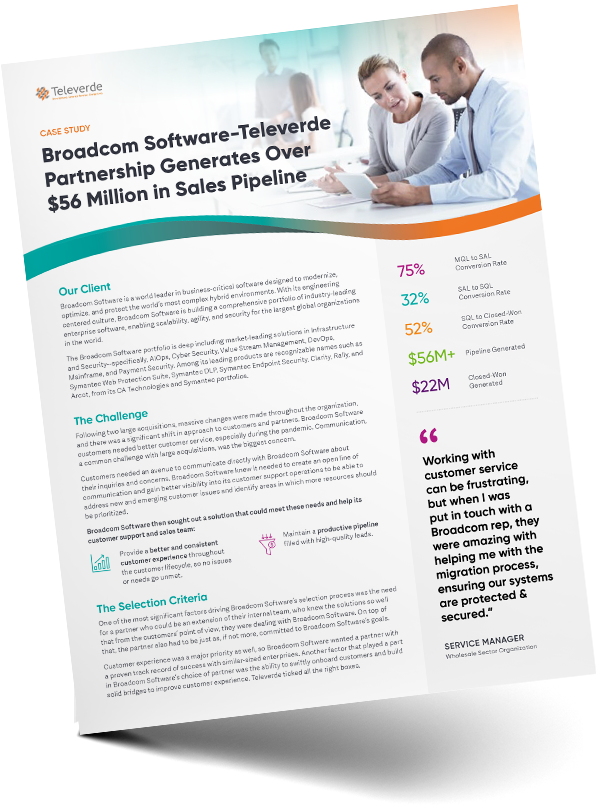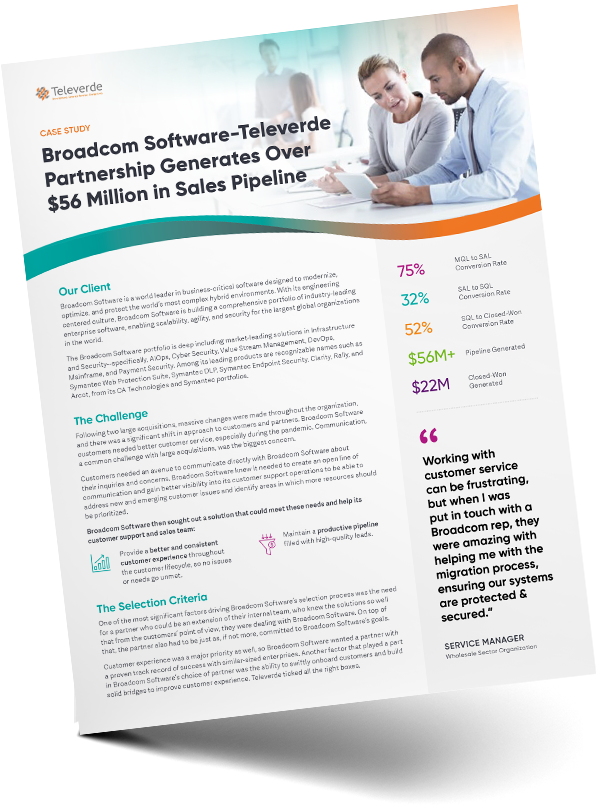 Broadcom Software is a world leader in business-critical software designed to modernize, optimize, and protect the world's most complex hybrid environments. With its engineering centered culture, Broadcom Software is building a comprehensive portfolio of industry-leading enterprise software, enabling scalability, agility, and security for the largest global organizations in the world.
Following two large acquisitions, massive changes were made throughout the organization, and there was a significant shift in approach to customers and partners. Broadcom Software customers needed better customer service, especially during the pandemic.
Customers needed an avenue to communicate directly with Broadcom Software about their inquiries and concerns. Broadcom Software knew it needed to create an open line of communication and gain better visibility into its customer support operations to be able to address new and emerging customer issues and identify areas in which more resources should be prioritized.
Broadcom Software partnered with Televerde and the agents hit the ground running—immediately establishing rapport with the majority of their account directors and developing strong internal partnerships. They worked as a true extension of the Broadcom Software team, combining empathy, customer service, and sales strategies to build lasting customer relationships within the Broadcom Software channel. Their priority was to nurture the relationship between Broadcom Software and its customers by offering relevant, timely, and empathetic outreach and support.

Our extended Televerde team consistently goes above and beyond, unafraid to venture outside their scope, to solve challenges for Broadcom partners and customers. Their support enables us to focus internal resources on our core business, with assurance that our partners and customers are being well taken care of.
Laura Mcgregor Falko
Head Of Global Partner Marketing And Partner Program Office, Broadcom