SAP Televerde Partnership Causes 41% YoY Increase to Mid-Market Pipeline
Download this case study today and discover how our partnership with SAP delivered impressive results that benefitted businesses like yours.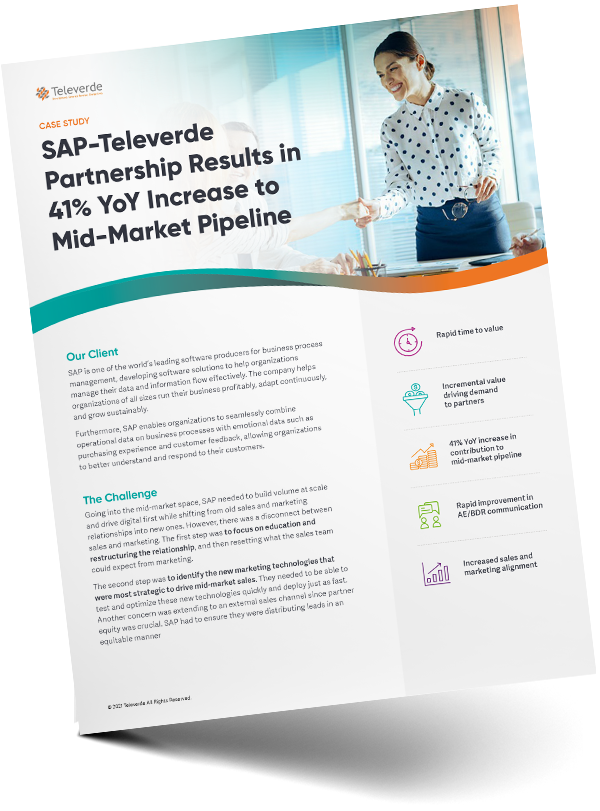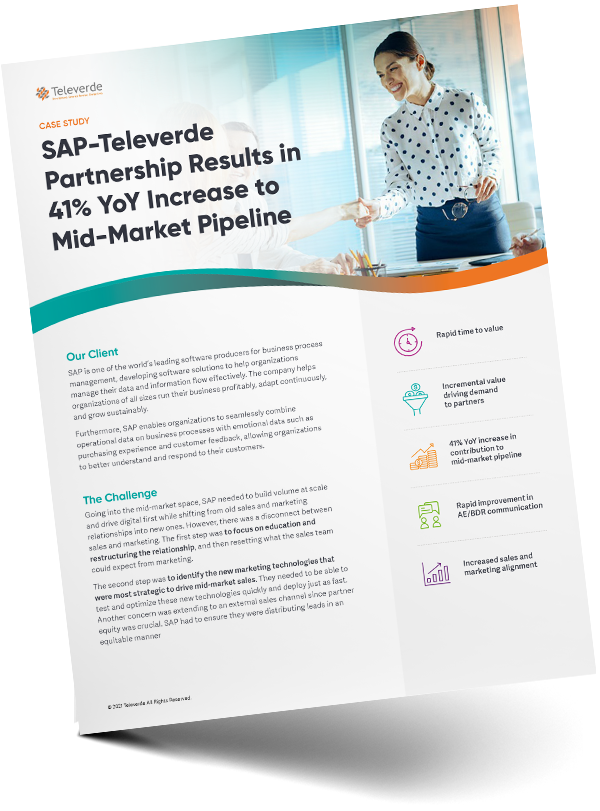 Our Client
SAP is one of the world's leading software producers for business process management, developing software solutions to help organizations manage their data and information flow effectively. The company helps organizations of all sizes run their business profitably, adapt continuously, and grow sustainably.
The Challenge
Going into the mid-market space, SAP needed to build volume at scale and drive digital first while shifting from old sales and marketing relationships into new ones. However, there was a disconnect between sales and marketing.
They needed to be able to test and optimize new technologies quickly and deploy just as fast. Another concern was extending to an external sales channel since partner equity was crucial. SAP had to ensure they were distributing leads in an equitable manner.
The Solution
SAP engaged Televerde to implement best practices and ramp up its sales and marketing. To ensure the two teams were aligned, Televerde kept open lines of communications with the SAP sales team, defined KPIs, and set the stage with an outline of expectations for the partnership.
Televerde put its business development representatives (BDRs) to work—qualifying leads, getting a better understanding of the customer's pain points, and making sure the lead is routed to the right team. Televerde used the best-of-breed technologies to optimize campaign results and deliver real-time insights to SAP.
The Results
SAP managed to get the mid-market phase up and running in less than three months after aligning with Televerde to determine what would work for them. Expanding its partner ecosystem came with its challenges, which SAP could address quickly and effectively with Televerde's help.
Televerde continues to be one of SAP's main demand partners—consistently exceeding expectations year-over-year (YoY). In fact, SAP managed to increase their contribution to the mid-market pipeline by 41% YoY.