The Why and How of Omnichannel Call Centers
Today, customers expect accessible, comprehensive, and convenient communication. Out of this expectation, the customer service industry has created omnichannel call centers to meet that need.
An omnichannel call center can give your company the power to meet customers' needs, no matter where they are. They're a valuable resource for any business that values communication and customer service.
Explore the reasons omnichannel call centers are so important, as well as what makes them work.
Key Takeaways:
In recent years, customers have grown to expect seamless digital experiences.
Multichannel call centers are a temporary solution to a permanent problem.
Omnichannel call centers give you the power to serve your customers across a variety of communication channels simultaneously.
What Communication Channels Are Your Customers Using?
When Apple launched the App Store in 2008, the idea of a digital-first business was still a novelty to many consumers. It's taken customers nearly 30 years to truly acclimate to the world of ecommerce. Accelerated by 2020's lockdowns and the work-from-home revolution, customer expectations have shifted drastically in recent years.
While some customers still prefer face-to-face communication, the days when companies could rely on in-person communication alone are long gone. Today, customers are more likely to expect digital-first or digital-only communication across a variety of channels.
Each communication channel has unique strengths and weaknesses, so to provide the most value to your customers, you should capitalize on the strengths of each channel.
Telephone. While telephone is still the most popular communication channel, there's a clear generational divide, with telephone being most popular with customers in the 55+ age bracket while younger customers prefer email and online chat.
Online Chat. Telephone conversation is rich in depth, but some customers prefer the convenience of online chat, either with a human customer service agent (via text or video chat) or with an AI chatbot.
Social Media. Worldwide, 93% of marketers use social media as a communication channel, with advertising giant Facebook leading the pack in terms of popularity. Many customers turn to social media for service before they ever visit a company's official website.
Email. While online chat is more immediate and convenient, email is more permanent and long-form. Because of these unique strengths, email and chat aren't interchangeable. Although they share similarities, your business should incorporate both chat and email into your customer communication strategy.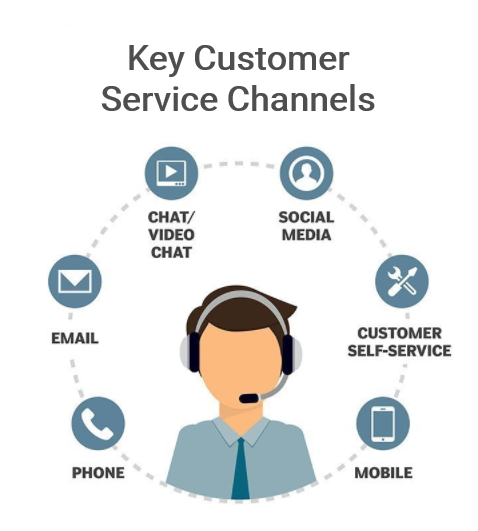 Why Omnichannel Call Centers Matter
Nobody likes to repeat themselves. Add that frustration to a situation where a customer is already experiencing hardship, and you have a recipe for disaster. Unfortunately, most customers will only contact customer service when they encounter a problem, so your customer communication must maximize convenience while minimizing repetition.
Omnichannel call centers accomplish this by bringing communication from multiple channels into a single customer experience. Rather than dealing with expensive overlapping teams, you can optimize your profits by using one multi-talented team of customer service experts who can help customers where they are, whether that's on your website, on social media, over the phone, or through another app or API.
To create a more effective omnichannel experience for customers, consider improving existing communication channels. Learn how through this video:
Example of How Omnichannel Call Centers Work
A customer who encounters difficulty with your product might go to your website to view your FAQ section to self-service their own issue. If they can't resolve the issue on their own, they might use the chat function on your website, thus moving to a new customer service channel.
After a few chat messages, they could decide that it would be easier to explain their issue over the phone, so they call a customer service representative (a third communication channel) to resolve their issue.
Throughout this one interaction, the customer moved from self-service to chat to a phone call, but in another situation, they might have used even more or fewer communication channels. In a multichannel call center, every time the customer transitions to a new communication channel, they would have essentially started over at square one. Although they could choose which channel they used, they can only choose one – to move to a second, third, or fourth channel of communication, they lose any progress they'd made in explaining and resolving their issue.
In an omnichannel call center, each of these communication channels is unified into a single experience. For instance, when a customer escalates their chat to a phone call, their customer service representative will be able to see their chat history, and the person they call might even be the same person they chatted with originally.
Multi-Channel vs. Omnichannel Call Centers
In the past, reaching customers across every communication channel meant multiplying your customer service expenses. Thankfully, technology has made omnichannel communication available to a wider range of companies.
In a multi-channel call center, customer service teams implement separate processes for each channel of communication. While this approach is a good stopgap adaptation to evolving norms, it isn't cost-effective because it requires your company to invest in overlapping teams and technologies – starting from zero with each channel that you serve.
On the other hand, omnichannel call centers take advantage of the synergies between communication channels. By using omnichannel call centers, you can create cohesive teams that can help customers across multiple channels at the same time.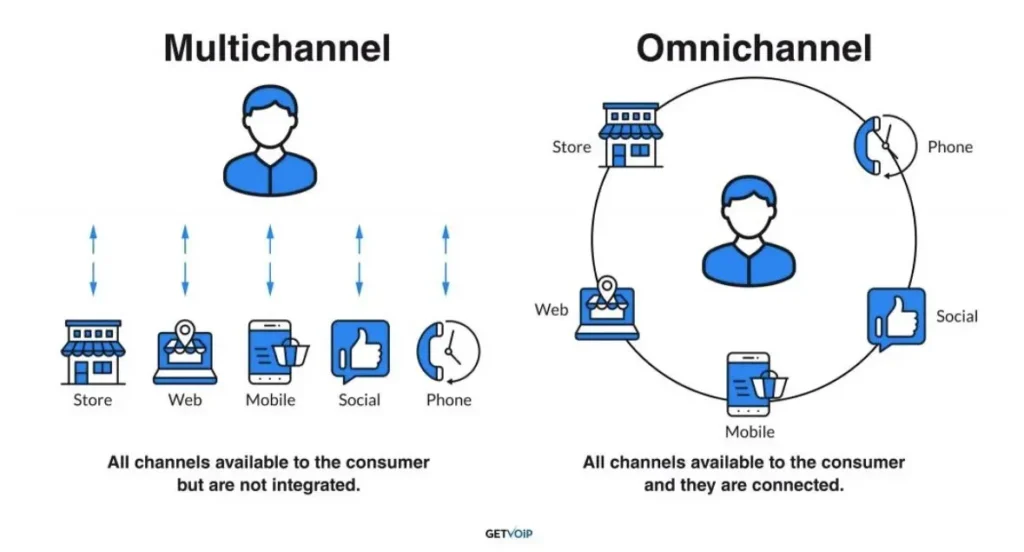 Customer Care with Televerde
You value your customers, and you want them to have a positive experience with your company, but that's easier said than done. That's where Televerde can help.
By taking advantage of omnichannel technology, Televerde helps you provide multilingual service to global customers while prioritizing efficiency and cost-effectiveness.
You can put your customers' needs on top by giving them convenient, comprehensive customer care. At the same time, you can simultaneously improve the lives of hundreds of incarcerated women by giving them opportunities for empowerment and fulfillment, and you can do all of this while also prioritizing cost-effectiveness and results.
Televerde's unique model gives incarcerated women a second chance at realizing their full potential. But while some clients may come for the good cause, they stay for the results.
To see how Televerde can help you thrive through omnichannel customer care, contact us today.