4 Strategies to Level Up Your Personal Branding
While you might not think of yourself as a brand, the way you present yourself to the world, whether online or in person, is your personal branding.
Like a business, you need to maintain your brand to show potential employers and associates the best version of yourself. You must also make your brand stand out, especially when searching for a new job. This is particularly important as most estimates show that between 70% and 80% of jobs are filled through direct networking.
When you treat your personal image as a brand, you might be surprised by how much better you can market yourself and improve others' perceptions of you.
Here are some top strategies you can try to enhance your personal branding.
Key Takeaways
Personal branding helps control the image you want others to see when they think about you.
Understanding what your skills are and what makes you different can help you define your personal brand.
Broadcasting your accomplishments is a good way to help other professionals notice you.
What Is Personal Branding?
Personal branding is the story you tell others about yourself. It includes your unique experiences and skills that come together to form who you are today. Your branding is also what sets you apart from the crowd.
Celebrities are real-world examples of people who carefully control and promote their personal brands. Think about world-recognized personalities like Elon Musk. He has an impressive following on Twitter, where he shares his ideas and opinions to make himself a thought leader in his field.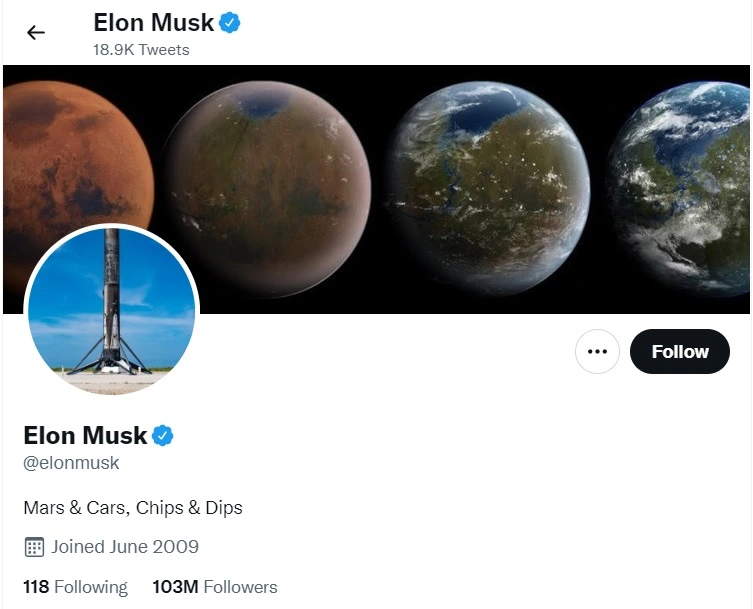 Source: https://twitter.com/elonmusk
The Kardashian/Jenner family has built nearly all of their success based on their personal brands and influence and how the public feels about them.
In today's world of social media, personal branding is relatively easy to do. You can carefully craft the images, information, and media you share online. When you improve your personal brand, you can attract the right attention, get a new job, bring together new investors, and draw the interest of new clients. This can be helpful both personally and professionally.
How to Define Your Personal Brand
To understand what type of brand you want to present, you should think of yourself as a business. If you have any marketing experience, you can use similar strategies to hone and improve your brand.
Consider asking yourself the following questions:
What is my goal?
Who is my target audience?
What problems can I solve?
How am I different?
What do others think about me?
The answers to these questions can help you narrow down what you what your branding message to be, who you want people to see when they meet you, and what your ultimate purpose is.
If you are a visual learner, consider creating a personal brand framework like the one below.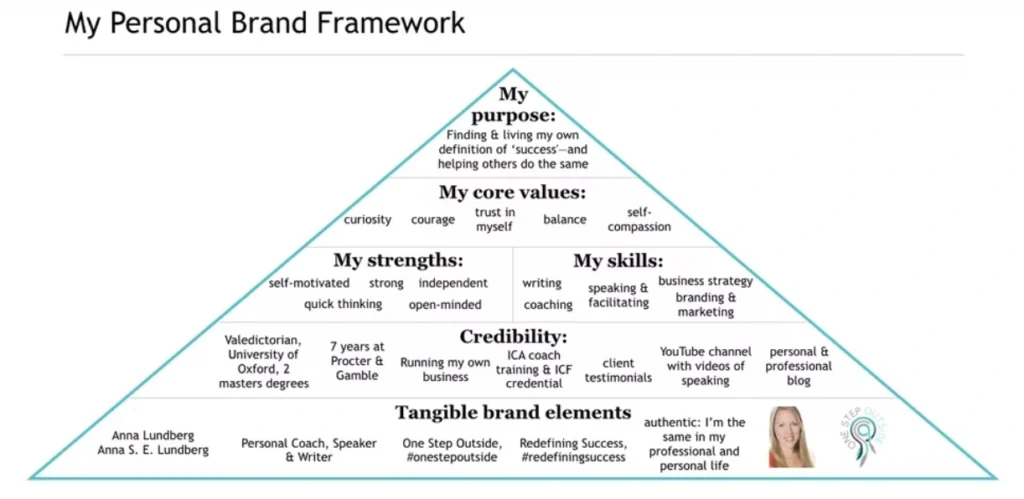 While personal branding is crucial when applying for a new job, it also serves a purpose in other business situations. Personal branding may help you earn a new promotion or help you succeed in your current role, especially if you regularly interact with clients, customers, and other business professionals.
4 Strategies to Enhance Your Personal Brand
Use these strategies to help you refine your digital and professional brand.
1. Refresh Your Biography
If you grew up in the age of social media, you likely have shared much of your life online. Looking back at who you were ten or more years ago, you might cringe and be thankful for how far you have come.
While much of what you've posted online is essentially permanent, you should take the time to delete any old images, messages, or other media that could be potentially embarrassing or damaging to your older, more mature self.
Try to craft your biography much like you would your resume. Your life story is always evolving, and your online presence should reflect that.
If you are trying to advance your career, pay close attention to professional sites like LinkedIn. Make sure your biography there tells a compelling story and shows the value you can add to a business.
2. Use Your Voice
If you want to move up in your career but feel intimidated by those around you, you likely won't make much of an impression. In meetings or online discussions, use your voice and share your thoughts. Let others in the room or digital meeting know you are there and engaged.
Consider sharing more thought-provoking content in non-work situations like on your social media profiles. Share interesting articles, post an engaging poll, or ask thoughtful questions.
These activities can help others get to know you and begin to see you as a thoughtful, engaging person.
3. Share Your Portfolio
A portfolio is a collection of your best work. The internet is a great place to share this. While you can share pieces of your work on social media, creating your own personal website may be the right choice. A website that is wholly yours gives you absolute control over the way it looks, how it works, and what you present on the site. Showcase your accomplishments and the work you have done over the years.
Spend money to invest in a domain name that matches your own. This can help elevate your personal brand.
4. Broadcast Your Accomplishments
Being a humble person is an admirable trait. However, if you want to excel in the business world, you need to spend time bragging about yourself and your accomplishments. You can do this easily through social media. However, if that feels unprofessional, consider sending emails to your professional network updating them on what you have been doing every few months. Ask them to return the favor to make it feel more natural.
Televerde Understands the Power of Personal Branding
At Televerde, we understand how important promoting yourself can be. As a purpose-built company, we focus on second-chance hiring. Today, more than 70% of our total workforce includes incarcerated women. We help these women see themselves in a new light, teach them new skills, and help improve their personal brands. When released, they know what they are capable of and how to use their new, confident personal brand to pursue educational opportunities and new careers.
We are proud of our Televerde team and the work they do to help businesses with marketing, sales, and customer support solutions. If you are working to improve the branding of your business, a positive partnership with Televerde could help.
Are you ready to see how our brands can work together? Contact Televerde today to learn more.