A Unique Approach to Customer Journey Optimization
We combine demand generation marketing, global sales, and a customer centric experience to increase your customer base and revenue. We use the best call center practices, customer service values, and staff to provide consistent results for every lead and customer lifecycle stage. We reach your customers at multiple touchpoints along the customer journey.
Our business model, best practices and integrated solutions has enabled us to deliver $65B+ in pipeline and $12B+ in revenue creation for our customers and counting.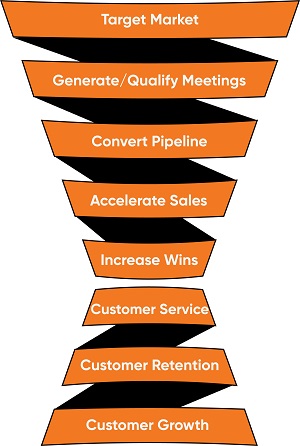 Marketing Services to Drive Your Business Forward
We are an outsourced call center skilled in lead development and demand generation. Our granular insights and engagement analysis inform high-level marketing strategy designed to create targeted demand.
---
Drive Processes for Dynamic Sales
Your buyer's journey can begin anywhere. Using data-informed touchpoints, analysis, sales discovery questions, our BDRs and ISRs use an optimized process to guide customers to the same destination: your unique offerings.
---
Sales Qualification & Development
Invest in Your Customer's Potential
From onboarding to expansion, our customer success strategy uses customer sentiment and advocacy to help ensure you retain customers and welcome new ones to your business.
Solve Staffing Shortage with a Team That Grows with You
The cost to replace a call center agent can vary significantly from business to business. However, data from Cornell University estimates that replacing a single agent can cost up to 16% of their gross annual earnings!
Our agents have an average tenure of 4.5 years, which is nearly twice the average tenure of a call center agent. With us, you'll get a consistent team that cares about your business as much as you do.