Rethinking Customer Journey Optimization
Our unique blend of demand generation marketing, global sales, and customer-centric experience consistently elevates customer base and revenue. We leverage top-tier call center practices and exceptional staff, reaching your customers at critical touchpoints.
Our innovative strategies have delivered over $65B in pipeline and $12B in revenue.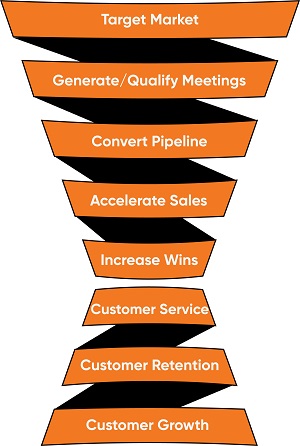 Accelerate Demand
From demand gen to lead development, we use in-depth analysis and comprehensive insights to strategically grow and nurture your pipeline, optimizing your sales potential.
---
Optimize Dynamic Selling
From any starting point, our BDRs and ISRs guide your buyers through a data-driven, optimized process, directing them to the ultimate destination: your unique offerings.
---
Boost Customer Potential
From onboarding to expansion, we leverage customer sentiment and advocacy in our success strategy, fostering customer retention and attracting new prospects to your business.
---
Conquer Staffing Woes with a Steadfast Team
Replacing a call center agent can cost up to 16% of their annual earnings. Our solution? Agents with an average tenure of 4.5 years—double the industry standard. We provide a dependable team deeply invested in your business success.