6 ESG Metrics and Criteria to Evaluate Your Business
Besides measuring your revenue, how do you know that your business is growing? One of the more forward-thinking ways to evaluate a business is with ESG metrics.
Investors are considering ESG criteria more frequently when making investment decisions. According to a 2020 report from Deloitte, ESG funds are expected to comprise nearly half of all managed investments by 2025.
If your business wants to attract more investment and continue to grow, it just makes sense to evaluate your business from an ESG perspective.
Key Takeaways
Business owners can use environmental, social, and governance (ESG) metrics to evaluate their businesses.
Understanding carbon emissions and energy use and how to reduce them is one of the first steps toward becoming an ESG-focused business.
Businesses need to be involved in their communities if they want the public and investors to view them favorably.
What Is ESG?
Business priorities have made a big shift within the last decade. More companies understand the importance of being involved in their communities and improving the environment around them. These factors are part of ESG, which stands for Environmental, Social, and Governance.
Companies receive ESG ratings from rating agencies like MSCI and Sustainanlytics. These ESG ratings focus on how a company operates and considers the following factors:
Environmental: Environmental metrics consider if a company is switching to sustainable energy sources, decreasing carbon emissions, saving water, and reducing waste.
Social: Social metrics consider how a company treats its employees, promotes diversity, focuses on health, and interacts with its community.
Governance: Governance metrics consider how a business works with its partners, manages its supply chain, and what values it emphasizes.
With these metrics, businesses can evaluate and predict how well they expect to perform in the future.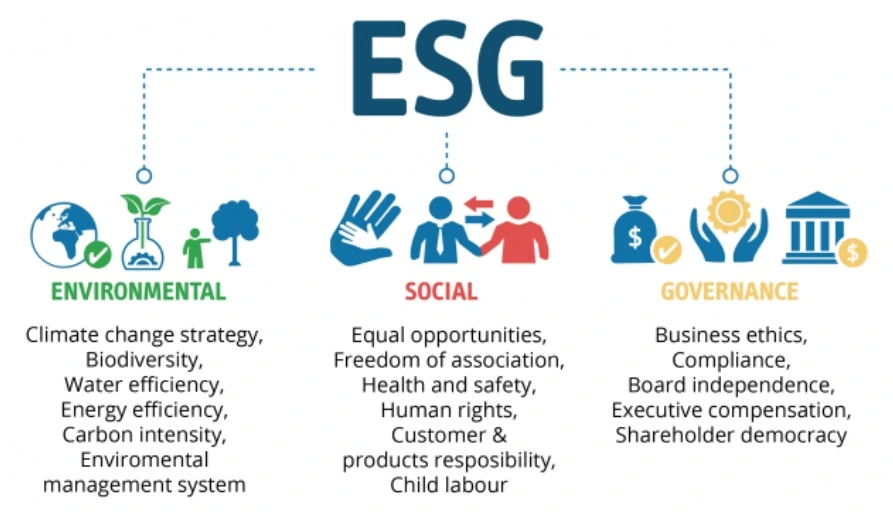 6 ESG Metrics to Assess Your Business
There are countless ways a business can improve and assess itself through ESG metrics. However, choose metrics that are valuable to you and will have the biggest impact on your business. Consider using these common ESG metrics to evaluate your business while on your ESG journey.
1. Energy Efficiency
Evaluating how much energy your business uses may seem like an overwhelming task. However, this ESG metric is often one of the easiest to measure and report on. Many businesses rely on the Energy Star program to benchmark their energy use and find ways to improve. With a few changes, you may begin to see impressive results.
Some common ways that businesses improve their energy efficiency include:
Turning off the lights when not needed
Replacing old light bulbs with more energy efficient LEDs
Shutting off equipment when not in use
Promoting natural light sources (installing more windows or skylights)
Adjusting HVAC settings
Reducing your overall energy consumption not only looks good for ESG metrics, but it should also reduce your energy costs in the long run.
2. Carbon Footprint
Reducing your carbon footprint is one of the most important ESG metrics you can use to improve your business. When you reduce your carbon emissions, you can lessen your impact on the environment. Many businesses use specialized consultants to help calculate their carbon emissions. From there, you can consider ways to reduce your emissions.
Many businesses reduce their carbon footprint by:
Promoting internal recycling programs
Switching to renewable energy sources
Reducing business trips
Shorten your supply chain
Reducing waste
3. Employee Health and Safety
For years, studies have shown that businesses that focus on the health and safety of their employees perform better than those that don't.

Employees that feel appreciated as human beings, tend to be happier and more productive. This ESG metric can help reduce work-related accidents, improve profits, and even reduce turnover rates. Safety and health management can show investors that you are committed to the long-term success of your employees. To see where you stand on employee health and safety, you can anonymously survey your employees.
If you find you need to make some improvements, you can promote health and safety by:
Offering an in-house gym
Creating lunch hour exercise groups
Thoroughly training all employees
Clearly labeling safety hazards
Cleaning frequently
4. Community Involvement
Your company must be more than a faceless enterprise in your community if you want to succeed. Businesses that work to improve their communities tend to be viewed more positively by the public and investors alike. Consider sending out surveys to your customers and the local community to see how they view you.
You can improve your community involvement by:
Hosting public events
Sponsoring a local sports team
Letting employees volunteer during work hours
Supporting local charities
Work with local businesses
5. Workforce Diversity
There are two types of diversity. One form refers to a person's social identity (race, gender, etc.), while another form is related to a person's life experiences and expertise. Your business should strive to promote both types of diversity. A more diverse workforce leads to more diverse ideas. This in turn can help you reach more customers and increase your profits.
To hire diverse employees and promote diversity in the workplace, your business can try some of these techniques:
Promoting equitable pay
Increase awareness of unconscious bias
Acknowledge various cultural holidays
Host teambuilding events
Promote your job openings in diverse sources
Create policies that appeal to diverse candidates
If you have struggled to hire more diverse employees, check out the tips in this video:
6. Product Safety
To gain the trust of customers, employees, and investors, your products need to be safe. Unfortunately, even with the best intentions, safety issues can arise. When they do, it is important to act quickly to resolve the problem.
Make sure your business is:
Tracking product recalls
Responding quickly to product complaints
Performing routine inspections
Maintaining strict quality control
Improve Your ESG Metrics by Partnering with Televerde
In addition to internal improvements, businesses can enhance their ESG rating by choosing the right business partners. Here at Televerde, we focus on offering second-chance employment to previously incarcerated people. We use this positive social impact to help other businesses improve their sales and customer service.
Contact us today to see how Televerde can help you improve your ESG outlook.