6 Social Impact Companies Changing the Way Business Is Done
Social impact companies are quickly becoming a driving force in many industries around the world. These companies draw attention to problems in our communities and work to make positive changes.
As a social impact company, you can potentially draw the attention of customers, other businesses, and even investors. Having a positive impact on the world is necessary for most companies today. Without it, you risk losing customers and your reputation.
Here, we will explore some of the top social impact companies and what they are doing to change how we all do business.
Key Takeaways
Social impact companies dedicate themselves to making positive changes in the world.
Social impact companies are excellent examples of how a business can serve its customers, earn a profit, and still have a major positive impact on the world.
Businesses that aren't social impact companies can focus on corporate social responsibility to influence their communities.
Leading with purpose is a key business strategy that all social impact companies use.
What Are Social Impact Companies?
While there is no exact definition of social impact companies, we usually think of them as organizations that address global and community needs consciously and systemically while still serving their customers. For example, a company might recognize the need to reduce the use of plastic and work to eliminate all plastic in its packaging and throughout its supply chain.
Social impact might sound similar to corporate social responsibility (CSR). However, a social impact company prioritizes its impact goals above everything else, while traditional CSR tends to be a secondary consideration.
The difference would be choosing employees, projects, partners, and suppliers based on how they align with your goals compared to sending your employees to volunteer in the community a few times a year. One focuses on more sustainable change, while the other is more on community service. Both are viable, positive options for businesses.
Why Do Social Impact Companies Matter?
More consumers and businesses are recognizing the impact we all have on the world around us. We have all learned how devastating that impact can potentially be on the earth and our communities. As the social consciousness of environmental, social, and other global issues continues to grow, many customers and businesses are making more conscious decisions about where to spend their money and even who to work with.
According to the 2020 Porter Novelli Purpose Tracker study, 93% of employees believe every business must lead with purpose. Without that "purpose," you may struggle to find employees, customers, and business partners.
Being more socially responsible can help refresh your brand and attract new customers and partners. Follow the lead of these social impact companies to see where your business can have an impact on the world.
6 Social Impact Companies Making a Difference in the Business World
Sometimes the best way to understand something is to see it in action. Here are six impressive examples of social impact companies and what they are achieving.
1. Convoy
Convoy is a revolutionary freight corporation dedicated to producing net zero waste while reducing costs for its shipping partners. It achieves this through a machine-learning freight network that finds more efficient routes and gives drivers the work they want without having to drive empty miles.
Convoy works with an impressive lineup of brands, including Unilever, The Home Depot, and LG Electronics.
2. Wunder
Wunder is an energy company with the goal of fighting climate change. To do that, it is helping make renewable solar energy more accessible for businesses. The company can convert unused space into a money-saving solar operation, like a roof or the top of a parking garage.
Wunder promotes the ESG impact of businesses switching to solar instead of relying on coal-fired power plants. Wunder is changing the business world by showing that solar is accessible and beneficial to the environment and budgets.

Source: https://www.wundercapital.com/
3. Banyan Water
Water is one of the most vital resources we have on earth. Banyan Water recognizes that and works to promote water conservation programs for businesses of all sizes. The company has created technology solutions that help businesses monitor their water use and find simple ways to use less water while saving money at the same time.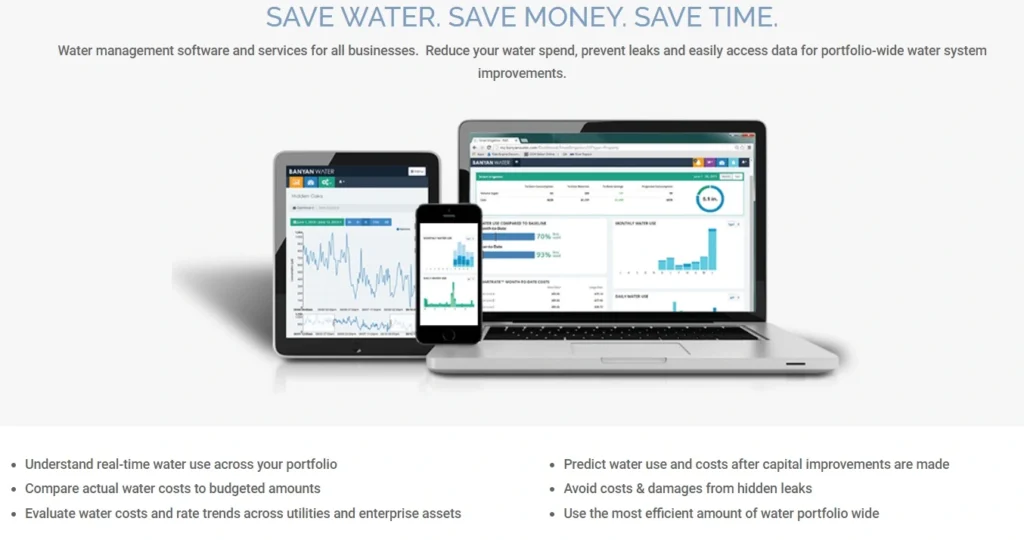 4. CBRE
CBRE is a commercial real estate company that has grown significantly since its founding in San Francisco in 1906. It understands the complexities of the real estate market and how it can have a major impact on communities. That is why it promotes diversity, sustainability, energy management, and finding suppliers with compatible goals.
5. Cox Enterprises
This global communications company began in Dayton, Ohio, in 1898. While it may not have been a social impact company at the time, it has evolved over its more than 100-year history. Today, Cox Enterprises says its purpose is its people. The company commits to taking care of its employees, customers, and communities. The company understands it must improve the world and build a better future.
6. CauseLabs
CauseLabs is a technology company that designs websites for nonprofit organizations. The company believes that people can use technology to improve equity in the world and help uplift those in need. CauseLabs is a certified B Corporation and a public benefit corporation (PBC). This designation means the company uses its profits to grow its social impact. CauseLabs reports its mission as "Grow positive impact."
Make a Difference with a Televerde Partnership
You do not have to change your entire business model to make a difference in the world. Something as simple as choosing the right business partners can help you change the future for the better.
At Televerde, we are committed to working with businesses like yours by offering marketing, sales, and customer support solutions to meet your needs. We do all this while offering second chances to more than 200,000 incarcerated women in the United States.
Are you ready to learn more about our business solutions and how they can work for you? Contact Televerde today to start making a positive change.
Related News & Blog
How to make workplaces more inclusive for people with invisible disabilities
Read Post