6 Tips in Building a Successful Voice of Customer Program
Without your customers, your business wouldn't exist. You should know what they expect, what they need, and how they feel. You can create a successful Voice of Customer (VoC) program by listening to your customers and responding to their needs.
Customer expectations have risen sharply in recent years. Unsurprisingly, the 2022 State of Customer Care Survey shows a 19% increase in making the customer experience a top priority when compared to 2019. By prioritizing your customers, you can create a loyal customer base that feels happy and cared for.
A Voice of Customer program is essential if you want to improve the customer experience. In this guide, we will explore six strategies you can use to build a VoC program.
Key Takeaways
A Voice of Customer program defines how a business gathers, analyzes, and responds to customer feedback.
A successful Voice of Customer program can lead to stronger customer loyalty and improved sales.
Businesses should gather customer feedback at numerous touchpoints along the customer journey.
What Is the Voice of the Customer?
A Voice of the Customer program is how a business gathers, analyzes, and responds to customer feedback. The goal of a successful VoC program should be to create a customer-centric culture by putting your customers' needs and expectations first.
Benefits of a Voice of Customer Program
Making a VoC program a priority for your business offers numerous benefits.
Your business may see:
Customer Loyalty: According to the ROI of Customer Experience report, 94% of consumers who describe a company's customer experience as "very good" are likely to purchase more from that company.
Early Problem Detection: When you routinely communicate with your customers, they will tell you when something isn't going well. This gives you the benefit of early detection before a minor issue becomes a major problem. 
More Sales: McKinsey reports that B2B businesses are looking for more online sales options. If your company offers an outstanding digital experience, you are two times as likely to be chosen as a supplier.
6 Tips for Building a VoC Program
With the right feedback from the right customers, you can make significant improvements to the customer experience.
Use these six tips to design the best Voice of Customer program for your business.
1. Choose the Right Data Collection Techniques
One of the best ways to gather insights from your customers is to ask them. There are numerous ways to interact with your customers. Make sure you choose methods that work well for your customers.
Here are some popular VoC data collection techniques:
Customer interviews
Live chat
Net Promoter Score
Social media
Online customer surveys
Recorded call data
Focus groups
Emails
In-person surveys
Feedback forms
Website behavior
Customer Satisfaction (CSAT) surveys
2. Examine the Customer Experience Lifecycle
You need to see your company from your customers' perspective. What do they experience as they work through the customer experience lifecycle? What touchpoints do they interact with? Identify significant stages where you can collect feedback.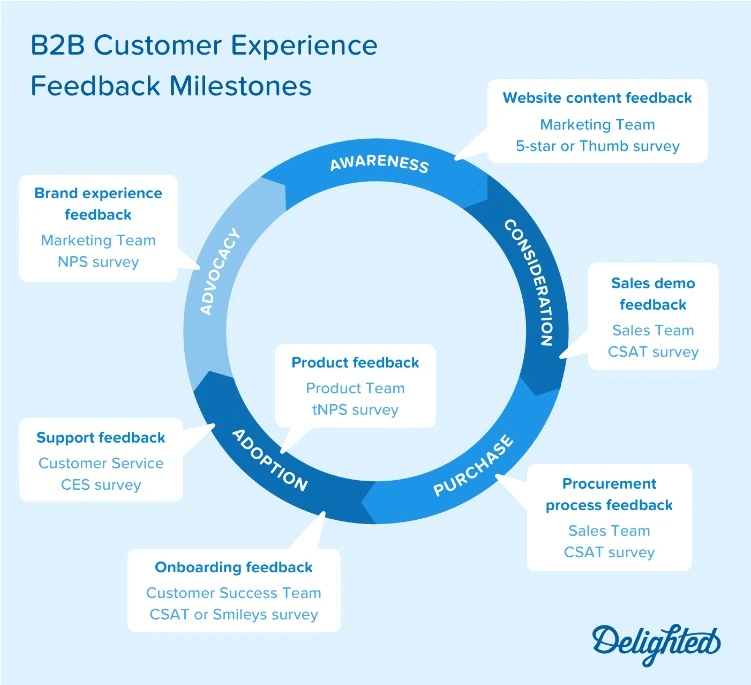 For example, once a customer has made a purchase, consider sending them a CSAT survey to determine how satisfied they were with their purchasing experience. You can automate many feedback touchpoint surveys, so your sales or customer service teams do not have to manually send out surveys.
3. Use Transactional and Relationship Surveys
Every customer interaction with your company falls into one of two categories: transactional or relationship. Use surveys for both types of interactions. For example, a transactional survey would apply to a specific transaction, like completing a purchase or calling in for customer support. On the other hand, a relationship survey is more general and would ask customers how they feel about your overall brand.
Relationship surveys give you a broad picture of the customer experience, while transactional surveys focus more on finer details. Many businesses rely on Net Promoter Score (NPS) surveys for relationship questions and customer effort score (CES), and customer satisfaction (CSAT) surveys for transactional interactions.
4. Survey Your Employees
Your employees are also an incredible source of information. Depending on their role, they may notice things about your business that higher management never sees. Problems they consistently experience may make it more difficult to properly serve your customers. By sharing these problems and other experiences with management, everyone can work together to find a solution.
Another reason to include your employees in the process is that it shows you care about their opinions. This can help them feel more satisfied at work. Multiple studies have shown that happy employees generally lead to happy customers.
5. Take Advantage of Your Omnichannel Communication
Your business likely communities with customers across various channels, including the phone, email, chat, and even social media. You can use all these channels to gather information and feedback from your customers.
Phone: If they call in for customer support, you could prompt them with an optional survey after the call.
Email: When they complete a purchase, your system could automatically send them an email with a satisfaction survey.
Chat: If your website uses live chat or a chatbot, prompt the customer with a quick survey after the chat has ended.
Social media: Add a quick poll to your social media page, asking your followers what kind of content or products they want to see from you.
6. Act on Your Results
Gathering customer feedback can feel powerful. However, make sure your VoC program has clearly defined goals for the surveys you send out. In addition, once you get your results, make sure the appropriate teams have the resources they need to act on that feedback. You can send out actionable insights so each team knows exactly what they need to do to improve their processes.
Televerde Can Be a Partner in Your Voice of Customer Program
Interacting with customers is something our employees do every day. We offer businesses outsourcing services that include the complete customer experience, including onboarding, retention, loyalty, and general customer care. Along the way, we can gather customer insights and feedback to help you build a thriving Voice of Customer program.
Our expertise can help boost your program and help you get ahead of the competition.
Ready to learn more about our customer experience solutions? Contact Televerde today to get started.