How the Best B2B Lead Generation Companies Work
A solid lead generation strategy is the lifeblood of every business, and without the right strategies, tools, and approaches, companies can quickly find their pipelines losing steam in today's competitive B2B landscape. That's why so many now turn to B2B lead generation companies for support.
Outsourcing to a B2B lead generation company can be a game changer for your marketing and sales results, allowing you to better attract, target, engage, and convert high-fit prospects while your internal teams can focus on other key growth initiatives.
In addition, you'll save on overhead costs and access a higher level of expertise from teams who are all about lead generation, all the time.
If you're considering outsourcing your lead generation efforts, you're in the right place. Read on to learn more about what B2B lead-gen companies do, why you should hire one, and 5 powerful ways your business will benefit.
Quick Takeaways:
Lead generation remains the top-rated challenge for marketers.
B2B lead generation companies help clients get more targeted, automated, and efficient in their approach to attracting new customers.
Key benefits of outsourcing lead-gen include: strategy guidance, more effective lead qualification and nurturing, a seamless multichannel approach, content distribution, and frequent performance measurement.
The best B2B lead-gen companies work in close collaboration with their clients.
What is a B2B Lead Generation Company?
A B2B lead generation company is one that specializes in helping businesses generate quality leads and prospects and build a healthy sales pipeline. This service is critical to B2B businesses in every industry, who continue to rate lead generation as their top challenge.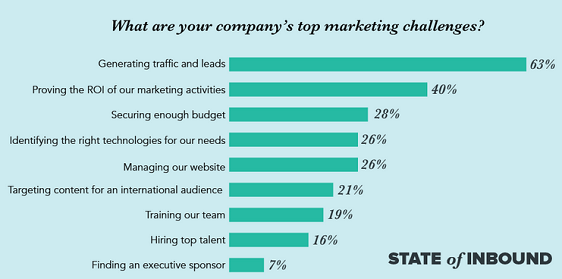 Part of the lead-gen challenge is the continually elevated demand for higher levels of targeting and personalization in B2B outreach. Buyers want to feel valued even before they make a purchase, and 75% of them become frustrated when they don't receive experiences tailored to their needs at every stage of their journey.
Adding another layer of complexity to the challenge is the sheer amount of marketing content that exists online and even in prospect inboxes. When a message isn't hyper-relevant to them, most potential buyers will simply ignore it.
In short: The days of casting a wide net and hoping to catch a decent amount of customers are gone. B2B companies must identify the individuals, groups, and organizations best fit for their solutions and market to them with highly targeted strategies.
Lead generation companies are experts at this practice. They know how to identify, attract, and nurture the leads most aligned with your offerings and most likely to convert down the road. They also know how to communicate with key purchase decision makers and understand the ins and outs of the B2B sales cycle.
With a combination of experience, expertise, and top technologies, lead-gen companies can help you optimize every step in your lead generation process, which can translate to significant time and cost savings throughout the entire sales process (and ultimately lead to higher revenue and sales for your business).
5 Ways B2B Lead-Gen Companies Benefit Your Business
Strategic Planning and Targeting
The best B2B lead generation companies begin their partnership with you as the client by building a comprehensive strategic plan. They'll get to know you, your business, and your target audience, and they'll perform research and analysis on your target market to understand key trends and your competitive landscape.
Then, together with your internal marketing team, they'll build ideal customer profiles (ICPs) and buyer personas that define exactly who to target through your lead-gen efforts.
Lead Nurturing and Qualification
Lead generation is just the first step. As leads enter your pipeline, they need to be qualified to ensure they have real potential to convert. Most will also need some lead nurturing, or further engagement to guide them down the pipeline toward final purchase.
Taking these extra steps isn't just good practice for engagement, it also yields higher sales and revenue for your business. Leads who are nurtured make 47% larger purchases than those who are not.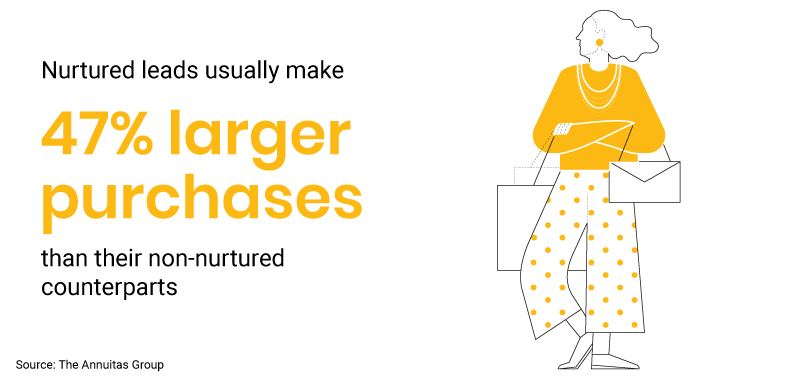 B2B lead generation companies have solid workflows and processes in place as well as the right marketing automation tools to support them, ensuring lead qualification and nurturing are both executed in an ongoing, effective way.
Multi-Channel Approach
B2B buyers now use more than 10 channels to engage with brands during their buyer journey, and they expect companies to meet them where they are. B2B lead generation companies can help you build a strategy that encompasses your audience's preferred channels and implement the right tactics for each.
This may include:
Social Media — Staying active and engaging audiences across key social media platforms like LinkedIn and Facebook
Search Engine Optimization (SEO) — Creating content designed to rank highly on Google (and other search engines) to drive traffic to your website
Email Marketing — Executing targeted email campaigns to engage key prospects
Targeted Ad Campaigns — Executing PPC ad campaigns
Retargeting — Re-engaging leads that have shown interest in the past but haven't yet made a purchase
Event Marketing — Hosting events (like webinars) to engage potential buyers
This list is not exhaustive, and a quality lead-gen strategy will require the use of an intentional combination of the above channels and others. A B2B lead generation company can help you identify which ones will work best and create a comprehensive multichannel execution plan.
Content Marketing
Content marketing is at the heart of modern digital marketing. Nearly every B2B company now uses content in some capacity as part of their marketing strategy, and most buyers are engaging with multiple content assets before ever engaging directly with a salesperson.
Your content, then, is often your first impression with potential customers.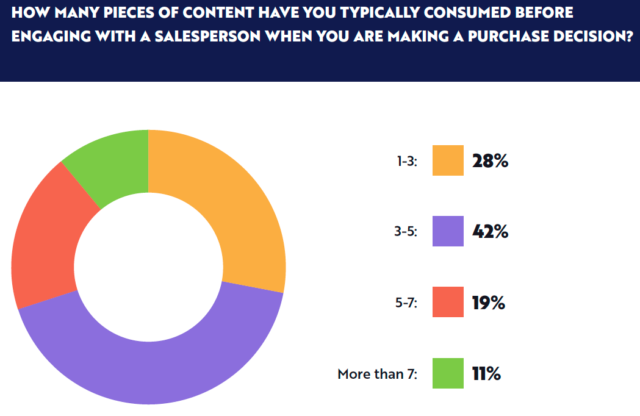 Some B2B lead generation companies may help you with actual content creation, although this isn't always the case. But all of them will help you strategize around the types of content you should create and how you should leverage it throughout your lead generation efforts.
They'll also distribute your content across channels such as social media and email to engage new leads and establish your brand as a thought leader in your industry.
Performance Measurement and Optimization
Last but certainly not least, B2B lead-gen companies are experts at performance measurement, tracking key metrics and KPIs, then adjusting your strategy as needed to maximize results. The best companies will share the results frequently through a formal reporting process so you have the most up-to-date insight on your lead-gen efforts at all times.
This level of data-driven analysis and performance transparency allows you and your provider to work as a team to continuously improve your lead generation effectiveness.
Lead Generation Companies: The Big Takeaway
Lead-gen is the foundation of your marketing and sales success. Outsourcing the responsibility to a third-party provider can feel counterintuitive. After all—Who can know and can engage your target customers better than you?
The thing is, a great B2B lead generation company will work in partnership with you and your team so that their work is an extension of yours—not a separate effort. The benefit to you is the access to greater expertise, technology, and experience, as well as cost savings from offloading overhead costs in exchange for bundled pricing.
Ultimately, outsourcing allows you to enhance and scale up your lead-gen strategy while your internal teams can refocus on other key growth and engagement activities.
Contact Televerde today to learn how our Lead Generation services can help you win new business.