Customer Experience: What's the Difference?
Every business ultimately has the same goal: to develop demand generation that leads to sales growth. For today's consumers, simply providing the best product at the best price isn't enough to earn customer loyalty and conversions. The true secret to a company's success lies in building a positive customer journey. The key to providing a smooth customer journey is in understanding customer service vs. customer experience.
Although these terms are often used interchangeably, they are in fact two very different concepts. Only when you know the difference between them can you understand how to effectively meet your customer's needs and provide a seamless customer journey.
Key Takeaways
Customer service revolves around a single event in which a customer requests help or information.
Customer experience encompasses the many interactions a customer has with a brand throughout the duration of their journey.
Three main differences in customer service vs. customer experience are who drives the process, your level of control, and measurability.
Customer Service Defined
Customer service is one aspect of the customer experience. It typically revolves around a single event in which a consumer requests help or information about a product or service. A customer asking for assistance finding an item in a store or sending an email asking how to return an item are opportunities to provide customer service.
A company can deliver customer service through two main methods. They can employ human agents to field questions and address customer concerns. They can also utilize artificial intelligence like chatbots to provide instantaneous, knowledge-based responses. Either way, the mission of customer service is to serve as an advocate for the customer, solve their problems, and help to provide the best customer journey possible.
Customer service can make or break your business. Businesses that address customer concerns in a timely manner are more likely to improve lead generation and develop customer loyalty. In fact, 83% of customers feel more loyal to brands that resolve their issues. When companies are empathetic, quick to respond, and provide support across various platforms and channels, they see better results overall.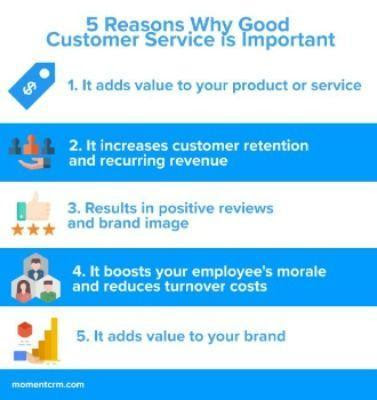 Understanding Customer Experience
Customer experience is more all-encompassing and refers to the many touchpoints a business has with a customer throughout the duration of their journey. Every step a customer takes, from their first contact with a brand to the follow-up email after making a purchase, shapes an individual's impression of a company. Customer experience opportunities include:
Marketing materials presented to prospects.
Navigation of business website.
Overall sales experience.
Quality of the product or service and whether it lived up to the customer's expectations.
Customer service received at any stage of the customer journey.
Customer experience is shaped by three things. First is the people with whom customers interact. Whether they're in a brick-and-mortar store seeking help, on the phone with a customer service representative, or using a live chat feature on a business website, customers want to talk with helpful, friendly people.
Next is processes. Today's consumers expect a smooth customer journey. Companies who provide simple payment systems and easy ways to contact support centers will earn high praise for customer experience. Third is products. Customers want high quality items, services and solutions that solve their problems. A company that delivers well-manufactured goods that fulfill promises helps to provide a positive customer experience.
A positive customer experience is essential for retaining current customers. This is invaluable, as it costs six to seven times more to attract a new customer than it does to keep your current customers. Customer experience is a huge part of a company's strategy when developing customer lifecycle marketing and should be a primary focus for ultimate success.
Customer Service vs. Customer Experience: 3 Main Differences
Customer service and customer experience are both major factors that contribute to a positive customer journey and the overall perception of a business. Although they work hand-in-hand, there are distinct differences when it comes to customer service vs. customer experience. This video explains how the two work together, and yet represent very different aspects of the customer journey.
Essentially, there are three main differences between customer service vs. customer experience.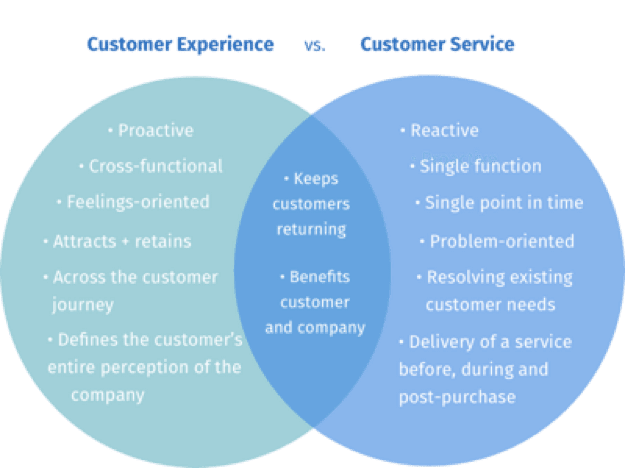 1. WHO DRIVES THE PROCESS
Customer service is typically initiated by the consumer. When they encounter an issue, they open communication with the brand to find solutions. At that point, the business is alerted about an opportunity to improve the customer journey. For this reason, customer service is a reactive aspect of the buyer journey.
Customer experience, on the other hand, is proactive in that the company must anticipate the wants and needs of the customer. Customer journey mapping, studying metrics, requesting feedback, and discovering funnel potholes are ways that companies ensure a smooth experience for their customers. With customer experience, the business drives the process, which will sometimes guide customers to present a customer service opportunity.
2. AMOUNT OF CONTROL
Customer service is one aspect of your business that is entirely in your control, because it is primarily owned by support agents and managers. This means you have fewer people to educate for this role. Knowledge of your staff, their ability to answer questions in a timely manner, and the tone and language used to respond to your customers is something you can train and instill in your brand expectations.
Conversely, there are so many interactions that shape customer experience, it's nearly impossible to control how a consumer will perceive your brand. Everyone in your company plays a role in customer experience. While you can certainly provide the tools and processes they need to enjoy a positive experience, there are so many variables at each touchpoint that your control is limited.
3. MEASURABILITY
Because customer service is typically centered around a particular event, such as requesting support or information, its resolution can be easily measured by several metrics. Response time, rate of success, and customer satisfaction can all be quantified.
Customer experience is all about the ongoing relationship between a customer and a business. Its success can't be attributed to a single interaction, and therefore cannot be quantified. At best, a customer continues to return for more purchases, deeming the customer experience an ongoing success.
Provide a Seamless Customer Journey
Televerde is an international sales and marketing leader that creates solutions to boost engagement, develop the best lead generation, and increase revenue for your brand. We help you connect with your audience and devise effective strategies to create a positive experience that keeps customers coming back for more.
Looking for more resources to help you differentiate customer services vs. customer experience? The Televerde Resource Library is filled with webinars and tools to help you create a seamless customer journey.