How the Best Direct Mail Campaigns Deliver ROI
Have you heard? Direct mail campaigns are not dead. Despite the oft-cited myth in marketing and sales that direct mail is on its way out as email and digital channels take over, buyers in both B2B and B2C markets say otherwise.
In fact, a staggering 90% of millennials — the first generation thought to largely prefer digital channels over traditional ones — say they find direct mail reliable and even prefer direct mail over email when it comes to brand promotions.
And as you'll read in the sections that follow, across all age groups, consumers open, respond to, trust, and share direct mail more than messages they receive digitally.
If you're thinking about doing a direct mail campaign for your business and wondering if it will pay off, read on — we'll cover why companies should still leverage direct mail in their strategies, plus 6 specific ways it yields ROI for those who execute it well.
Quick Takeaways
More than 60% of consumers say direct mail inspires them to take action in response.
Direct mail earns higher open rates and response rates than email.
Consumers trust direct mail more than digital marketing messages and say it feels more personal to them.
Half of direct mail recipients share their mail with family and friends.
In a saturated digital marketing landscape, direct mail is an impactful way to stand out to your audience.
Why should businesses do direct mail campaigns?
Direct mail campaigns involve sending physical letters, marketing materials, postcards, packages (etc.) to prospective customers. In a world where digital channels dominate marketing in both the B2B and B2C world, direct mail is now a way to stand out and show prospects that you care about sharing information with them in meaningful ways.
In fact, nearly half of buyers across age groups say direct mail is an important way for brands to build relationships with them, and 62% say it has inspired them to take action toward purchase, including visiting websites, visiting retail locations, searching for the brand online, looking up reviews, and making a subscription or purchase.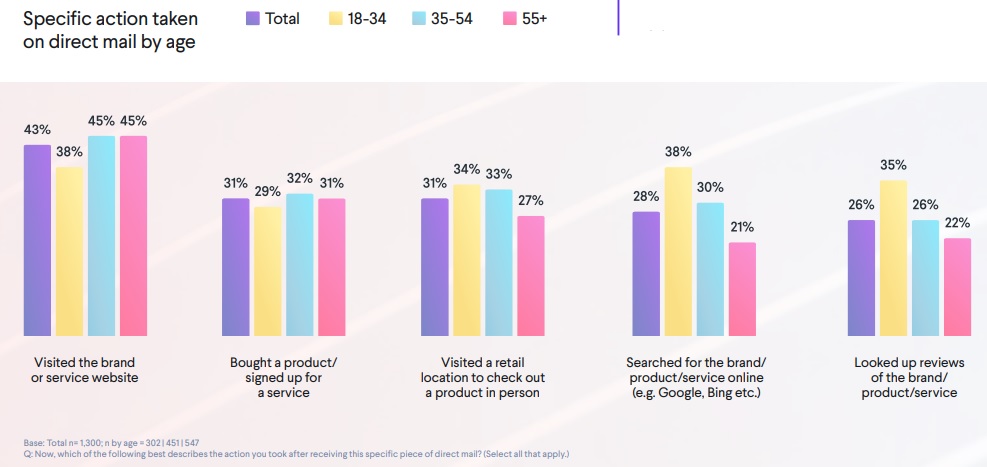 B2B and B2C brands in every industry should be paying attention to this sentiment. While digital might be the best way to promote initial brand awareness and execute demand generation, direct mail can be a powerful way to grab the attention of high-potential leads and move them toward conversion to sale.
Let's look more closely at 5 specific ways direct mail campaigns deliver ROI.
5 Ways Direct Mail Campaigns Deliver ROI
Higher Open Rates
Buyers are significantly more likely to open and pay attention to direct mail than an email in their inbox — research shows that the average open rate for direct mail is between 57.5% and 85%, while email open rates only hover around 20%.
That means from the start, you can be more confident that your initial investment in direct mail campaigns will pay off than email and many other popular digital channels.
Higher Response Rates
Getting prospects to open your company's mail is only the first step — the real payoff is when they respond by taking action. We already know that most buyers say direct mail inspires them to take action and they do it in many ways, but did you also know their response rates are a whopping 5X higher than for emails?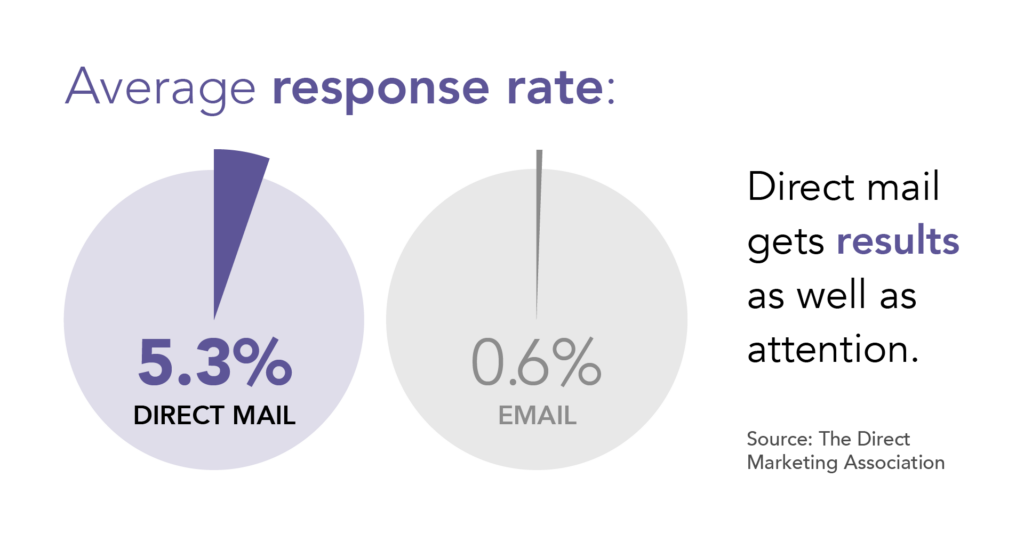 Email absolutely has its place in every digital marketing strategy, but the idea that a quicker and more convenient method for responding leads to higher response rates is simply not true. Direct mail is the clear winner when it comes to getting prospects to take the next step.
Buyer Trust
Trust is essential for buyers in both the B2B and B2C spaces — more than 80% consider it a key factor in their purchase decisions. And once again, when it comes to trust, direct mail wins out again over more widely-used digital marketing approaches.
Nearly three-quarters (73%) of buyers say they trust direct mail they receive, while only 43% trust advertisements embedded in their social media and only 25% trust pop-up ads.
Longer Lasting Impression
Direct mail delivers a tangible item to your buyers — something that lasts beyond the next click or email inbox cleanout. When prospects want to remember what you've sent them, they typically keep your mail. As such, your message stays with them longer and they're more likely to be reminded that they want to take action and/or make an immediate purchase.
Referrals
The overwhelming majority of buyers look to brand recommendations to find products and solutions, and direct mail provides an effective vehicle to facilitate them for your business. Half of direct mail campaign recipients say they share their mail with family and friends either sometimes or often.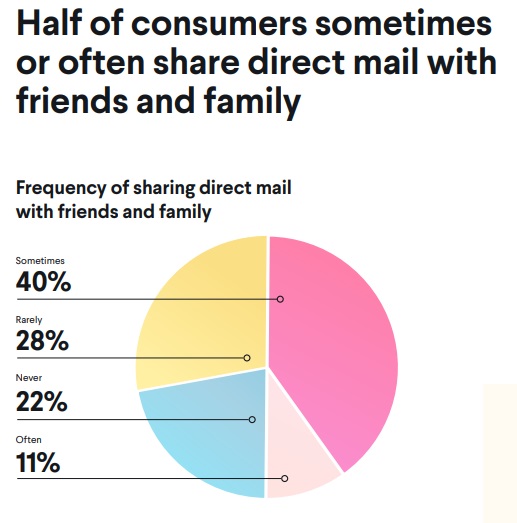 This means that even though direct mail is sent specifically to your target prospect lists, you can expect it to earn you an expanded audience and new leads generated through network sharing.
Personalization
Personalization is an absolute must in marketing today — McKinsey reports that three-quarters of consumers expect personalization from brands and become frustrated when they don't receive it. Direct mail can easily be personalized to include names as well as dynamic text and images personalized to specific recipients or segments.
Direct mail and the physical item it delivers is like a personalization X factor — 70% of consumers say direct mail feels more personal to them than online brand interactions.
Direct Mail Campaigns: The Key Takeaway
If there's one thing to take away from our overview of direct mail, it's that it's not being replaced by email and other digital marketing channels.
In fact, the oversaturation of digital marketing messages that business buyers and individual consumers receive every day makes it more likely your direct mail messages will stand out and make an impact.
When you execute highly targeted and personalized direct mail campaigns, you can expect ROI in the forms of higher campaign engagement, increased trust from your audience, a longer lasting impression for your messages, a boost in personal referrals, and a more personal feel to your marketing outreach.
Boost Your Marketing ROI with Televerde
Direct mail is an impactful approach to prospecting, lead nurturing, and customer engagement — but it's also likely one of many channels you're using in your strategy. If you're looking for support executing a multichannel marketing and sales strategy that reliably converts leads and earns new business for your company, Televerde can help.
We provide flexible and agile outsourced sales, marketing and customer experience services to industry-leading companies across verticals and geographies.
Contact our team today to learn more about our solutions.
Related News & Blog
How My Time in Prison Opened My Eyes to the Benefits of Non-Linear Career Paths
Read Post