ABM Pilot Created $2.7M in Pipeline in Just 14 Weeks
$2.7
in Pipeline
103
Large Net New Accounts Defined
18
Opportunities Penetrating 12 Unique Accounts
The Client
The client ABM offers solutions and services for improving business operations focused on the retail vertical. This solution portfolio targets grocery, hardlines and softlines retailers with a means to turn today's challenges into opportunities with solutions that help drive profitable multichannel retailing. It offers retailers the insight to better understand shoppers and businesses, the operational efficiency to ensure profit, and the adaptability to capitalize on the best opportunities to grow.
The Challenges
Televerde and this client had an existing relationship related to servicing their lead generation efforts. In the relationship, we identified the following challenges:
Large percentage of net new accounts with little awareness of their cross-sell and up-sell possibilities
Account Executives not spending enough time selling; to more time researching
Opportunity to better utilize Televerde agents and improve priority alignment
The Solution
To increase the penetration into the retail sector, Televerde and the company decided to pilot an account-based marketing program. The program started with Account Executives (AE) selecting 5-10 large accounts for ABM targeting. Next, we established a strong engagement process with AE, outlined the communication streams, aligned on the key metrics and ensured a clear data management process.
The account-based marketing program included:
Account planning sessions to review current intelligence and gaps
Contact build out for target accounts
Account profiles to guide account strategy
Weekly collaboration calls between teams to continue to build the knowledgebase on the account
Warm hand-offs between account teams and Televerde lead generation agents
The Results
In the initial for 14 weeks of running the program, the company saw better account intelligence, enhanced sharing of account profiles, and a deeper lead generation focus.
The Account-based Marketing program moved from pilot into steady state with expansion into new regions and more Account Executives.
Contact Televerde today to see how we can help you achieve your goals.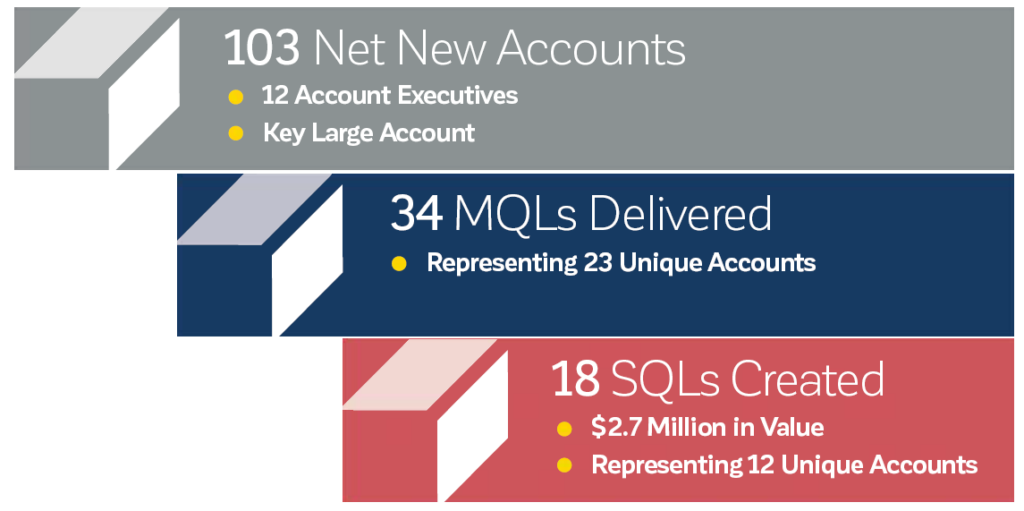 Another Success Story
Vertica: How We Increased Pipeline by 80% In Just Four Months
From the words of our customer at Vertica, read how the Televerde LDR's produced more than 100 new opportunities, increased their pipeline by 80%, and implemented a systematic approach to social selling. Read more.
Read Success Story