The Link between Customer Support and Customer Experience
With the pandemic still looming, the pressure on companies has never been more significant. Inflation, supply chain issues, and recession fears have left those in charge of customer support and customer experience looking for new ways to retain customers and grow sales.
Companies across all industries have had to take a step back, analyze their customer lifecycles and decide how to thrive and capitalize on disruptions caused by COVID-19.
Today's challenges require balancing the use of new technology, remote work policies, and flex schedules while still delivering a seamless omnichannel customer experience.
Read on to discover how the link between customer support and customer experience can help you meet the challenges of competing for increasingly choosy customers in today's market.
Key Takeaways:
Customer experience and customer support are different but closely related concepts.
Customer support is an important component of the customer experience. It refers to contacts between a firm and its customers after the sale.
A great customer experience starts with deep knowledge of your customer's needs, wants, and pain points.
Improving the customer experience is the number one priority for businesses in 2022
Outsourcing customer support can be a cost-effective way to improve your brand's customer experience.
Customer Experience vs. Customer Support
Customer experience and customer service are often interchangeable –– but there is a big difference between the two.
Customer experience is a customer's overall perception when interacting with a company, from start to finish. This experience includes everything from their initial awareness of the company to their purchase decision to using the product or service.
On the other hand –– customer support is just one part of the customer experience. Customer service provides assistance or support to customers before, during, and after a purchase. This service can include everything from handling customer inquiries and complaints to offering product education and guidance.
Excellent customer service can help prevent buyer's remorse and encourage customers to come back in the future, while a positive customer experience can turn first-time buyers into lifelong fans.
The Link Between Customer Support and Customer Experience
Customer support is a crucial part of the customer experience –– it's the interactions between a company and the customers after the sale. This support can include answering questions, providing product or service assistance, and dealing with complaints.
Customer support plays an essential role in maintaining customer satisfaction and loyalty. Satisfied customers are more likely to continue doing business with a company and recommend it to others. On the other hand –– poor customer support can damage a company's reputation and lead to lost business.
Creating a Great Customer Experience
Creating a great customer experience has always required a deep understanding of your customers –– getting to know them personally and understanding their needs, wants, and pain points. Once you have this knowledge, you can start creating meaningful interactions and touchpoints to improve their overall experience.
There are a few key things to keep in mind when creating a great customer experience:
Create meaningful interactions and touchpoints. Every interaction and touchpoint is a chance to understand how your customers interact with your product or service.
Use technology to your advantage. Technology can help you collect data about your customers, automate processes, and create personalized experiences. Only collect data you plan to use. Don't get caught up in over-collecting and overanalyzing.
Continuously measure and improve. The customer experience is constantly changing, so you must measure and improve it continually. Use data and feedback to identify areas for improvement, and then take action to make the necessary changes.
Customer Experience Is More Vital for Businesses Today Than Ever Before
A recent Gartner 2022 Customer Service and Support Priorities Poll indicates a significant shift in focus for customer service departments across all industries. 82% of businesses are strategizing how to improve customer interactions. What was once traditionally viewed as a cost center –– is quickly becoming a meaningful way to differentiate, generate new leads, and grow existing business.
And studies show that 68% of customers will increase their spending with a company that provides a good service.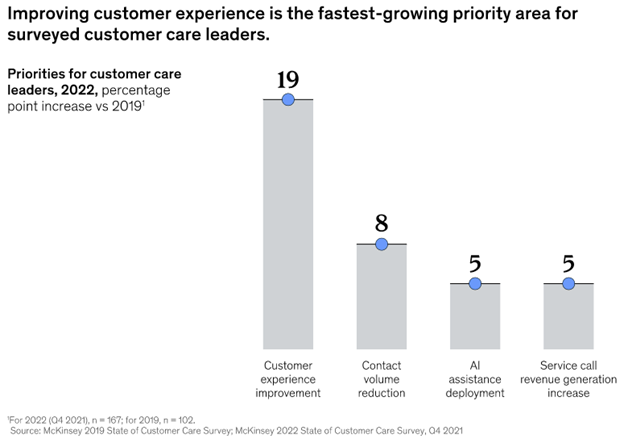 Source: https://www.linkedin.com/pulse/improving-cx-priority-leaders-cai-nlp-020-kane-simms
Post-COVID-19 Customer Experience
Your business has a lot to juggle when it comes down to customer service. With increasing staffing shortages and less forgiving customers, meeting customers' expectations can be difficult for a business of any size.
Wrong hiring decisions quickly add up –– employee turnover is estimated to cost companies on average $15,000 per contact center agent.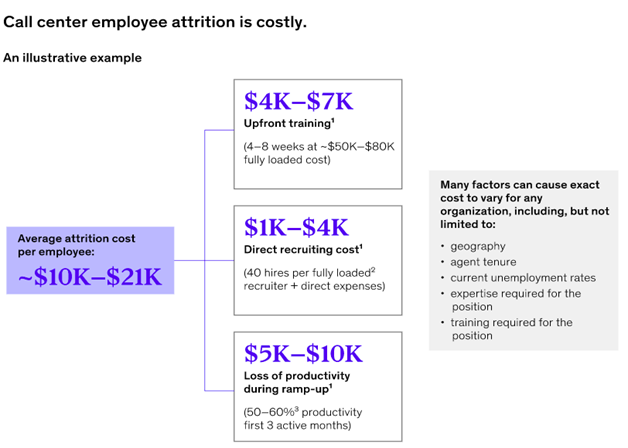 Delivering a great customer experience in a post-COVID world will require you to be more flexible and adaptable, assess your current and future capabilities honestly and make changes accordingly.
Outsourcing Customer Support
Carefully consider continuing investments into internal customer service infrastructure versus partnering with a company that provides seamless, personalized assistance at every customer point of contact.
While you may not be able to cure inflation or solve supply chain problems on your own –– you may be able to reduce costs, streamline operations, and grow your sales through strategic partnerships with companies specializing in customer service.
Let Televerde's Customer Support Experts Drive Your Customer Experience Skyward
The future of customer experience is not all that different from the present. Speed and convenience will always matter –– consistency with real customer connections will keep them coming back.
At Televerde, we have dedicated customer support staff ready to assist your company with customer service. We want to give your customers the service they deserve.
Have you explored all options to meet your customer service challenges?
Let's reimagine your customer experience together. Contact us to learn how we can help you build a responsive and scalable customer service experience optimized for post-pandemic markets.