Why (and How) to Outsource Inbound Call Center Services
For companies who receive a high volume of customer calls, inbound call center services are an important aspect of business. However, to maximize customer service, you may want to consider inbound call center outsourcing to maximize customer service.
Today's consumers value exceptional customer experiences, and customer service plays a major role in purchase decisions. Customers will spend nearly 10% more if they know they'll receive excellent customer service. Inbound call centers are a prime way to provide customers with answers, solutions, and value while ensuring they have a positive experience with your company. That's why ensuring your call center is run as effectively and efficiently as possible is essential.
Keep reading to learn why you might consider outsourcing your inbound call center services and how to go about it for the best possible outcome.
Key Takeaways
With inbound call center outsourcing, a company hires a third-party organization to manage their inbound calls at a separate location.
Outsourcing inbound call center services can save you money and time and grant you more flexibility to provide a better customer service experience for your consumers.
Assess your needs, research possible solutions, and maintain an ongoing relationship with your outsource partner for ultimate success.
What Does it Mean to Outsource Inbound Call Center Services?
When customers contact businesses, a call center often answers their calls. There, inbound customer service representatives are ready to answer questions, alleviate concerns, solve problems, and direct people to the appropriate resource for their needs. It's a way for businesses to develop a deeper relationship with their customers in the hopes of earning long-time customers and repeat business. After all, 65% of a company's business comes from existing customers.
The following video explains in greater detail the importance of exceptional customer service:
However, from order taking and appointment scheduling to customer care and help desk support, inbound call centers can be overwhelming. They take time and manpower to manage, and one worker can often spend much of their day addressing and researching one customer's issue. That's why many businesses hire a third-party agency to handle their inbound call center services. This outsourcing can free up your staff to focus on other aspects of your business while trained experts can field your customers' calls and continue to build your positive reputation.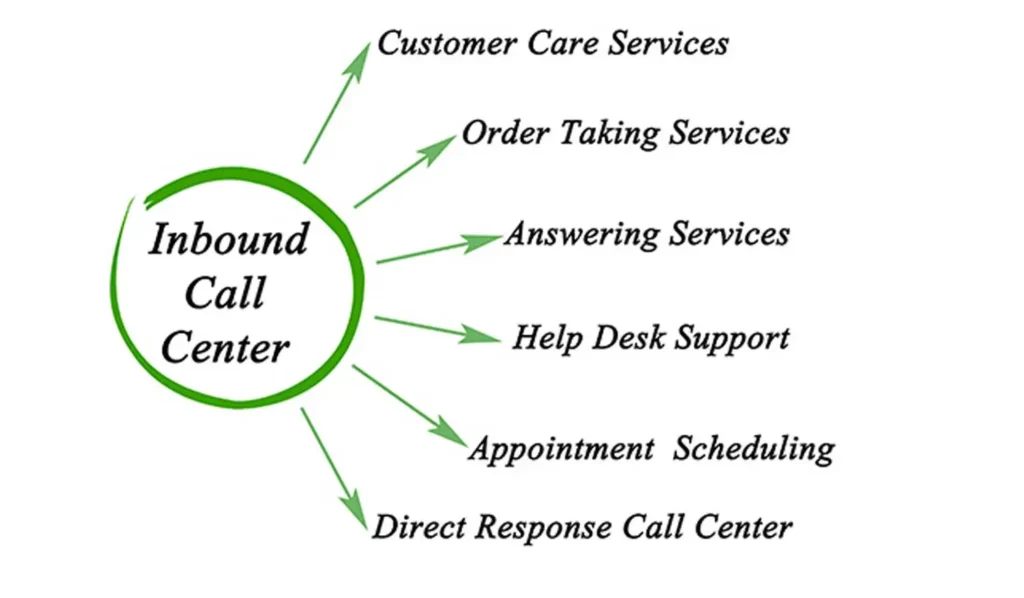 Image Source: https://www.expertcallers.com/blog/the-what-the-how-and-the-why-all-you-need-to-know-about-inbound-call-centers/
With inbound call center outsourcing, a company trains an external organization to staff and manage your call center from a separate location. When customers call in, they don't have any indication that they're communicating with someone outside your company. They get to speak with a knowledgeable representative who answers their questions and solves their problems, just as your own team would do. Outsourcing is a great way to increase productivity so your staff can focus on customer lifecycle marketing and best lead generation.
3 Main Reasons Why Companies Should Consider Outsourcing Inbound Call Center Services
Successful inbound call center services can directly impact sales growth, lead generation, and revenue. People with a positive experience with your company are more likely to convert and spread the word about your business. With an in-house call center, many scenarios could negatively impact your ability to provide a positive customer experience.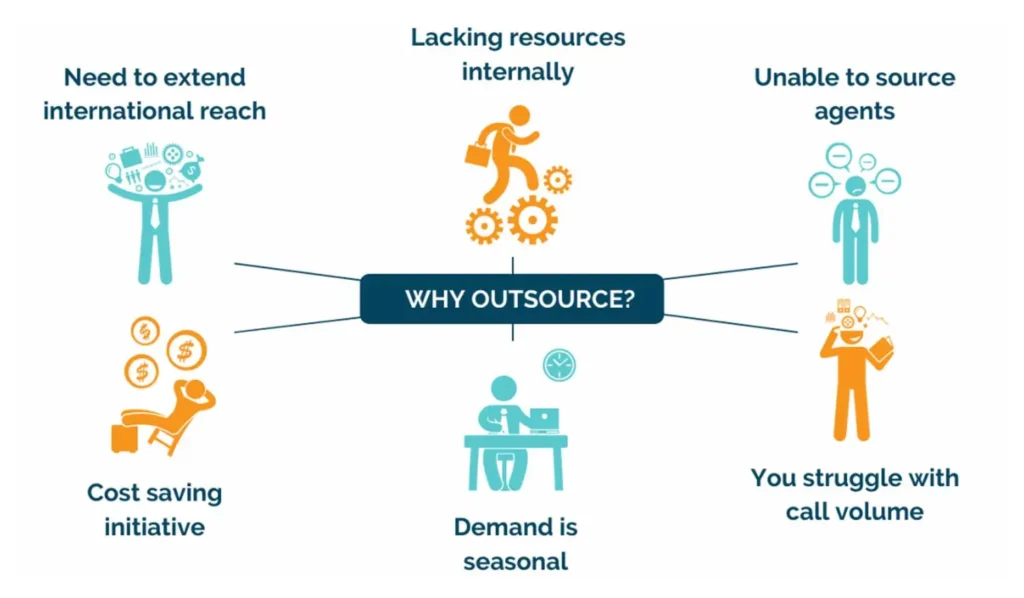 Image Source: https://www.babelforce.com/blog/cloud-contact-center/bpo-call-center-how-to-outsource-and-is-it-worth-it/
Here are three of the biggest reasons businesses prefer inbound call center outsourcing.
1. Save Money
Hiring a third-party agency is typically much cheaper than hosting your own center. From equipment and technology capabilities to staff salaries, managing an in-house call center is a big expense. Third-party call centers provide the facility, tools, and materials needed to run your operations. They can also hire more affordable hourly employees to handle the workload. All of this allows you to keep costs down while still providing a positive customer experience to your callers.
2. Save Time
Since the third-party agency hires the staff for your external inbound call center, you don't have to spend time training employees to handle your phone calls. Finding someone with interpersonal skills, excellent communication, and problem-solving abilities can be lengthy. Once you find someone with those skills, you have to teach them about your company, your products, and any issues people may call in about. Outsourcing eliminates the need for all this, saving you time and resources.
3. Increase Flexibility
Outsourced call center workers are typically hourly employees, which grants you more flexibility with scheduling. This is especially helpful as call volume fluctuates. From certain times of day to seasonal interest, there are times when your call center may receive an influx of calls. As needs change, your outsource partner can increase or reduce the number of workers or the hours paid to maximize your efforts. This flexibility helps you provide more effective and efficient customer service to your customers.
How to Outsource Inbound Call Center Services
Hiring the right third-party organization to manage your inbound call center services is a task that needs careful consideration. Here are three steps to inbound call center outsourcing.
Step 1: Assess Your Goals and Your Needs
Before you begin the search for a reputable outsourcing partner, you must first determine your reasons for wanting to outsource in the first place. Assess your goals and needs to decide if outsourcing would help you attain success. Reasons for hiring a third-party organization could include:
Too many calls to manage
Staffing issues
Other areas of your business need more focus
Call center costs are too high
If your business faces any of these challenges, outsourcing could be a good solution.
Step 2: Search for Vendors
Search the internet for outsourcing call center companies with a strong reputation. Read user reviews. Monitor social media chats and threads to see what people say about those companies. Find out who your competitors are using and discover whether those have been good or bad experiences. Once you've identified a few possible outsourcing candidates, find out if they have the tools, technology, and skills needed to meet your needs.
Explain your business and products, customer base, and anticipated workload to ensure they can successfully field your inbound calls. Choosing the wrong company can hurt your reputation and cost you customers in the long run.
Step 3: Maintain a Solid Relationship
When you've hired the company you feel is right for the job, the task doesn't end there. It's critical to maintain a solid relationship with them. Keep in constant communication to be sure things are going smoothly. Set expectations clearly, so workers know what you expect of them. Schedule meetings for performance reviews and ensure you can handle any issues immediately. Remember, when you outsource inbound call center services, your customers believe they're interacting with your company, so anything that happens with the outsourced call center is a direct reflection of you.
Attain Ultimate Success
Televerde provides marketing and sales solutions to companies wanting to boost demand generation and establish customer retention. We can help you meet your unique needs and goals with strategic changes that unlock your full potential. Want more resources? The Televerde Resources and Events Hub is a treasure trove of information to help you attain ultimate success.
Related News & Blog
Inbound vs. Outbound Call Centers: Which Is the Right Solution for You?
Read Post