6 Signs You Need an Outsourced Sales Team
Outsourcing doesn't always have the best reputation, but when done responsibly, it can mean the difference between a small business successfully scaling up to meet growth challenges or buckling under the increased demand. But how do you know when it's time to outsource your sales team?
Outsourcing part of your sales process comes with numerous benefits, but it's not right for every business. If a company doesn't already have a strong infrastructure in place, adding in third-party agencies can have a detrimental impact.
Keep reading to see a list of signs that it's time to consider outsourcing your sales team.
Key Takeaways
Businesses outsource to save time, cut costs, improve efficiency, utilize flexible resources, and rely on outside expertise.
Employee burnout and underperformance indicate a need for outsourcing to reduce their workload.
An outsourced sales team can help with long-term strategies, specialized tasks, and unfamiliar markets.
Why Do Businesses Outsource Their Sales Team?
In 2021, 80% of surveyed small businesses planned to outsource activities. Sales outsourcing delegates part of the sales process to outside freelancers or agencies so the internal team can focus their time, expertise, and resources on higher-level strategies.

Businesses are choosing to outsource sales for many reasons, including:
Saving time: Outsourcing can have a major impact on improving overall efficiency. Delegating business tasks so in-house employees can focus on other goals was a priority for 27% of small businesses.
Scaling up the business: Many companies rely on outsourcing to manage rapid growth. As the business is scaled up, companies need to upgrade their facilities and hire in-house. Alternatively, they can outsource, which is often a lower-cost solution with fewer growing pains.
Utilizing a contingent workforce and flexible resources: The pandemic accelerated the business trend of hiring freelancers and seasonal or project-based workers. Intuit reported that 80% of large corporations plan to continue hiring contingent workers after the pandemic, and small businesses are capitalizing on this trend as well.
Improving cost efficiency: Outsourcing reduces operating costs and saves time and money that would have been spent on training. Fully trained, in-house experts should be spending their valuable time engaging with customers, not performing basic tasks like making cold calls to schedule meetings.
Relying on experts: Expertise is a valuable commodity, especially for small businesses. While hiring in-house can be challenging and expensive, outsourcing to connect with experts is more attainable.
6 Warning Signs That It's Time to Outsource Your Sales Team
If any of these warning signs sound familiar, it's time to start considering outsourcing:
1. Your Sales Team is Underperforming
Your team might have the necessary skills to complete tasks, but task completion doesn't always equal increased revenue.This is where outsourcing sales activities can make a big impact. Marketing agencies employ experts who can analyze your business strategies and run tests to find the best solutions. Let your in-house team focus on their strengths while you outsource other tasks to experts who are better equipped to handle the challenge.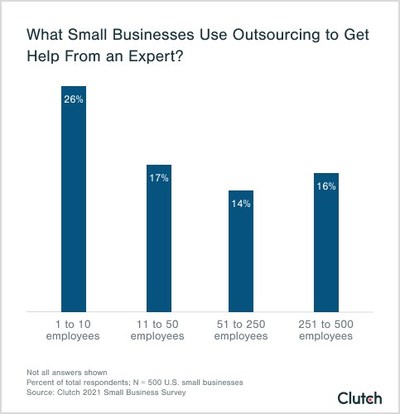 2. Your Team is Overloaded and Burned Out
Over half (52%) of surveyed employees experienced burnout in 2021, which is an increase from 43% in a pre-COVID survey. Monitoring your team's workload is important to prevent burnout, but it also helps you gauge whether it's time to start outsourcing.
Your sales team shouldn't be juggling so many tasks and projects that it can't keep up with other important business needs such as audits, performance reviews, and strategy meetings. If your sales team is overworked, you either need to hire more employees or outsource to take pressure off your internal team.
3. Your Business is Ready to Be Scaled Up
Outsourcing is a key component in company growth. When your business hits a critical point, you need to make some important decisions. Do you expand your team and facility space? Or do you outsource?
For many businesses, outsourcing is the most logical, flexible solution to save costs and help the company meet new demands as it grows.
Video: https://www.youtube.com/watch?v=vkcJVFjVFa4&t=113s
Alt-Text: Interview discussing how to know when businesses should outsource sales
4. Your Budget Limits Attracting and Retaining Top Talent
Hiring new team members is a costly, time-consuming process. From posting the job description to advertising the position, reviewing applicants, scheduling and conducting interviews, running background checks, processing administrative paperwork, onboarding, and training; the hiring process is extensive. And that's just a basic overview.
On average, the cost per hire is almost $4,000, and even highly qualified new employees aren't ready to start producing at 100% capacity on their first day. It takes time for them to learn the company processes and culture.
If your budget limits your company's ability to attract top talent, invest in proper training and onboarding, and retain employees, outsourcing may be the solution.
5. The Company is Expanding into Unknown Markets
If you're ready to tap into new markets or campaign strategies that your team is unfamiliar with, that's a clear sign it's time to outsource.
Businesses that stumble blindly into markets without the knowledge or specialized skillset to navigate unknown territory aren't likely to succeed on luck alone. For example, if your business is expanding into a foreign market, you'll need someone familiar with the best sales practices in a different country.
If you don't have the expertise you need on your internal team, outsourcing to find a specialist is an investment well spent for the long-term payoff.
6. Daily Tasks Prevent You from Focusing on Your Long-Term Strategy
Businesses that spend all of their time trying to manage the flood of never-ending daily tasks cannot plan for the future. This warning sign indicates that the company is struggling on multiple levels.
First, your sales team is either too small or it's wasting too much time on tedious, manual tasks that could and should be outsourced to free up in-house employees.
Second, your business would likely benefit from outsourcing marketing expertise to create a customized strategy. Marketing agencies can offer more tools and resources, not to mention case studies, experience, and analytical data that might not be available to your internal team.
If you're so focused on everyday tasks that you don't have time to plan for the future of the business, it's time to look into outsourcing solutions.
Is Your Business Ready to Outsource?
If any of the warning signs listed in this article seemed all too familiar, it's time to seriously start thinking about outsourcing your sales team.
Working with an outside agency can provide innumerable benefits to your business, from short-term task management to long-term campaign strategizing.
Still not sure if outsourcing is right for your business? Televerde helps companies optimize revenue growth with an omnichannel approach that unifies marketing, sales, and customer experience. Request a consultation to find out how we can help your business succeed.
Want to learn how outsourcing can help drive top-line revenue for your business? Read our eBook to find out.