7 ABM Solutions to Take Your Sales to the Next Level
Account-based marketing (ABM) has long been a mainstay of B2B marketing and sales, and in today's technology-driven business world it's a more accessible, feasible strategy for a wider range of organizations. Using powerful ABM solutions, companies are able to implement ABM at levels that meet their capabilities and needs.
Forbes research reports that worldwide ABM spending increased by 28% in 2022, and 71% of companies expect to increase their ABM investment during 2023.
If you're one of them, this guide is for you. We'll explore why ABM is such an important part of B2B sales success, plus 7 ABM solutions you should incorporate into your strategy right away.
Quick Takeaways
ABM is a highly personalized and targeted approach to B2B marketing and sales.
Today, ABM can be implemented in programmatic, "lite," and one-on-one formats depending on company goals, resources, and capabilities.
Benefits of a strong ABM strategy include stronger prospect relationships, aligned marketing and sales teams, higher average deal size, and higher-quality leads.
B2B prospecting platforms and CRM solutions are essential to automating and scaling your ABM strategy.
Channel specific ABM solutions like email marketing and social media platforms help you target different customer segments.
B2B referrals are one of the most powerful sources of ABM leads.
The Current State of ABM Marketing
ABM has become a crucial strategy in B2B marketing, leveraging personalized and targeted approaches to engage and nurture high-value accounts. The current state of ABM reflects its increasing adoption and its importance in driving revenue growth for businesses.
Part of ABM's growth is the wider implementation of programmatic and ABM "lite" strategies, which still employ ABM principles and tactics but don't necessarily involve the heavily one-on-one approaches one may think of when they think about ABM in its traditional sense.
Programmatic and ABM lite approaches still deliver higher ROI than more generalized tactics and important benefits like increased deal size, higher engagement, and improved win rate.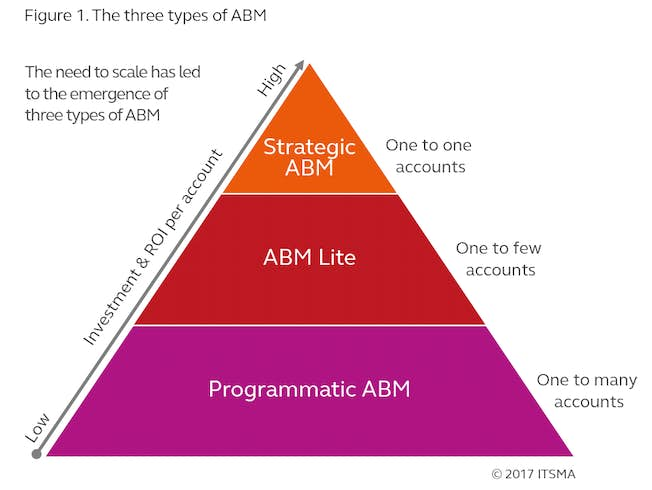 In practice, ABM is focused on identifying and prioritizing specific target accounts, and tailoring marketing efforts to meet their unique needs and challenges. It involves gathering insights and data about the key decision-makers within these accounts, crafting personalized messaging, and delivering it through various channels. ABM helps build stronger relationships, align marketing and sales efforts, generate higher-quality leads, and close higher-revenue deals.
The rise of advanced technologies and data analytics has greatly enhanced the capabilities of ABM. Marketers can now leverage tools and platforms to segment and target accounts based on firmographics, intent data, and behavioral patterns.
Additionally, AI-powered algorithms enable predictive modeling, which assists in identifying potential high-value accounts that are likely to convert. Let's look at some of the most important ABM solutions you can use to power your ABM strategy today.
7 ABM Solutions You Need to Enhance Sales
B2B Prospecting Platform
B2B prospecting tools automate the process of identifying and reaching out to high-potential prospects at every stage of the funnel. Using advanced data analytics, prospecting platforms can gather and analyze information about potential prospects to determine which ones are best-fit for your business and ABM strategy.
Types of information that prospecting platforms collect include: contact details, firmographics, and behavioral insights. They enable users to build targeted lists, segment prospects based on specific prioritize ABM leads for most effective outreach.
Optimized CRM
Many companies don't even realize that one of the most powerful ABM tools in their arsenal is one they already have in place—their CRM.
Optimizing a CRM for ABM outreach is the key to unlocking the full potential of your ABM marketing strategy. By identifying and prioritizing target accounts already in your pipeline, then integrating data sources and customizing data fields, companies can create a comprehensive view of their high-value prospects.
This alignment of sales and marketing efforts enables personalized outreach and coordinated campaigns. CRM automation can also streamline processes while tracking and measuring account engagement to provide insights into campaign effectiveness. Continuous refinement and updates ensure accurate and up-to-date account profiles.
With an optimized CRM, you can effectively target decision-makers, deliver tailored messaging, and nurture relationships, resulting in higher ABM conversion rates and revenue growth.
Email Marketing Platforms
While email inboxes—especially those of B2B purchase decision makers—are undoubtedly full, email remains the most-preferred channel for business outreach across age groups and demographics.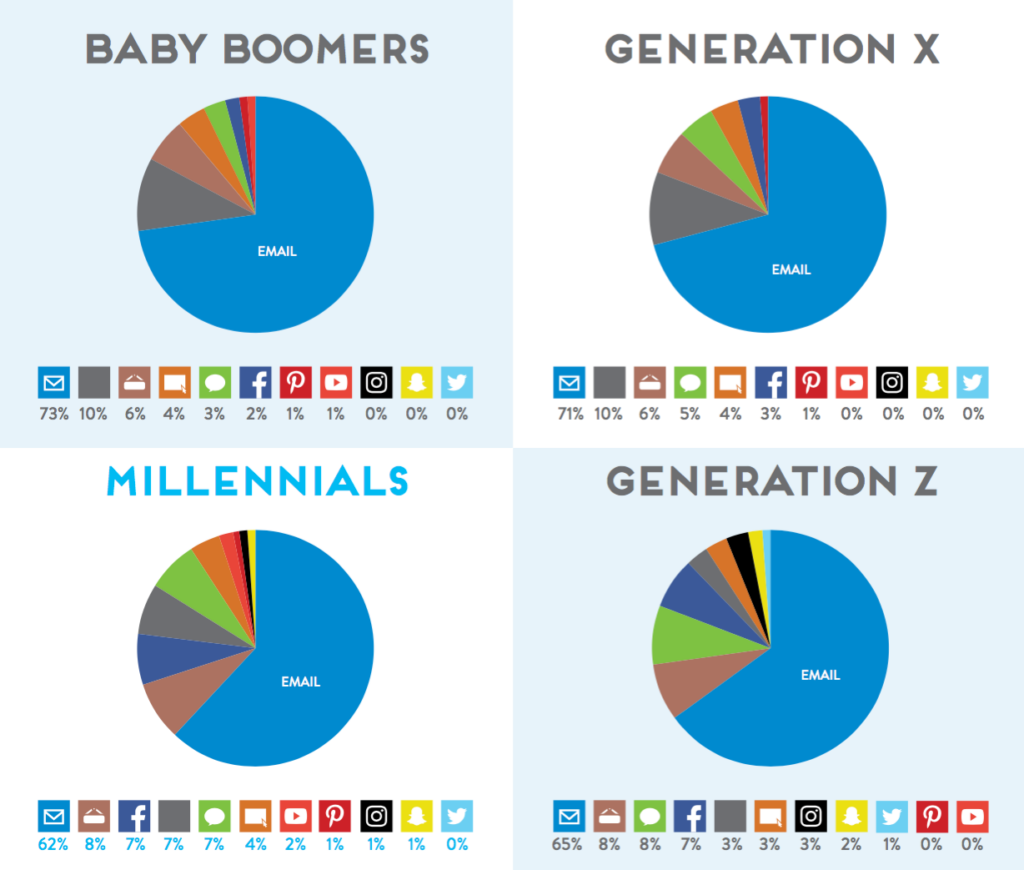 Incorporating email, then, as a primary outreach channel in your ABM strategy is a no-brainer. A common misconception is that by automating email marketing, you can't personalize it to fit an ABM strategy. While there are some levels of one-on-one ABM personalization that might not be possible, most programmatic and lite ABM outreach can be executed via automated campaigns.
Adopting an email marketing platform also allows you to more effectively track engagement metrics and follow up accordingly based on data showing which prospects are most engaged.
Social Media Outreach Tools
There are certain social media outreach tools—like LinkedIn Navigator, for example—designed specifically for B2B outreach, like that included in an ABM strategy. Similar to prospecting platforms, these tools mine their platforms for prospects that
B2B Referral Program
Referrals are perhaps the most powerful, personalized generator of new business for B2B companies. According to industry research, more than 90% of word-of-mouth referrals influence B2B customers. To boot, 88% specifically seek out word-of-mouth recommendations, and 75% say they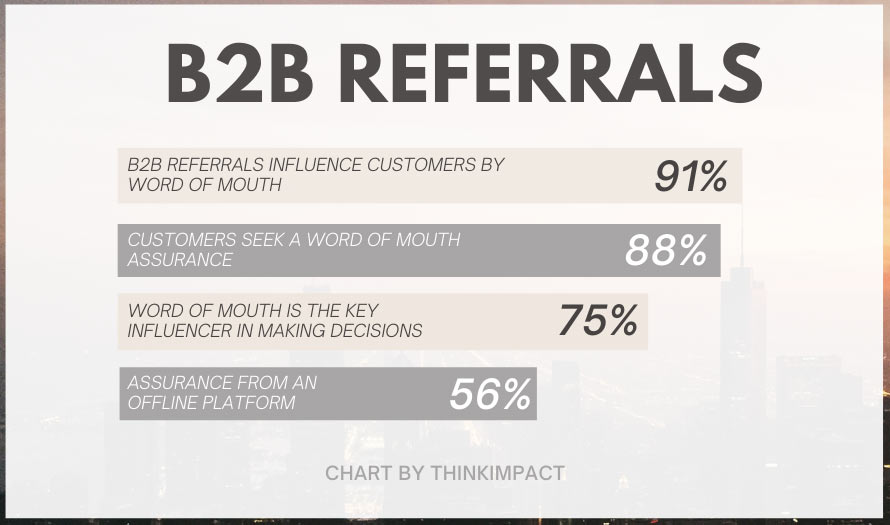 Incentivizing your current clients and making it easy to make referrals (i.e. building it into your sales process and content with easy-to-complete forms and communication channels) can is an easy-to-implement ABM solution that can help you build you a reliable lead pipeline built on first hand recommendations.
Lead Scoring and Lead Qualification Tools
Effective lead scoring and lead qualification tools are essential to effective prioritization of leads as they enter your pipeline from all channels—and identifying those most fit for ABM outreach.
Lead scoring assigns numerical values to specific attributes and behaviors so that you can rank them accordingly. Lead qualification uses that score and other criteria to determine where each lead belongs in the pipeline (ex: a marketing nurture campaign or straight to the sales process) based on purchase readiness.
In most cases, lead scoring and lead qualification features are built into CRM systems and can be easily automated and implemented into your ABM strategy.
Video Prospecting Platform
Especially over the past few years, as virtual meetings and online events have become the norm in the B2B world, video has become a central part of the sales process (and really all types of business interactions). Video prospecting is an effective way to personalize prospecting outreach in a way that stands out to your ABM leads.
Marketing and sales teams create and deliver prospecting videos efficiently using a combination of templates and dynamically-added content in each video. Many videos are casual (like this example from Vidyard) but meaningful in their personalization, and don't require any extensive editing experience.
Over to You
Incorporating powerful ABM solutions into your strategy doesn't have to break the bank—and you probably even have some of them already in place. It's just a matter of harnessing them to power your ABM efforts.
And if you're looking for execution support, Televerde can help. Our B2B marketing and sales solutions are built on industry best practices and customized to meet each client's needs.
Contact the Televerde team to learn more about how we can help your business grow.