5 Ways to Use Predictive Analytics in Sales
Predictive analytics in sales is transforming the way companies are able to forecast and intentionally affect future performance outcomes. Using tools like analytics-driven CRM systems and market intelligence platforms, they can see what's next on the horizon and operate agile strategies to stay prepared.
Data-driven organizations ahead of the predictive analytics curve are significantly outperforming their peers. They're seeing higher operational efficiency (81% vs. 58%), revenues (77% vs. 61%), customer loyalty and retention (77% vs. 45%).
In this guide, we'll walk through 5 powerful ways you can leverage predictive analytics specifically for demand generation and sales. The strategies we outline will help you expand your market presence, build brand awareness, and ultimately convert more high potential leads to your sales pipeline.
Quick Takeaways:
Predictive analytics in lead scoring eliminates human error and helps marketing and sales teams prioritize high-potential prospects.
Analytics-driven lead nurturing can lead to significantly higher generation of sales-ready leads at a lower cost.
Predictive analytics can help you uplevel personalization in content marketing, ABM sales strategies, and overall buyer/customer engagement.
What are Predictive Analytics for Sales?
Predictive analytics involves the use of data to predict and anticipate future trends. In sales, predictive analytics is used to understand probable future company performance as well as market trends and changes that may impact it.
Specific things sales team may use predictive analytics to forecast include:
Sales volume and revenue
Customer behavior and demographics
Marketing strategy reach
Company sales metrics and KPIs
Market trends and trajectory
Predictive analytics are powered by artificial intelligence (AI) technology that uses algorithms to mine vast amounts of data and analyze it to predict outcomes. It's only possible with the use of analytics software tools, which can operate at a speed and scale not possible for the human mind alone.
Today, predictive analytics in sales is becoming a competitive imperative—recent research found that 84% are using it in some capacity. Still, many still struggle to use it for making data-driven decisions, which is where you can gain an edge.
5 Ways to Use Predictive Analytics to Drive Demand Gen and Sales
Effective Account-Based Marketing
Technology and data have made account-based marketing (ABM) accessible to businesses of all sizes—92% of marketers say they're running an account-based marketing strategy.
Rather than being exclusive to high-ticket customers only, every company can leverage ABM by implementing it at different levels, including:
Programmatic ABM — Personalized engagement in one-to-many format
ABM Lite — One-to-few engagement
Strategic ABM — One-on-one engagement with highest-priority prospects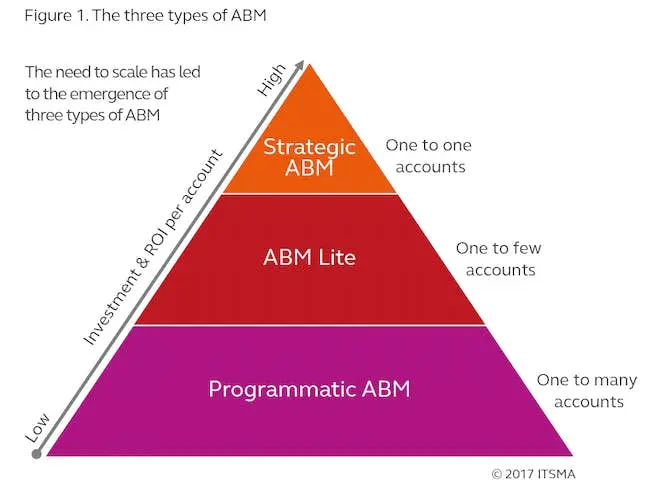 You can thank predictive analytics for this new capability.
Predictive analytics make it easy to monitor behavior, needs, and predict future actions. You don't have to spread yourself too thin targeting accounts that will never convert or doing manual research to identify your best prospects.
Instead, you can focus your budget and resources on the accounts most likely to deliver the highest conversion rates — and even the highest lifetime value!
Better Content Targeting
Predictive analytics can help you understand the buyer's journey on a deeper level. Not only is this helpful for lead nurturing, but it also helps you develop the most effective content. Predictive analytics can also show you which content types audiences want to see and will engage with most. They could include:
eBooks
Blog posts
Emails
Podcasts
Videos
Case studies
Finally, analytics can help you identify content gaps—i.e. content buyers want to see but that you're not delivering—so you can create more content to meet audience demand.
Given that the average B2B buyer consumes 13 pieces of content during the journey, identifying and filling content gaps quickly is especially important. With predictive analytics, you'll also understand which pain points, verticals, and accounts to create this content for.
Improved Lead Scoring
Traditional, manual lead scoring techniques are tedious and inefficient. It's impossible to score leads correctly 100% of the time. If it were, you wouldn't have so many challenges between marketing and sales.
Predictive lead scoring uses historical and current data — including intent data — to build comprehensive lead profiles with artificial intelligence. It analyzes your audience insights to evaluate and prioritize leads as they enter the pipeline based on their likelihood to convert and their revenue potential.
As a result, marketing teams can spend more time learning from data and developing effective campaigns, and sales can spend less time on unqualified leads. Predictive lead scoring saves a tremendous amount of time and makes everyone's lives easier (and the business more successful!).
Data-Driven Lead Nurturing
The buyer's journey is complex. It's not a linear process either — most leads require significant amounts of nurturing and engagement before they'll finally convert to a bonafide opportunity or sale. It's not surprising, then, that companies that excel at lead nurturing are able to generate 50% more sales-ready leads at a 30% lower cost.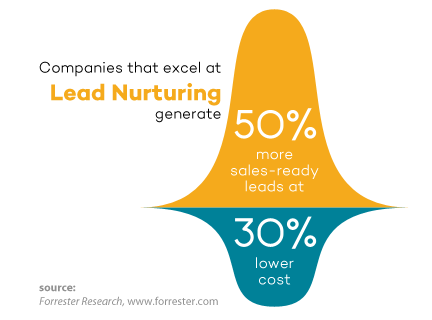 Predictive analytics to nurture leads seamlessly. Intent data and behavioral data can tell you where leads are in the sales cycle and which competitors they've considered. As a result, your marketing team will have a better understanding of every lead. They'll know when to send specific content, which channels to use, and how to best engage.
Plus, predictive analytics can help you nurture current customers before they churn. You'll know if they're investigating competitor plans and when to intervene with offers or other retention tactics.
Relevant Personalization
Buyers and customers in every industry want personalized experiences. According to McKinsey, 71% of buyers expect personalization from brands and 76% become frustrated when they don't receive it. That means an inability to personalize your sales interactions can lead to lost business and poor customer satisfaction.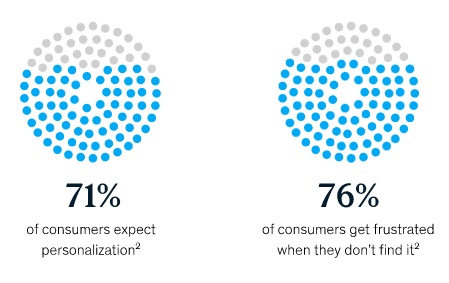 Predictive analytics allows you to understand how your demand generation, marketing, and sales efforts are resonating with target customers and audiences, and continually work to optimize your process to drive better personalization.
It can also help you spot preference trends across your target audiences so you can anticipate and meet buyer needs more proactively.
The Bottom Line
Predictive analytics opens up new avenues to know your audiences better and analyze insights about their preferences and behaviors. As a result, you can build more targeted and intentional strategies to drive demand generation, generate better leads, convert more sales, and grow your business.
Looking for more marketing tips and strategies? Browse our resources to level-up your game. If you need support executing more effective, analytics-driven strategies, contact our team today to learn how Televerde can support you.