Quick Tips for B2B Holiday Marketing (Yes – It's a Thing)
Are you a B2B marketer that's also dying to "deck the halls" at the end of every year? Around Halloween, when B2C marketers begin constructing their twinkling holiday displays and door-busting Black Friday promotions, it can be easy for us B2B people to feel left out. But B2B holiday marketing can be fun too, and in this guide, we'll tell you how.
It might be tough to get your complex B2B solution under the tree this year, but the holidays are a great time to build brand awareness by showcasing the human element of your company.
In the sections that follow, we'll cover ways to get into the holiday spirit—B2B marketing style— and examples from B2B brands who have done it well in the past.
Let's dive in!
Quick Takeaways:
B2B holiday marketing may not be able quick sales, but it presents a strong opportunity to nurture and build new connections.
Use holiday-themed CTAs (like giveaways or year-end recaps) and festive social media imagery to get your audience in the holiday spirit.
Publish holiday-themed content to showcase your expertise on timely topics relevant to your prospects and clients.
Include more diverse audiences in your B2B holiday marketing by celebrating holidays from many cultures.
Participate in the season of giving by sharing how you give back throughout the year.
What's the Deal with B2B Holiday Marketing?
While holiday gift buying skyrockets B2C sales over the last few months of every calendar year, it's a notoriously slow time of year for B2B companies. People are taking time off more than usual to spend time with family and friends, and year-end wrap-up typically takes the place of more active buying activities.
The result: less sales conversions for B2B sellers.
So what do you do instead? How do you keep your prospects engaged, your pipeline moving, and your sales forecasts optimistic when actual sales are converting at a lower rate?
Well, you can embrace B2B holiday marketing as a chance to nurture and build connections with your leads and prospects—an effort that can pay off in spades once the new year ramps up and buyers are ready to make those purchases that they put off during the holiday season.
If you've been in the B2B world for any period of time, you know that closing deals is a long game anyway. And as long as your pipeline is healthy overall, there's no reason to panic over a predictably slower sales period during the holidays.

In fact, the holidays present a perfect opportunity to execute on some of the things B2B buyers say they want most from brands—like personalized, human-centered communication. According to Salesforce, 84% of buyers say being treated like a person, not a number, is "very important" to earning their business.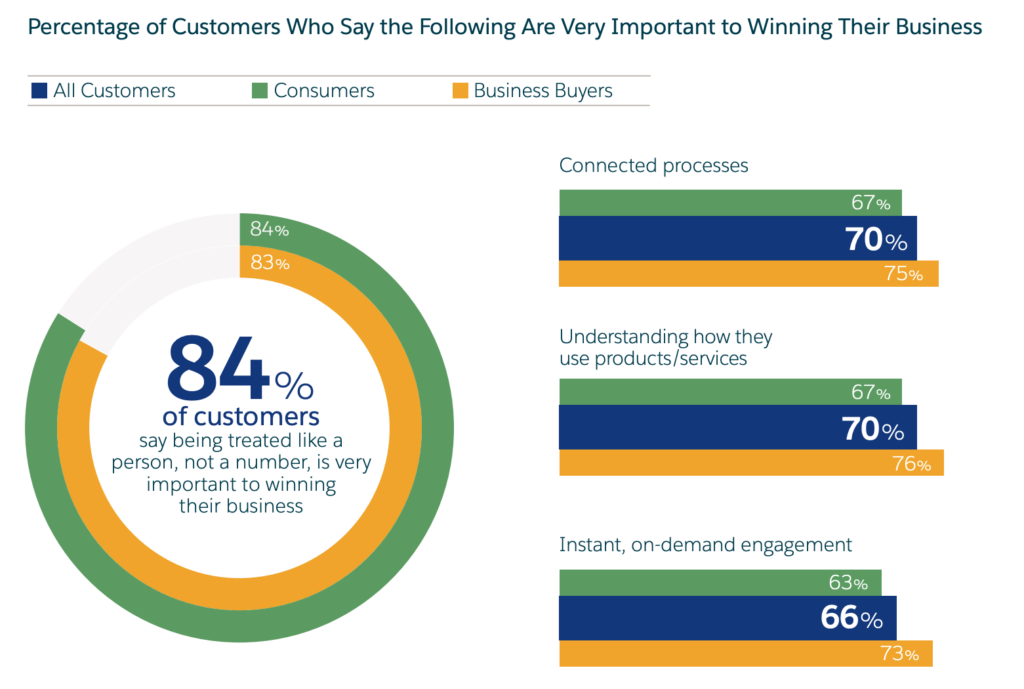 There's no time quite like the holidays for humanizing your B2B marketing and allowing it to get a little—well—warm and fuzzy. After all, B2B decision makers are still people buying from other people, and their decisions can be just as emotional as those of individual consumers.
And as for closing sales during the holidays, all is not lost. There are timing incentives and other marketing motivators you can use to generate revenue and hit your targets in Q4.
B2B Holiday Marketing Tips for 2023
Have Fun with CTAs
Get your audience to embrace holiday-centered action with themed CTAs, like asking prospects to accept a "gift" from you (perhaps in the form of a discount or giveaway) or, as Dribbble did in this end-of-year email a few years ago, showcase features and accomplishments with a "Year in Review" video.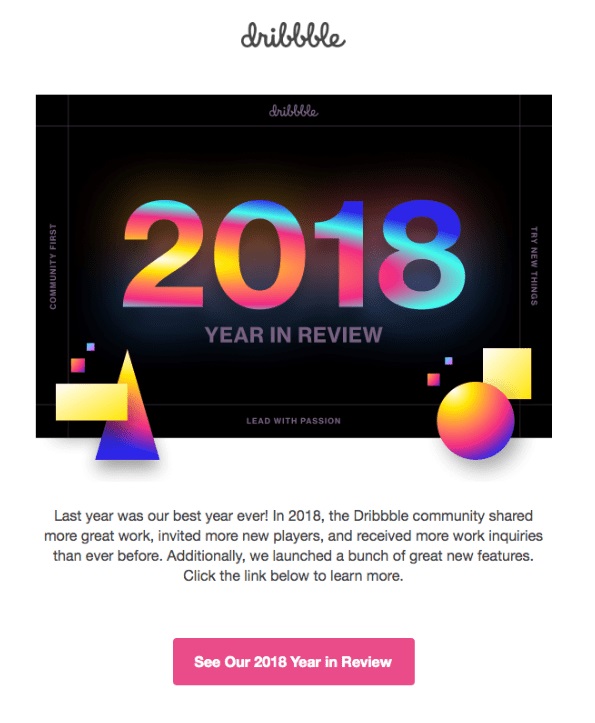 Embrace Holiday Cheer on Social Media
Google is famous for their holiday-themed banners. People look forward to these festive images, and B2B companies can take note for their own B2B marketing strategies. Adding holiday cheer to social media banners, images, and posts is a simple and fun way to grab attention and engage audiences during the holiday months.
Here's an example from global software giant SAP, showing how a little can go a long way in this Facebook header image they created to make their page more festive in December 2020.

Publish Holiday-Themed Content
Holiday-themed content is a great way to showcase your expertise and get audiences engaged by covering timely, relevant topics. Plus, even if you aren't serving B2C customers participating in the holiday shopping madness, many of your clients might be doing just that.
McKinsey is a great example of a B2B company that recognizes this well and creates high-value content for their B2C clients, such as their yearly Black Friday reports for retail companies.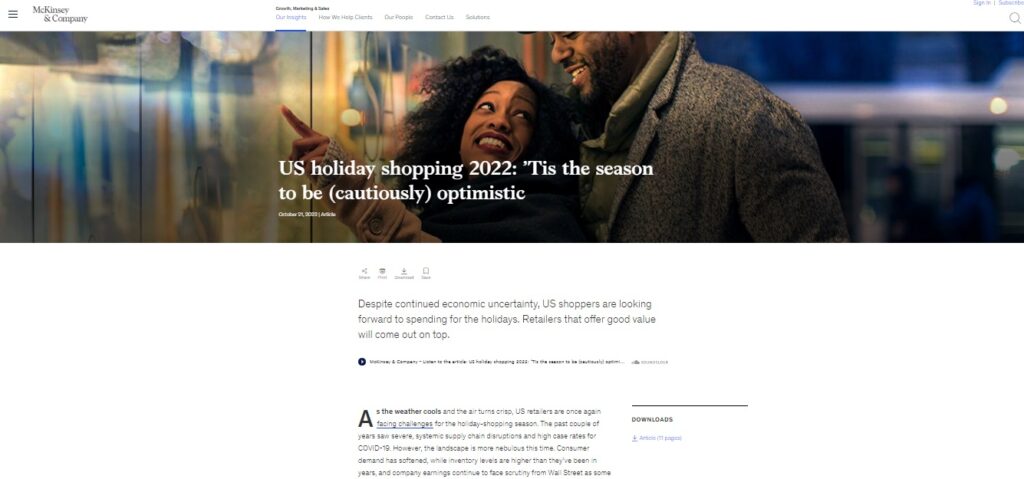 Celebrate International Holidays
Holiday traditions look different around the globe and even across the United States. You can win trust and respect from a diverse prospect base with B2B holiday marketing that celebrates holidays from many religions and cultures.
Here's an example from media company Just Global, which celebrated Chinese New Year last year with this awesome tiger-themed blog (to celebrate the Year of the Tiger) and even provided free digital assets for their audience.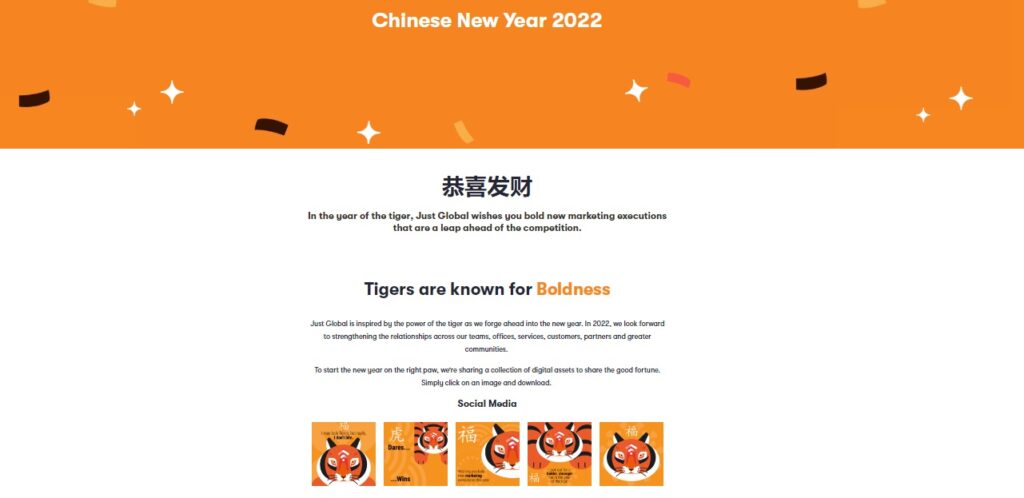 Participate in the Season of Giving
More than ever, clients and B2B audiences in general want to work with companies who have strong values and demonstrate them authentically—both through content and in practice. What better time to do it than during the worldwide season of giving?
Televerde jumped on board last November with our culture of giving blog, which highlighted the ways our incarcerated employees give back to their communities.
Over to You
B2B holiday marketing might not be about the quick sale, but it offers plenty of opportunity to build stronger connections with prospects, showcase brand values, and have some fun in ways that get your audiences engaged.
As a recap, here are five ways you can get festive with your holiday marketing campaigns:
Have Fun with CTAs — Try out holiday-themed calls to action by driving audiences to things like holiday giveaways or year-end review content
Embrace Holiday Cheer on Social Media — Help your audiences get into the spirit of the season with festive logos, headers, and social media posts.
Publish Holiday-Themed Content — Demonstrate your expertise by covering timely holiday topics relevant to your audience.
Celebrate International Holidays — Invite a more diverse audience by celebrating holidays from many cultures around the world.
Participate in the Season of Giving — Publicly share how your company gives back in meaningful ways during the holiday season.
And if you're looking for help launching or scaling your B2B holiday marketing campaigns (or any marketing effort), Televerde can help. We offer comprehensive marketing, sales, and customer service solutions rooted in industry best practices and customized for every client. Contact us to learn more about how we can help you grow.