How B2B Telemarketing Can Yield Super ROI for You
If you're growing an apple tree, you'll spend most of your time caring for the soil. While the ground might not directly yield apples, it's the foundation for the tree. If it's not healthy, neither are the apples. So, when you're building a B2B marketing strategy with high returns, the first place you water is the soil – your first connection with potential customers – build brand awareness, and generate leads. One way to check all three off your list is through B2B telemarketing.
Learn how to use a B2B telemarketing strategy to boost your marketing ROI.
Key Takeaways:
B2B telemarketing helps businesses find qualified leads to improve the conversion rate of their nurturing strategies.
Use B2B telemarketing to fill your database with valuable information about your customers.
Equip your telemarketing team with the training, resources, and data to reach your B2B prospects effectively.
What Is B2B Telemarketing?
Business-to-business telemarketing is connecting with potential B2B customers through solicited and unsolicited phone calls. Marketers use telemarketing to generate new leads, qualify current leads, and perform market research.
B2B businesses are more likely to respond to your telemarketing than B2C. For example, 82% of B2B buyers are willing to schedule meetings with sales agents. In addition, 57% of C-level executives and 51% of directors prefer B2B phone calls.

How to Use B2B Telemarketing in Your Strategy
Here are three ways to incorporate your B2B telemarketing strategy in your marketing campaigns to support your goals.
Generating Leads
Lead generation is one of the most common reasons for B2B telemarketing. After researching and collecting a list of potential leads, you reach out to the prospects to identify quality leads.
Lead generation through B2B telemarketing improves the effectiveness of your other marketing strategies because you can ask qualifying questions while gathering the leads. That way, the list you submit to your marketing team for nurturing only includes marketing-qualified leads. This means you're only investing valuable time and effort into leads with interest in your business. 
Building Brand Awareness
You will rarely convince a contact to commit after your first contact. Instead, the best strategy is to build brand awareness before making your sales pitch.
Building brand awareness involves:
Informing leads about your products and services
Letting them know who you are as a business
Starting a relationship
Gathering Sales Data
Your B2B telemarketing calls with leads and customers can provide valuable insights to inform and fuel your marketing strategies. During the calls, agents might perform surveys or ask for profiling information. This data helps you understand your audience, their needs, and develop the most effective marketing strategies.
While the phone call will not generate an immediate financial return, it will help you shape your marketing strategies to increase the return from future campaigns.
6 Tips to Maximize Your Return on B2B Telemarketing
Use these six strategies to improve the effectiveness of your B2B telemarketing efforts and maximize your ROI.
1. Personalize Your Interactions
Don't go into your B2B cold calling blind. You want to learn as much as you can about the contact before investing time into your B2B telemarketing.
A significant difference between B2B sales versus B2C is the size of the sales. B2C sales tend to be smaller, so telemarketers try to perform as many calls as possible to reach their sales goals. On the other hand, B2B accounts tend to be much larger, so you need fewer sales to meet quotas. That means you can spend more time and resources learning about the accounts beforehand.
When you dedicate your efforts to building relationships instead of just hitting sales goals, it's called account-based marketing.
Getting to know the accounts allows you to personalize your approach so you can focus on known needs within the business. The more specific your interaction is, the greater your chances of success.
For example, if you learned about a new acquisition or merger within the business, you might mention it in your pitch to show how your products can help with the transition.
2. Establish Your Goals
Most trained fishers don't throw their hooks into the water and accept whatever they catch. They usually decide what fish they want to catch first. Then, they purchase the right bait and go to the fish's habitat to increase their chances of catching that fish.
That's how goals can help you increase your returns. Your goals are what you want to catch with your strategy. Are you looking to generate leads or build brand awareness? Then, customize your telemarketing script and approach to those goals, making you more likely to succeed.
3. Be Strategic
Before you even pick up the phone, research the best times and days of the week for reaching your prospects.
For example, the day and time with the best telemarketing results are Wednesdays between 4 and 5 PM. The least effective day and time are Monday mornings.
You'll also want to plan multiple calls. Most telemarketers make eight calls before reaching a prospect. Additionally, B2B telemarketers see far greater success rates on their third attempt than on their first attempt.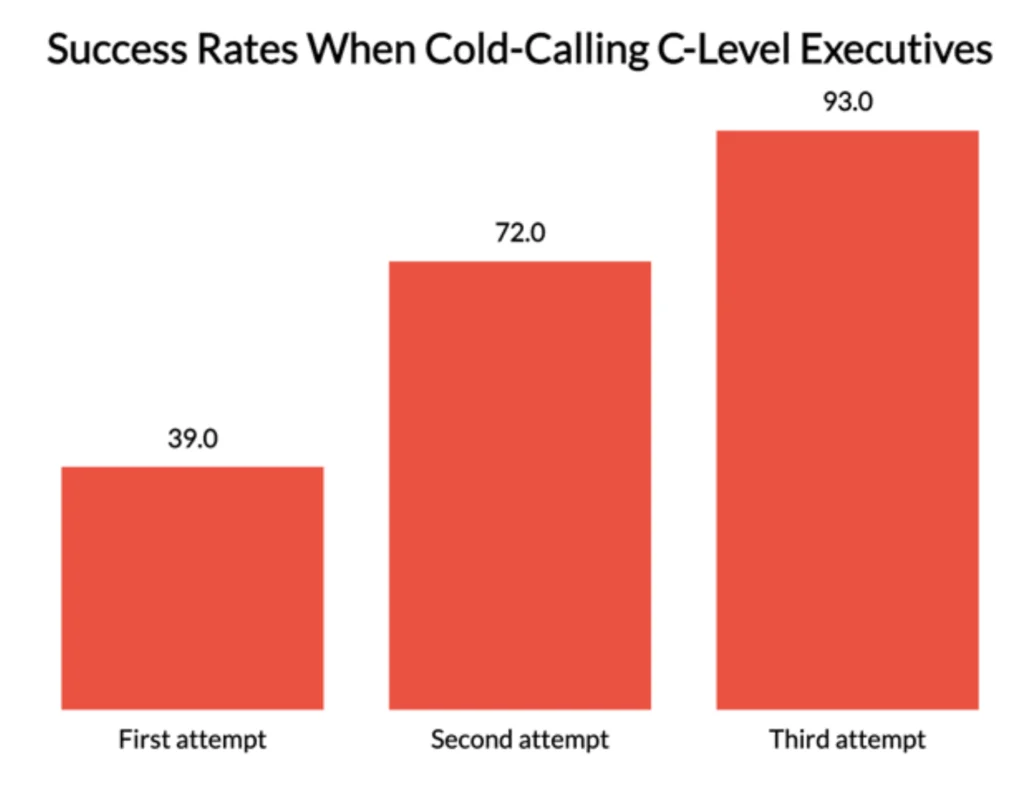 4. Encourage a Conversation
Questions are your friends in telemarketing. Even negative questions can be a positive plug for the brand.
So, when buyers ask questions, see them as a sign of potential interest and thoroughly answer them. Use active listening skills to understand the intent behind the question. Perhaps there is an underlying concern you might address during the phone call.
5. Equip Your Telemarketers
Your brand might be the heart of your strategy, but your telemarketers are the front line. So, take just as much time investing in your agents as you do your products and services.
Some tools to provide include:
Regular company training
Competitive incentives
Accessible training resources
Scripts, accurate databases, and other sales enablement tools
6. Provide a Follow-Up Action
A phone call is one step in the buyer's journey and most likely won't be the last step. According to RAIN Group research, marketers need at least eight touchpoints before scheduling a meeting. Then, they need additional touchpoints to convert those leads into customers.
To encourage your B2B contact to keep moving forward in their buyer's journey, make the next steps as easy as possible. Otherwise, you risk them losing interest, finding another brand, or forgetting about the call.
Here are some ways you can offer a next action:
Share a link with the prospect with more information
Ask if they want to join a mailing list
Sign them up for a free trial or demo
B2B Telemarketing that Gets Results
Televerde's dedicated team of sales agents helps you get the results you need from B2B telemarketing. Equipped with the latest tools, resources, and training, our team has the expertise to reach your B2B leads effectively and increase your conversation rate.
Contact us to schedule a consultation.