Choosing the Right Email Marketing Company: 10 Things to Consider
Working with an email marketing company can help bridge digital marketing gaps in your organization. According to Litmus, email campaigns yield an average return on investment (ROI) of $36 for every dollar spent. The keyword here is average – the potential for a higher (or lower – with the wrong approach) ROI is possible. 
To ensure a successful search, evaluate your options carefully to determine which agency aligns with your business marketing goals. In this article, we review a few attributes to consider to ensure a successful search.
Key Takeaways:
When searching for an email marketing company, consider factors like portfolio, segmentation and audience development expertise, and scalable contact lists in your search.
Consider hiring fully managed services to get access to sophisticated marketing technology and expertise that may not be available in-house.
A well-chosen email marketing company can provide you with the tools, knowledge, and support to create and execute successful email marketing campaigns, drive sales growth, and reach your desired outcomes.
How to Look for an Email Marketing Company
Outsourcing your email marketing to a specialized company can be a smart move for small- to medium-sized businesses that need to relieve swamped in-house teams.
An email marketing agency can also give you access to best-of-breed technology and capabilities that you couldn't access before partnering with an agency.
Still, the main differences between the top email marketing companies depend on the depth of offerings and service quality. To make sure you find the right partner for your business, consider the following factors.
1. Company Portfolios
The easiest low-hanging fruit to pluck is comparing and contrasting the portfolios of the companies you are considering. A top agency should have a complete portfolio, including client testimonials and reviews.
Email marketing company portfolios fall along two dimensions: fully managed services and self-service offerings. Comparing the portfolios will also reveal which company has expertise in your particular industry to you.
2. Segmentation and Audience Development Expertise
Efficient audience segmentation and development can improve your brand's lead generation and demand generation efforts.
Segmenting audiences allows you to optimize A/B split testing and refine your campaign strategy. Not every company has the same depth of expertise in this area, so you want a company with comprehensive segmentation capabilities and a strong track record in audience development.
3. Scalable Contact Lists
The number of contacts available per package also varies between email marketing companies. Some self-service options may cap the number of subscribers at a few thousand or ten thousand, which may not be sufficient for most larger businesses.
When selecting an email marketing company, you want one that offers a simple way to scale up your contact list. Ideally, you want to be able to easily increase the number of subscribers without having to contact customer support to complete the upgrade.
Hiring a fully managed service can help you determine when to add capacity and when to refresh the contact list.
4. List Hygiene
Look for an email marketing company that offers list hygiene as a standard capability. As your mailing list grows and evolves, list hygiene can become a challenge. Unresponsive or inactive contacts can clutter your list and take up valuable space, especially if you have limited connections. 
An agency that appreciates the value of list hygiene and a scalable contact list is a good indicator of their proficiency in lead generation.
5. Test the Content Creation Tools
Email marketing companies may offer stock templates and significant customization options to personalize your email. The idea is to give your audience helpful content that will move them further along the pipeline to the buying stage.
But the content must be relevant and valuable to the specific audience. That's where segmentation comes into play because you want highly targeted emails to improve lead quality.
An email marketing company may let you test their content creation tools to see if they meet your needs and help you improve lead quality. The success of your email marketing campaigns relies on your content quality, so you want a company with robust content tools.
6. Training and Implementation Services
When choosing an email marketing company, sophistication is another facet you want to consider. If the agency uses a slew of new technology, you need to ensure your team has the time to learn how to use the software effectively.
Your chosen company may or may not have training modules built into its software. However, many email marketing companies provide fully managed implementations and one-on-one training to help you and your team get up to speed. That said, take full advantage of training and implementation services if available.
7. Determine Your Analytics and Reporting Needs
For the success of your email marketing campaigns, you need to have access to robust analytics and reporting capabilities. Don't be a victim of analysis paralysis. Take the time to decide which metrics your business needs and look for an email marketing agency that values data-driven insights and provides the metrics that matter most to your business.
Analytics data is vital because it can reveal how (and why) an audience interacts with a brand. The reporting is equally crucial since it can automatically collect and analyze as many as 17 email marketing metrics or more.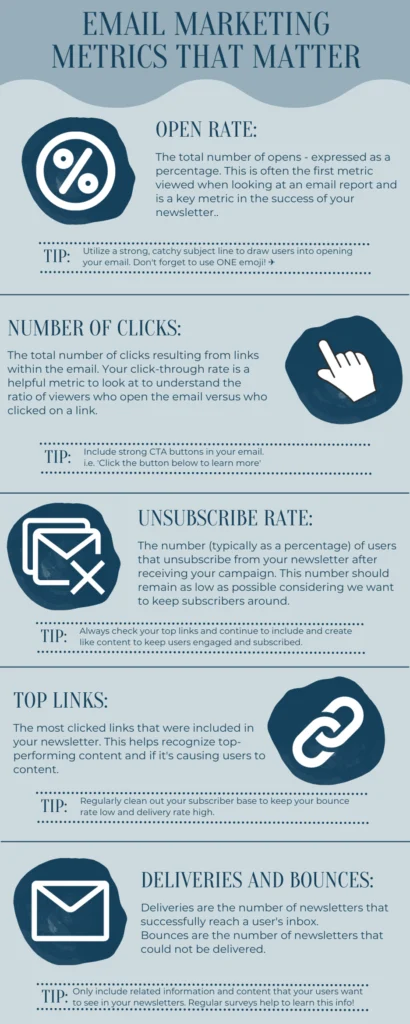 8. Note the Level of Automation Available
Email marketing automation is standard fare among email marketing companies, but you want to compare their automation features carefully. Some companies may limit the automation available in each service package. Nevertheless, the best companies typically include workflow templates to jump-start your automation efforts.
Automation entails more than setting up automatic triggers for email sequences. That's where an email marketing company can help you boost efficiency by leveraging their automation expertise. When evaluating email marketing companies, consider their level of automation and whether they can provide the support and expertise you need to succeed
9. Anti-Spam Measures
Spam is a sensitive, necessary topic when comparing email marketing agencies. When comparing email marketing companies, ask about their approach to optimizing subject lines to keep your emails out of subscribers' spam folders.
An experienced agency may have access to powerful technology and tools, such as artificial intelligence, to help prevent your emails from being marked as spam. A quality email marketing company should be able to demonstrate their anti-spam expertise and provide you with peace of mind that your emails will reach your subscribers' inboxes.
10. Company Culture
The final factor to consider when choosing an email marketing company is their company culture and alignment with your organization. Reviewing company culture can reveal an agency's values and how they demonstrate those values in their work.
Company culture can be hard to define, intangible, and challenging to communicate. Working with a fully managed service will provide you with the opportunity to ask questions directly and get a better understanding of the company culture. Self-service options may not offer the same level of visibility into the company culture.
Partner with Televerde to Maximize Your Email Marketing Success
By taking steps to improve your email conversion rate, you can reach more people, engage more customers, and ultimately drive increased sales.
Televerde can help you achieve your email marketing goals with our expert services. Our email templates, combined with advanced analytics and insights, enable us to design and execute effective email marketing campaigns that deliver results. 
Contact Televerde to learn more about working with an email marketing company and maximize the impact of your messages.