How To Ace Social Media Customer Service: 7 Insider Tips
Social media is a valuable tool for more than just marketing campaigns. It's also a channel for interacting with your customers personally and building relationships. As a result, successful businesses should include social media customer service in their strategies to quickly and personally address concerns on the platform and show others the attentive and involved company you are.
Learn seven ways you can boost the performance of your social media customer service.
Key Takeaways:
Customers are more likely to leave a negative comment than a positive comment
Strive to reply to customers within four hours
Social media is ideal for addressing quick issues, while you should handle more complex problems offline
Why You Should Be Using Social Media Customer Service
To offer excellent customer service, you must meet your customers where they are most frequently and feel most comfortable.
Over half the world's population is on social media. In addition, the average person spends just over two and a half hours using social media. Social media offers a unique opportunity to connect personally with your customers and offer them excellent service.
Not only is social media a popular platform for connecting with customers, but it also primarily supports social interactions, which makes quick responses easier. Over 60% of customers expect a fast response from businesses with good customer service.
Some ways you can provide social media customer support include:
Responding to comments and tags
Posting relevant information
Connecting through social media chat
7 Tips to Improve Your Social Media Customer Service
Use these seven tips to master your social media customer service strategy.
1. Know Which Platforms Your Customers Prefer
There are dozens of social media platforms. Since you don't want to waste resources on ineffective channels, you should only invest in the most relevant platforms that most customers use.
Start by understanding your audience and where they are most likely to engage with your brand.
For example, LinkedIn is the top B2B social media platform with over 830 million professionals. Roughly 80% of the platform are business decision-makers. B2B businesses would want to prioritize LinkedIn in their customer service strategy. However, a B2C company will want to focus on Facebook and Instagram.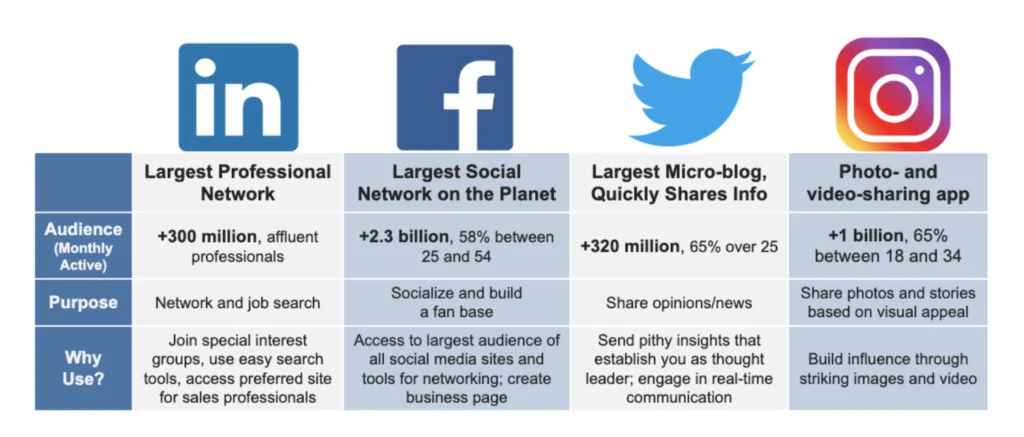 Image from Hearsay
2. Monitor Social Media Conversations
Not all negative feedback will appear on your feed. Many times your customers may discuss issues or make comments on other pages. Carefully monitoring mentions, tags, and conversations, where your brand name appears, is crucial to customer service.
When you see someone making a positive post, take the time to thank them so they know you noticed and appreciate their feedback. This action shows them and other customers that you care about your customers' satisfaction.
When you see negative feedback, reach out to the customer to let them know you hear them and want to make the issue right.
3. Address Negative Feedback
You should never ignore negative feedback on social media. While satisfied customers tell an average of three people, those with a negative experience tell fifteen people on average. Ignoring a poor experience will hurt your brand and cause a negative ripple effect.
The best action you can take is to respond to the negative feedback and try to make the situation right. Even if you cannot salvage your relationship with that customer, you at least show other customers who read the interaction that you make an effort when issues arise.
4. Organize Social Media Interactions
If you're a large business, you most likely won't be able to respond to every comment and tag on social media. For example, customers send one billion messages to companies each month on Facebook Messenger alone. You don't have to respond to every message, comment, and mention. However, you want to ensure you don't miss any important mentions.
Create a system for tracking and managing your customers on social media. Then, you can use customer data to prioritize customer comments based on past interactions. For example, if a customer has had the same issue in the past, you will want to address that customer's concerns quickly.
Some examples of questions you'll want to prioritize include:
Account-related questions
Complaints
Multiple complaints at once about the same issue (like an outage)
When customers leave positive feedback or casually mention your product, you don't have to prioritize those comments. If you have the resources and personnel, customers appreciate responses, even when they don't have a complaint. However, those responses build upon a healthy relationship rather than repair any issues.
5. Create Dedicated Communication Channels
You can help your customers reach the most helpful people within your business by offering dedicated channels for customer support. For example, you can create social media handles for customers with questions.
For example, Facebook has a dedicated support page that customers can tag and message when they have questions. This page keeps customer service inquiries separate from general social media marketing content and interactions, which improves customer service management.
6. Respond Quickly
The average time companies take to respond to customers is over twelve hours. In addition, 62% of businesses don't even respond to customer inquiries.
Customers don't like waiting over twelve hours. About 46% of customers expect a response rate of four hours or less, while 12% expect a response within 15 minutes.
Prioritizing your response rate will significantly improve your customer service as 75% of customers say a fast response time is the most critical attribute of the customer experience.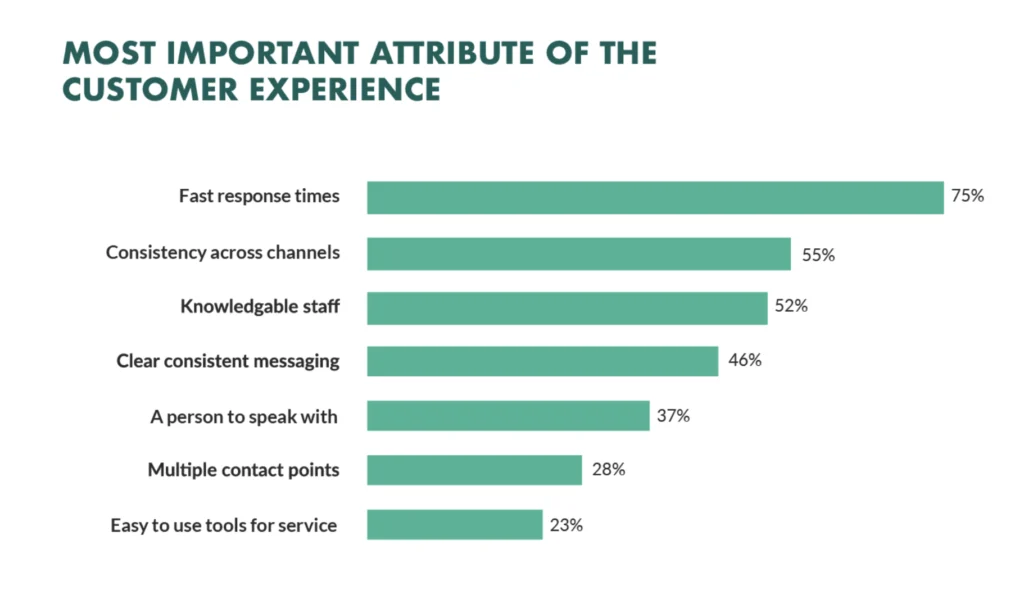 Image from SuperOffice
7. Know When to Move Off Social Media
When training your teams for social media customer service, establish guidelines for interacting with customers. Those guidelines should also include what issues are appropriate to address publicly in a comment thread. Sometimes you will want to move a conversation privately by politely asking a customer to message your team with details.
Consider taking the interaction off social media if the conversation is more than a brief interaction. Instead, you can offer more comprehensive support through email, phone, or some of your other inbound customer service channels.
Improve Your Customer's Experience through Social Media
Social media is a powerful customer service tool to improve your customer satisfaction rate if you have the right resources to use it effectively. Televerde can help you track, engage, and respond to customers by seamlessly incorporating social media into your customer service strategy.
Contact us to learn more about our customer service solutions.