Inbound vs. Outbound Call Centers: Which Is the Right Solution for You?
Staying in contact with your customers is critical to delivering excellent customer service and making new sales. One way to accomplish both is through a call center, whether inbound or outbound. When comparing inbound vs. outbound call centers, consider the benefits of each option.
While you might think customers prefer digital contact methods, the State of the Connected Customer report shows that 59% of customers in 2022 still prefer using the phone as their primary customer service channel. This is why having an effective call center as part of your customer service and sales strategy is so important.
Here, we will explore the differences between inbound and outbound call centers to help you decide which is the best fit for your business.
Key Takeaways
Inbound call centers primarily provide customer service, while outbound call centers typically focus on sales and marketing.
An inbound call center can offer technical support services for customers in addition to fielding general questions.
You should consider your business goals and needs when deciding which type of call center is the best fit.
What Is an Inbound Call Center?
An inbound call center handles incoming calls from customers or others who are interested in your business.
Inbound call centers typically serve as the frontline for customer service issues. While taking phone calls may be the primary role of a call center, some agents may also handle customer emails, social media inquiries, and chat requests.
What Services Does an Inbound Call Center Provide?
Inbound call centers provide a wide range of services, which may include the following:
Customer service: For most inbound call centers, customer service will be its primary focus. This typically involves answering customer calls, updating customer account information, gathering customer feedback, and answering questions.
Inbound sales: Another popular service for inbound call centers is sales. While becoming less common, some customers still prefer to call a business to discuss products and services before making a purchase. Other sales calls may involve upgrading current customers to better products or services.
Technical support: Some call centers or specific agents may provide technical support to customers. If a customer calls in when something isn't working the way it should, these agents will help troubleshoot the issue and walk the customer through a solution. If the agents cannot solve the problem, they will route the issue to the appropriate department.
General questions: In some cases, customers might call for some general information. This might include your business hours, account information, or when their next shipment should arrive. Agents with this role should have a good understanding of your brand and business policies and practices.
What Is an Outbound Call Center?
The primary role of outbound call centers is to place outgoing calls. While you may think this is primarily cold calling, there are many other roles an outbound call center can fill, including sales and marketing.
Outbound call centers are focused on engaging with potential customers and selling products and services. Outbound call center agents should be experts on whatever your business sells. The agents need to be empathetic and be able to identify problems your products or services can solve. Many outbound call centers use automated systems to operate more efficiently.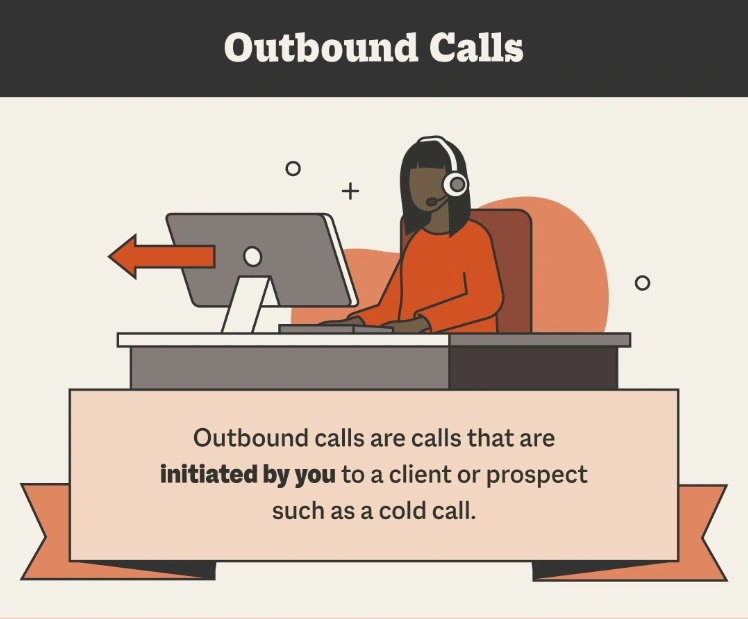 What Services Does an Outbound Call Center Provide?
Outbound call centers offer a wide range of services:
Lead generation: A primary role of many outbound call centers is lead generation. "Cold calling" or "warm calling" are frequent methods for generating leads. "Warm calling" is when someone has expressed an interest in your company or interacted with your business in some way. Your agents contact them to gauge their interest and hopefully convert them into customers.
Sales: As opposed to lead generation or telemarketing, outbound sales calls typically focus on customers that have already begun their customer journey. Perhaps the customer already spoke with a lead generation agent and expressed interest in a product. The sales team would then contact the customer to close the deal.
Telemarketing: While often seen negatively, telemarketing is still an asset for many businesses. Telemarketing agents can help spread awareness of your brand and products and generate new leads. Telemarketers usually help with pre-sale steps for interested contacts.
Market research: There may be times when you need insights from your customers or target audience. You can use an outbound call center to use surveys and other market research strategies to gather this valuable data.
Inbound vs. Outbound Call Center
While the primary difference between inbound and outbound call centers is the types of calls they field, this chart highlights some other differences.

Another difference in inbound vs. outbound call centers is the kind of skills each agent should have. In an inbound call center, agents should be:
Polite
Calm
Helpful
Patient
Proactive
They should also have a basic knowledge of sales and marketing strategies.
As for outbound call centers, those agents should be:
Persuasive
Determined
Engaging
Sales-driven
These agents should have a more thorough understanding of sales and marketing and be prepared to take a more aggressive approach when trying to make a sale.
Which Type of Call Center Do I Need?
To determine which type of call center would be the best fit for your business, you need to examine your goals and consider the benefits of using an outsourced call center.
You may want to partner with an inbound call center if your business experiences any of the following:
Your internal teams spend a lot of time fielding customer calls and questions instead of doing their jobs.
Your customer support lacks consistent branding.
You can't offer 24/7 customer support.
You are losing money from a lack of reliable customer support.
On the other side, your business may want to consider an outbound call center if you have the following needs:
You need to boost your lead generation.
You need fresh market research.
You need to accelerate your customer acquisition.
You need to increase your sales.
If your business has needs that fall in both the inbound and outbound call center categories, there are call centers, like Televerde, that offer both types of services.
Televerde Can Fulfill Your Call Center Needs
Are you still questioning the type of call center your business needs? Whether you need inbound, outbound, or both types of call centers, Televerde can help. We offer a wide range of call center services, including customer support, sales, and marketing. We will work with you to discuss your needs and offer you the ideal combination of services.
Our agents are expertly trained and can quickly learn your business practices to seamlessly become part of your team.
Ready to see how Televerde is the answer to your call center needs? Request a free consultation today to get started.