How to Calculate Sales Growth (and 5 Tips to Boost It)
While success means different things to businesses, nearly all companies want to increase sales. It's vital to know how to calculate sales growth to track the effectiveness of your sales and marketing strategies.
Sales growth is an important key performance indicator (KPI) in any industry. Measuring sales growth helps you see whether business is growing or declining and helps you assess the overall efficacy of your sales efforts. Last year, only 24.3% of salespeople exceeded their sales goals. By measuring sales growth, you can gauge how your business is doing today in its daily operations, and you can assess your company's future potential. Tracking sales growth allows you to uncover opportunities to make necessary changes to increase overall performance.
Keep reading to learn how to calculate and boost your company's sales growth.
Key Takeaways
Sales growth is the revenue your business generates in a certain period.
Sales growth is important for several reasons, like helping you understand which efforts are working, your position in market share, and whether you're providing a positive user experience that drives sales.
Calculate sales growth by subtracting prior period sales from current period sales, then dividing by prior period sales and multiplying by 100.
From delivering a positive customer experience to educating your employees, follow five helpful tips for boosting sales growth for your business.
What Is Sales Growth and Why Is it Important?
Sales growth is the revenue your business acquires in a given time. When you compare that growth amount with another period, you understand your growth rate. If your current numbers are higher than previous numbers, that's positive sales growth. If numbers are lower, it's negative sales growth.
Sales growth indicates profitability and the general health of your business. Calculating sales growth helps you better assess your business strategies and determine which revenue goals are on track.
Sales growth is important because it helps you realize:
Which of your efforts are working, and which to modify for peak performance.
Market and customer acceptance of your products.
Whether you're providing a positive user experience.
What strategy you should take to maximize your outcome.
Calculating sales growth helps to shape your sales and marketing strategies and ensures your team is on the path to optimizing demand generation and creating effective customer lifecycle marketing.
How to Calculate Sales Growth
Calculating your company's sales growth is easy once you know the net sales values of the previous period and the current period you want to compare. Use the following formula to identify your current sales growth:
(Current Period Sales – Prior Period Sales) / Prior Period Sales x 100 = Sales Growth Rate
So, for example, if you wanted to calculate your sale growth from last fiscal year (which happened to be $750,000 in sales) to this fiscal year (which ended with $1,000,000 in sales), the calculation would look like this:
($1,000,000 – $750,000) / $750,000 x 100 = 25%
That's a 25% increase in sales growth over a year. That's good! Or is it? There isn't a steadfast rule about what constitutes "good" sales growth. Company size, competition, and sales goals are all factors that determine whether your sales growth should be considered a success.
5 Tips to Boost Sales Growth
You can take steps to increase the chances of best lead generation and closed sales. The following video provides excellent tips for increasing profits and sales for your business:
The following five tips are easy ways to boost sales growth and drive more revenue for your company.
1. Create a Superior Customer Experience
Today's consumers value a positive customer experience more than quality products at affordable prices. Be sure you provide an experience that sets you apart from your competition.
Ensure your website is user-friendly and intuitive so visitors can find the answers they seek quickly and easily. Train marketing and salespeople to deliver the same useful message to eliminate confusion and reduce the number of questions. Publish your contact information so customers can reach someone if they have questions. These actions will ensure that customers have positive experiences that will keep them returning for more.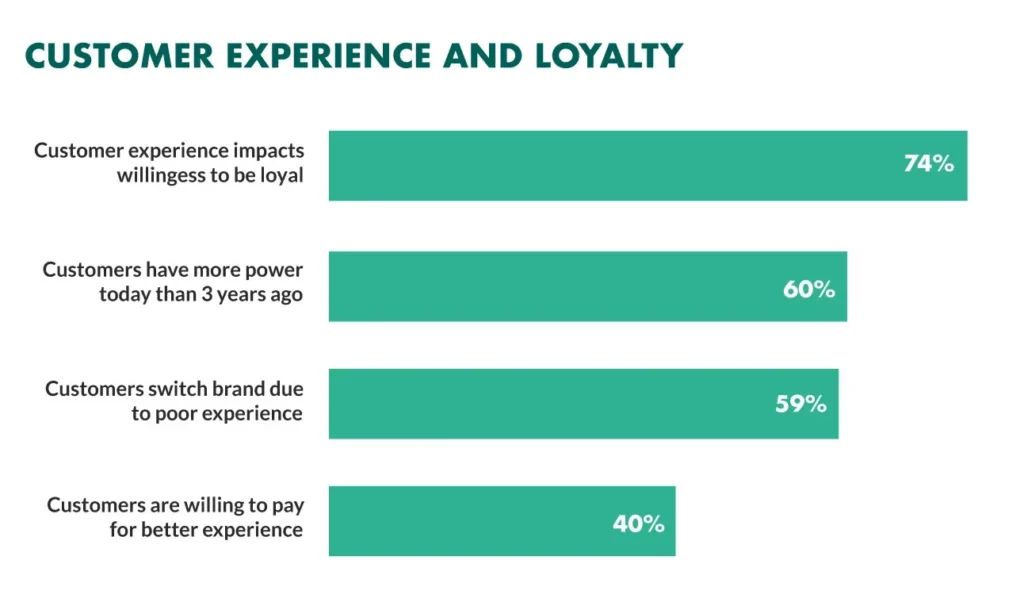 Suggested Image: https://www.superoffice.com/blog/customer-experience-strategy/
Image Source: SuperOffice
2. Offer New Products
Innovation is important to driving new business. Not only will new offerings attract prospective customers who are unfamiliar with your business. New products will also keep current customers returning to your business to see what new solutions you provide for their unique problems.
Use customer feedback to create profitable products that complement your current offerings and appeal to your target audience. You'll expand the possibilities for conversions and open the door for cross-selling that can help boost sales growth.

Image Source: Magenest
3. Explore New Channels of Distribution
While it's easy to grow comfortable using your current distribution channels, branching out to other channels can boost sales growth. Even the most reliable distribution channels have ups and downs, so adding new channels can help bridge the gap during flux. A variety of distribution channels helps strengthen your company and protects you against seasonal and day-to-day distribution fluctuations.
4. Utilize Social Media
There are nearly 4.5 billion people across the world using social media. You could be missing out if you're not already utilizing this platform to broaden your reach. Social media networks enable you to reach a highly targeted audience with easily shareable content, making it a great way to spread the word about your business and build greater brand awareness.
Posting relevant content that resonates with your readers increases engagement, which sends notifications to your readers' contacts. It gets more people interacting with your brand and can help drive traffic to your site, generating more leads and closing sales.
5. Educate Your Team
The better your staff understands the ins and outs of your offerings, the better they can communicate your solutions to prospective customers. Fully educate your team on the features and functionality of all that you provide. Arm them with educational materials that help answer questions. Provide training that ensures they can deliver a positive customer experience that helps build brand ambassadors. These loyal customers will not only continue to buy from you, but they'll help sell your products to their contacts through personal referrals and recommendations.
Boost Your Sales Growth
Televerde is a marketing and sales agency that helps companies increase lead generation and maintain their customer base. Our team of experts works with you to develop effective strategies to help you boost your sales growth.
Visit the Televerde Resources and Events Hub for a library of resources to help your sales team grow your customer base and generate more revenue for continued success.