How to Select the Right Channels for Lead Generation
According to many digital marketing experts, the average American can see as many as 10,000 advertisements every day. With so much saturation, many people have grown immune to marketing messaging. So, how do you get your message to shine through and capture the leads you need? The answer is choosing the right channels for lead generation.
Without an effective lead generation strategy, you might see your competitors succeed while you are left floundering.
Here, you will learn which lead generation channels are the most effective and deliver the best return on your investment.
Key Takeaways
Lead generation is the first step in the customer journey and is a top priority for many businesses.
Businesses need to fully understand their potential clients and focus their lead generation efforts on where those clients are.
Evaluate each channel on how effective it will be in reach, coverage, and frequency.
Social media and email marketing are two of the most popular channels for lead generation.
How Important Is Lead Generation?
According to a 2021 marketing report from HubSpot, generating more leads was the top priority for marketers in 2021. It was also the #4 goal in running marketing campaigns.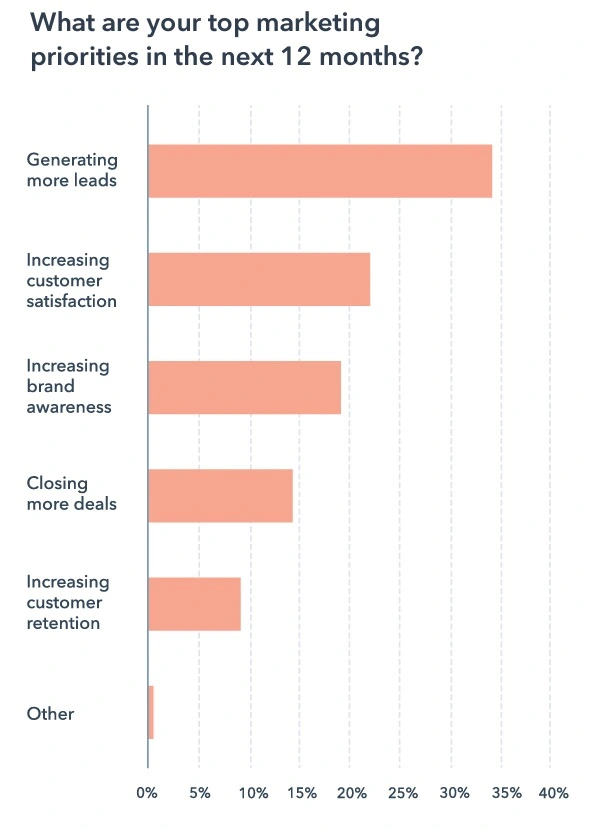 An effective lead generation campaign leads to high-quality prospects and more customers and revenue.
Without lead generation, your business will have a hard time attracting customers and making sales. It has numerous benefits:
Expanding your market share
Growing your following
Boosting your revenue
Generate new business opportunities
Improve the quality of your leads
Reduce the need for cold calling
Difference Between Lead Generation and Digital Marketing
Lead generation can look and feel a lot like digital marketing. However, the key difference is lead generation is focused solely on creating interest in your brand and gathering information on potential customers, while digital marketing encompasses the complete buyer's journey.
Making it a bit more confusing is the fact that businesses use many digital marketing strategies, like content marketing, social media ads, and targeted emails to achieve their lead generation goals.
3 Key Steps in Choosing Channels for Lead Generation
There are numerous lead generation channels available. However, not every channel will be a good fit for every business. Many businesses, especially when starting up, might try the spaghetti method – throw everything at the wall and see what sticks. Unfortunately, this can lead to a big waste of time and money.
There are three key steps in choosing the right channels for your lead generation strategy.
1. Understand Who Your Clients Are
Understanding your ideal prospects will give you a good idea of where to start looking for lead generation channels. If you do not have this kind of data, taking the time to create customer profiles is worth it.
Answer questions like:
Where does your ideal prospect work?
What kind of business role do they play?
Are your customers other businesses?
What kind of problems do they have that your products or services solve?
What are their needs?
Understanding your customers' demographics, beliefs, and needs will give you a better idea of where to meet them and what to offer them.
2. Assess Each Lead Generation Channel for Effectiveness
With your ideal customer profiles in mind, you can start narrowing your channel options. Consider the following criteria:
Market coverage: How much of your target audience use this channel?
Reach: You want channels that offer the most exposure. For example, a word-of-mouth recommendation has a reach of one, while a social media ad might reach hundreds or thousands.
Frequency: Hearing about your business once may lead to someone quickly forgetting you. However, the right amount of exposure can lead to lasting recognition.
Cost: Just because a channel may be more expensive does not mean you should not use it. If it has the potential to give you the reach, coverage, and frequency you need, it could be the ideal option.
Audience fit: If a channel has good exposure and coverage but fails to reach your audience, it is not a good fit. Make sure your chosen channel is part of your ideal customers' lives. For example, if you are trying to reach older business professionals, advertising on TikTok will likely be a wasted effort.
Business fit: In addition to matching the social circles of your audience, you want your channels to fit your brand image.
Credibility: Some channels carry more weight and credibility than others. Consider how important that is for your business and potential customers, and choose your channels carefully.
Connection: In today's world, customers want to feel connected to the businesses they buy from, even B2B customers. Does the marketing channel you choose help create that personalized connection?
3. Measure Your Lead Generation Activities
Once you have selected your lead generation channels, you should choose content and activities that are easily quantifiable. You need to gather useful information from your lead generation efforts to determine if each channel is worth further investment.
Your team can decide which metrics to track, like cost per click, average order value, cost per lead, etc. You ultimately want to determine your ROI.
As you continue to track and develop your lead generation strategy, you will learn which channels are the most effective for your brand.
Check out this video for another perspective on lead generation strategy.
There is a wide range of lead generation channels available. You can consider more traditional options like print ads or radio advertising or turn to digital outlets.
According to one 2020 survey, marketers spent a significant amount of their lead generation budgets on social media and search engine optimization.
The other leading lead generation channels include:
Content marketing
Virtual events and webinars
Paid media
Live chat and chatbots
Insert: Lead Generation Channels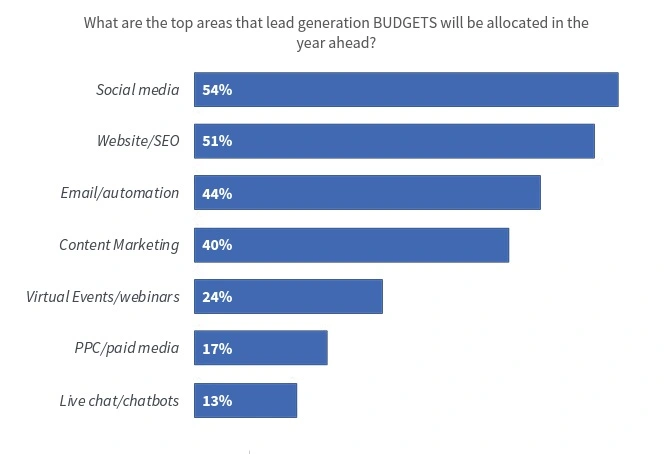 Televerde Can Help You Manage Your Lead Generation Strategy
Does your lead generation strategy need a boost? At Televerde, we are experts in helping businesses like yours accelerate their lead generation. We can take this service even further with lead qualification.
Ready to see your growth accelerated through improved lead generation? Contact Televerde today to get started.