5 Sales-Marketing Alignment Secrets That Drive ROI
Sales and marketing alignment—it's an age-old challenge, but one that has not lost a bit of its importance to larger organizational success.
When your teams are aligned, you're able to level up the service you provide to buyers and customers, earn more revenue, and grow your business long-term. At the same time, you'll build a stronger internal culture and better employee experience.
So where do you get started? For the most part, sales and marketing alignment has to start from the top. We wrote this guide for leaders in both areas who are ready to work together to build a collaborative, cohesive, and effective strategy for winning new customers.
Quick Takeaways
Companies that achieve sales and marketing alignment earn more revenue, generate higher-quality leads, deliver better customer experiences, and earn better win rates.
Culture is the top factor contributing to employee satisfaction. A strong culture can also help you better establish alignment.
Collaborative goal setting builds shared buy-in across marketing and sales.
A shared tech stack drives real-time data sharing and automates the alignment process.
No matter what problems you're resolving behind the scenes, marketing and sales must have a unified front to customers.
Why is Sales and Marketing Alignment So Crucial?
Sales and marketing go hand-in-hand—they're two equally critical support systems for finding and converting new customers. In many cases, marketing and sales are one in the same to your potential buyers.
Yet internally, sales and marketing alignment is often a challenge. Teams work in silos, and as a result companies miss out on opportunities, waste resources, and can even cause disconnect to occur in the buyer journey.
Alignment must be a priority for you if you want to stay ahead of competitors and win new business, and the research is clear. Sales and marketing alignment translates to results—higher revenue, a better customer experience, improved lead quality, better win rates, and more.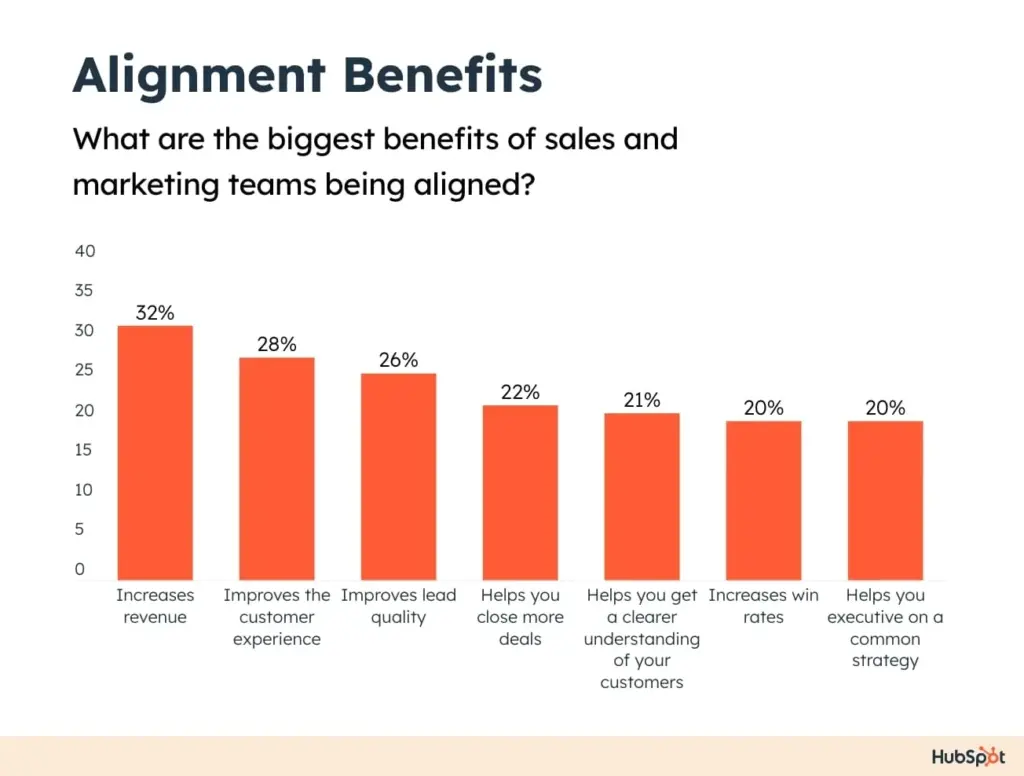 But how do you actually achieve sales and marketing alignment and experience these results? In the next section, we'll walk through 5 secrets to success for aligning your marketing and sales teams in genuine, long-lasting, impactful ways.
5 Sales and Marketing Alignment Secrets You Need to Know
#1: It's All About Culture
According to Glassdoor, culture is the top contributing factor to employee satisfaction. When you focus on building a strong culture rooted in your company's core values, you'll have happier employees who are more willing to be collaborative with other teams.
In other words: Happy marketing and sales employees will be easier to align.
Building a culture of collaboration starts from the top. Get your executive leadership on board, especially your CMO and CSO, to establish a culture of open communication and create an environment in which your sales and marketing teams feel empowered to work together toward common goals.
#2: Collaborative Goal Setting Goes a Long Way
Speaking of common goals—setting them collaboratively is one of the most effective ways to achieve sales and marketing alignment from the start. When your teams set goals together, they share buy-in for the end result.
At the start of a new month, quarter, or year (or whichever time frame you use to refresh your goals), hold joint goal-setting meetings that establish:
Defined marketing and sales goals
Metrics and KPIs you'll use to measure them
The role of each team for each goal
Specific areas of responsibility for each team
How you'll track progress
How goal achievement will benefit both teams
#3: Technology Can Help
When it comes to sales and marketing alignment, technology is your friend. A shared tech stack (such as your CRM), allows both teams to have real-time access to the data they need. This means neither team will be able to gatekeep information (intentionally or not), and both teams will have continual accountability for meeting their responsibilities.
Real-time data sharing and insights delivered through shared software also help to keep both teams informed about the other's current activities, priorities, and results. Shared processes like lead qualification and nurturing will no longer require clunky manual communication.
New levels of transparency enabled by technology sharing ultimately helps build trust between your teams and, over time, natural working alignment.
#4: Communication is Key
To be aligned, your sales and marketing teams need to be in communication. This requires clear processes established at the leadership level. Define and communicate important aspects of your planned sales and marketing alignment strategy, including:
Appropriate channels for communication (email, phone, tools like Slack or Teams, etc.)
Expectations for communication frequency
Defined processes for collaborative responsibilities such as performance reporting or lead management
Eliminate vagueness wherever possible, hold regular meetings to drive alignment and talk about how things are working, and stay open to feedback from your teams to make improvements.
#5: You Need a Unified Front
The truth is that even when you prioritize sales and marketing alignment, things will never be totally perfect. Alignment requires ongoing effort and problem solving.
But no matter what's going on behind the scenes, it's critical that you always have a united front. From the perspective of your potential customers, your marketing and sales teams are a single unit. They want their experience to be cohesive and seamless.
Make it your mission to always present a unified front to your customers. Even as you iron out issues internally, keep lines of communication open. Stay collaborative when it comes to managing your pipeline. Align your prospect outreach efforts at all times.
What always matters most is the brand you present publicly to your buyers and customers. The rest you can take time to figure out.
The real secret? You'll be surprised how much this unified front drives true behind-the-scenes alignment as well.
Over to You
There's no doubt about it: Establishing strong sales and marketing alignment helps you uplevel pipeline results and accelerate business growth. If this is a priority for your company, Televerde can help.
Our solutions help clients establish marketing and sales best practices, access the resources and expertise they need, and scale appropriately to meet market demand.
Contact us today to learn more about how we can help you grow.