The Complete Guide to Omnichannel Customer Service
Customer service is quickly becoming a key differentiator between businesses that succeed and those that don't. The best way to ensure your customers get the support where and when they need it is with an omnichannel customer service strategy.
Offering customer support options on the channels your customers use leads to happier, more loyal customers. The Zendesk Customer Experience Trends Report shows that 93% of customers will spend more with businesses that use their preferred customer service contact method.
In this article, we'll explain what omnichannel customer service is and what it isn't, plus some tips on how to add it to your customer service strategy.
Key Takeaways:
Omnichannel customer service provides a seamless service experience across multiple channels.
With an omnichannel customer service strategy, businesses should see increased customer satisfaction.
Prioritizing social media conversations and offering self-service options are two important facets of an omnichannel strategy.
What Is Omnichannel Customer Service?
Omnichannel customer service is a customer service strategy that seamlessly connects and integrates customer interactions from all channels in one place.
For example, if a customer contacts your business through email and then follows up with a phone call, the customer service agent on the other end of the call will have a record of the previous email along with any other customer interactions, regardless of the used channel. The agent will also have access to all relevant customer information, like previous purchases and contact information.
An omnichannel customer support strategy eliminates the need for customers to continually repeat themselves when they move from channel to channel or agent to agent. This is one key feature that sets omnichannel support apart from other types of customer service.
This video offers a real-world example of omnichannel customer service:
Omnichannel vs. Multichannel Customer Service
Multichannel customer service uses multiple channels like omnichannel customer service. However, these channels are not necessarily connected. With a multichannel approach, a customer may contact you through chat, email, or phone, but there may not be a connected trail between each interaction. This means a customer may have to repeat their problem to each new agent.
With omnichannel customer service, every agent on every channel has a complete record of all customer service interactions and issues.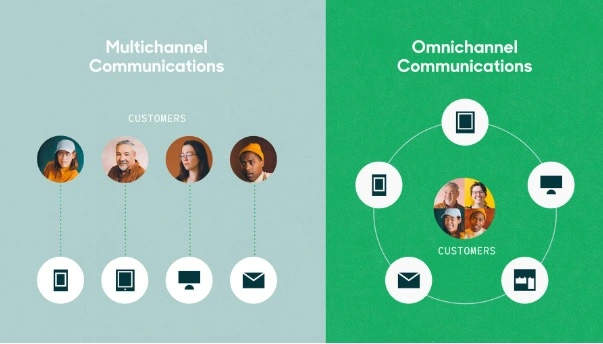 Benefits of Omnichannel Customer Service
Omnichannel customer service has numerous benefits for both your customers and your business.
Here are some of the most impactful benefits:
Improves Customer Satisfaction
How you treat your customers has a major impact on how they feel about your business. One recent study found that 63% of customers love brands because of their great service, not necessarily because of their products. Omnichannel customer service makes customer service feel easy and seamless for your customers, which in turn makes them more satisfied.
Adds More Context
Omnichannel customer service is beneficial for service agents, too. When they interact with customers, they can see the complete history of all previous issues. This adds valuable context and can help agents feel better prepared to serve customers. Imagine how happy customers will be when they don't have to constantly repeat themselves.
Delivers Superior Data
With an omnichannel strategy, your business will have a complete picture of all customer interactions. This will give you more valuable data when making decisions driven by metrics.
Engages More Customers
While using the phone may still be the most preferred customer service channel for customers, email and other digital channels are not far behind. With an omnichannel strategy, you can reach more customers through their preferred contact method.
Insert: Preferred Contact Channels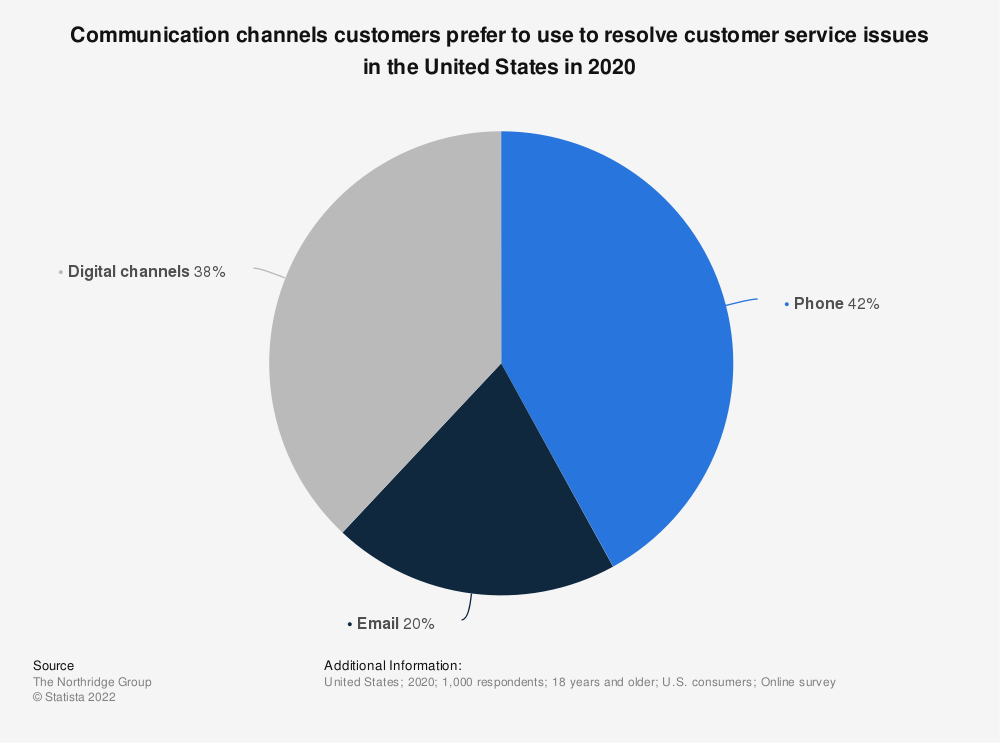 3 Best Practices for Omnichannel Customer Service
If you want to switch to an omnichannel customer service strategy, here are three best practices to consider.
1. Use Social Media
Whether you are a B2C business or a B2B business, you need to have a social media presence. All types of customers head to social media to interact with brands. If you don't have a monitored social media account on multiple channels, you're likely missing important customer interactions.
Many customers use social media to voice complaints and expect a quick response when they do. If you don't meet their service expectations, many customers will move on to another brand and will not be afraid to share their bad experiences with others.
Quick response times show your customers that they are important to you. With an omnichannel strategy that includes social media, you can prompt customers to continue conversations through better, more secure channels, if needed.
2. Optimize the Mobile Experience
Over 60% of all internet traffic comes from mobile devices. Customers are doing research, comparing prices, reading reviews, and making purchases from their mobile devices. If your website and mobile customer service options are not optimized, you may lose potential customers.
One study from SuperOffice found that half of customers will stop visiting a website if it isn't mobile-friendly.
Having a website that is easy to navigate, loads quickly, and delivers helpful search results is crucial to delivering an exceptional mobile customer experience. Pay particular attention to support pages, such as FAQ sections and searchable databases.
3. Offer Self-Service
When a problem arises, many customers prefer to use self-service options to solve their problem before or in place of contacting customer service. One Zendesk study found that 69% of customers prefer trying to troubleshoot on their own first. Self-service is convenient for the customer and saves time and work for your service agents.
There are many types of self-service solutions you can offer your customers:
FAQ pages
Solutions database
Chatbots
Booking portal
Quoting tools
Tracking portal
With solutions like these, customers can quickly track their shipment, schedule an appointment, use a chatbot to reset their password, and find an answer to a commonly asked question.
Televerde Can Be Your Omnichannel Customer Service Partner
If your business does not have the time or resources necessary to offer omnichannel customer service to your customers, Televerde can help. We have expertly trained agents who can meet your customers where they are.
Ready to see how Televerde can help support your customers? Contact us today for a free consultation.