Why Should You Create an Omnichannel Strategy? 3 Benefits
As technology and social media continue to evolve the way consumers engage with brands, an omnichannel strategy for sales and marketing has appeared as a primary way to stay competitive for today's leading retailers.
While the largest brands may be exhibiting the most impressive examples of omnichannel marketing and sales strategies, the data from their performance can teach smaller businesses and other industries valuable lessons.
For today's blog, we'll discuss what an omnichannel strategy is using examples from leading retailers and three key benefits it can have for your business.
Key Takeaways
An efficient omnichannel strategy will integrate all of your business operations and leverage them for the benefit of consumer satisfaction.
America's largest retailers have been perfecting the art of omnichannel marketing and can provide valuable lessons to smaller businesses.
The era of brick-and-mortar retail is not over, but modern problems require modern solutions. An omnichannel strategy may be the best option for keeping up with shifting consumer expectations.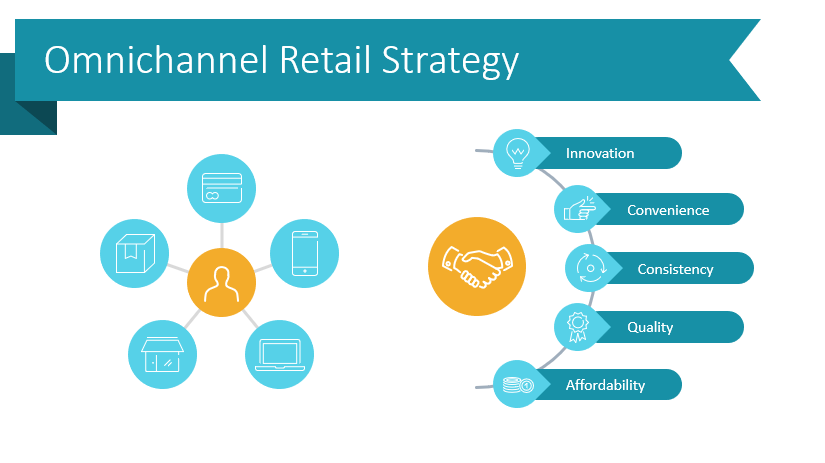 What Is an Omnichannel Strategy?
The rapid advance of technology and consumer access to the internet has blurred the lines between consumer engagement and shopping. Optimizing your website is just the start to keeping up with the latest trends from retail industry leaders.
Integrating different platforms like your website and social media presence with your brick-and-mortar operations will allow for a focus on a seamless shopping experience.
A customer of yours should be able to find shoppable posts on your Instagram while on their lunch break, add items to their cart from their work computer, and complete the transaction on their way home.
Examples of Omnichannel Strategies
A properly implemented omnichannel strategy is not about replacing your brick-and-mortar operations but rethinking how to leverage them in the digital era. A better omnichannel strategy can increase in-store spending.
The following are some real-world examples of omnichannel strategies in action.
Walgreens
Walgreens has shown the value technology can have on the healthcare of those who need it most.
With a simple interface, Walgreens' app will remind customers that it's time to refill their prescriptions, allow them to initiate the refill, and make sure the order is ready before they get to the pharmacy.
These tools can be invaluable for the elderly and those with several medications to manage. Trusting that the pharmacy has your medication is a luxury many of us do not think twice about. For those who have everything to lose, however, feeling safe in your prescription pickups is a requirement.
IKEA
IKEA has set the standard with its digital showroom technology and a seamless customer experience.
From its website, it's possible to access the IKEA planner, a fascinating web application that allows you to design your space from the ground up using IKEA's furniture and accessories. Users can compare the items and view them in a real-life setting. Once satisfied, the user can add the piece to their cart.
From here, the IKEA platform guides customers to select a store for pick up and even includes directions on how to find the item in the store.
Home Depot
Knowing that not every potential customer is a general contractor, Home Depot seems to have focused its omnichannel strategies on customer education and friendliness.
Within the Home Depot app, you can perform standard online shopping tasks like price comparisons and read product reviews.
The designers of Home Depot's strategy knew that 84% of people would use their smartphones while in-store and made sure their mobile app included in-store directions to any item, down to the aisle and shelf number.
Consumers can chat online with a store associate about the product at home and even learn the proper technique with videos recommended to them directly from its platform.
3 Benefits to an Omnichannel Strategy
A proper omnichannel strategy will be:
Harmonious
73% of consumers use multiple channels (both online and in-store) when shopping.
In today's advanced retail marketplace, it's never been more important to ensure you're leveraging every bit of your company's resources to promote your product and presence.
An omnichannel strategy focuses on synchronizing your operation's disparate arms into one single goal: a great customer experience. A harmonious business will see its inner workings linked and marching in step, from social media to logistics.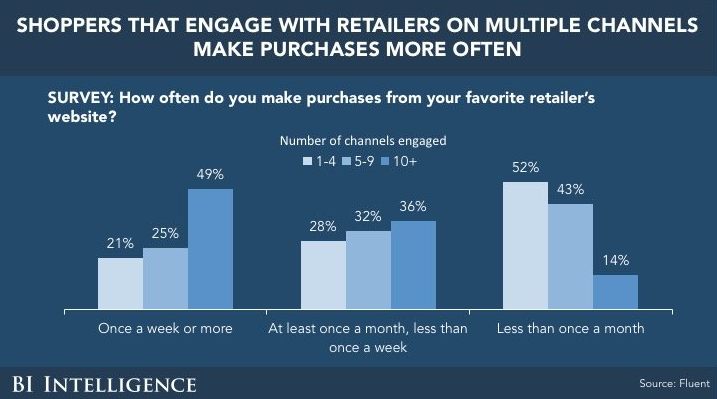 Figure 2: Image from shopify.com.
Human Focused
47% of shoppers who engage with retailers across 10 or more channels make purchases from their favorite retailer's website at least once a week.
A human-centered and customer-focused omnichannel strategy will allow customers to engage with the brand and each other seamlessly and, more importantly, make them want to show loyalty to your brand.
Measurable
Finally, a complete omnichannel strategy should have the measurables and benchmarks built into the system. Data-driven customer service may be more complex, but it's the best way to ensure a consistent brand message and experience across all platforms.
For example, customers should be able to track their rewards progress on their mobile app, choose a coupon to cash out with, and compare that item in-store before they complete their transaction.
Leveraging your technology means you can track your customer's experience from beginning to end, including when you can leverage your rewards program for valuable consumer surveys.
Omnichannel Strategy Is a Must to Meet Consumer Expectations
Technology has been dictating the business landscape for two decades. In the past, it was enough to have an online presence that the enterprising consumer could find themselves.
However, consumer expectations have risen, and the era of the seamless brand experience is upon us.
An effective omnichannel strategy will guide your company into the future and help you deliver great customer experiences every time. Televerde can help you generate more revenue and keep customers happier for longer. Click here to contact us for a consultation.