7 Benefits of Inbound Customer Service Outsourcing
Customer service is becoming increasingly more difficult as consumer expectations are rising. Customers don't just want agents to answer questions. They also expect expert advice, personalized experiences, and timely responses. Juggling all these expectations can be overwhelming for businesses that also have to handle primary business tasks. That's why more and more companies are turning to inbound customer service outsourcing.
Explore what customer service outsourcing is and seven reasons why you should use it in your business.
Key Takeaways:
Inbound customer service outsourcing frees up resources so you can focus on primary business tasks.
Customer service agencies offer trained reps that provide knowledgeable and timely solutions for your customers.
Outsourcing is a scalable solution for adjusting to season fluctuations or growing your business.
Outsourcing can improve your overall customer satisfaction.
Why Customer Service Is Outsourced
Inbound customer service is a support center that handles customer inquiries and problems like inbound call center services. While inbound customer support deals specifically with product solutions, customer service handles general business inquiries.
Customer service departments handle an immense workload. For example, the average call center receives 4,400 calls each month. This figure comes out to around 200 calls a day.
This call center capacity requires a large workforce to handle each call promptly. As a result, businesses will rely on inbound customer service outsourcing to help them meet these numbers while keeping response times down.
Outsourcing agencies are third-party companies that work alongside businesses. These outsourcing agencies will perform services to relieve the workload of a business and reduce the number of employees the business needs to hire.
Today, 66% of U.S. companies with over 50 employees outsource tasks, and 29% of companies with under 50 employees outsource.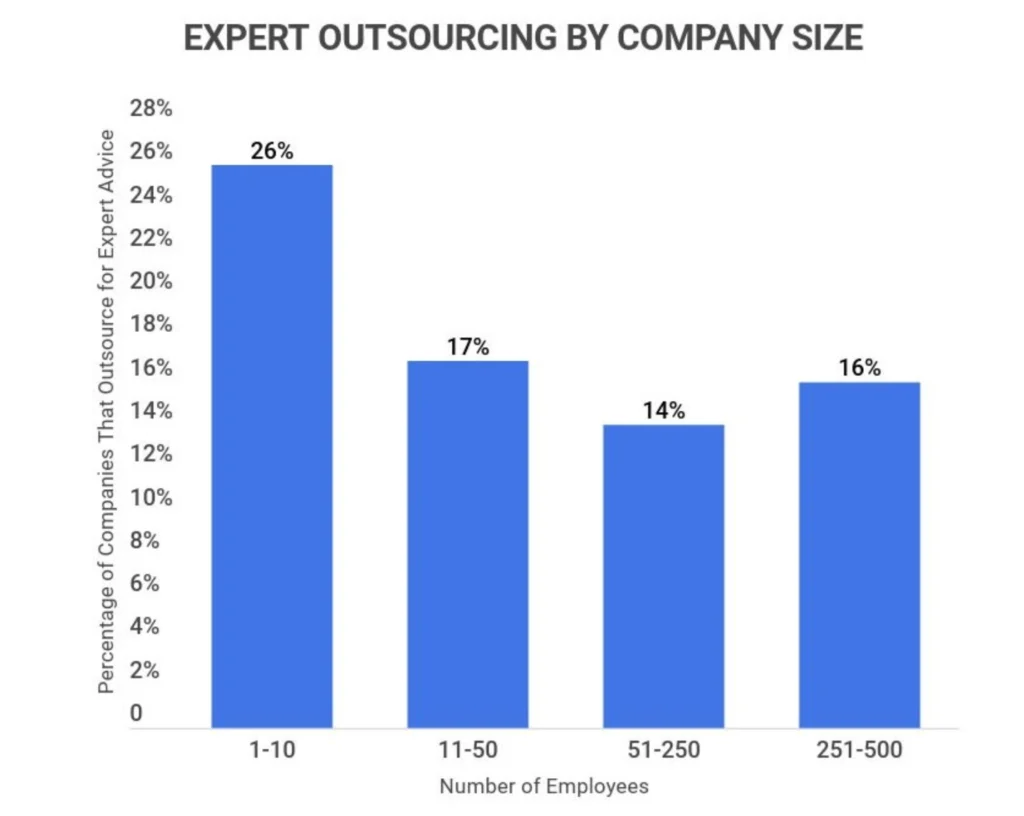 Image from Zippia
7 Benefits of Outsourcing Your Inbound Customer Service
Are you asking, "Should I outsource customer service?" Explore seven primary benefits of using a customer service agency to outsource your inbound customer service and decide if it's the right choice for you.
1. Access Trained Professionals
Customer service agencies focus on training and equipping agents, so the agents are ready for customer service success. You can access that team of trained professionals when you outsource instead of trying to find and prepare your own team. Roughly 45% of businesses that outsource say outsourcing gives them access to skill sets that they can't access internally.
In addition, call center agencies focus entirely on customer service. Because customer service is the agency's product, they invest more time in ensuring they use the latest strategies and processes to provide the best support possible.
2. Offload Duties from Your Employees
Your employees have many duties claiming their attention. You can relieve some pressure on your employees by outsourcing inbound customer service.
Because customer service is so demanding, it's a full-time job for your employees. However, when you hand that duty to a third-party agency, your team can focus on core business functions instead of answering phones, chat messages, and emails. Nearly half of companies that outsource say the top reason for outsourcing is freeing resources to focus on core business tasks.
3. Build a Scalable Customer Service Option
At some points in the year, businesses see a higher call and message volume from customers than at other times. For example, customers need more support over the holidays than at different times of the year when there's a dip in purchases.
Trying to handle customer service in-house means you'll need to continually hire or let go of call center agents, depending on the season. Otherwise, you will end up paying the salaries of agents you don't need or coming up short during peak call times.
Customer service center outsourcing is a scalable solution. Third-party agencies have the staffing to quickly increase and decrease agents as your needs change without having to scramble and hire more agents. That way, you're always prepared for changes and only pay for the customer service you need at the time.
4. Lower Company Investments
Customer service is a large financial investment for companies. Executives must pay employee salaries, benefits, training, hiring, and onboarding costs.
The cost to hire a new employee can be as high as $17,000 in 2022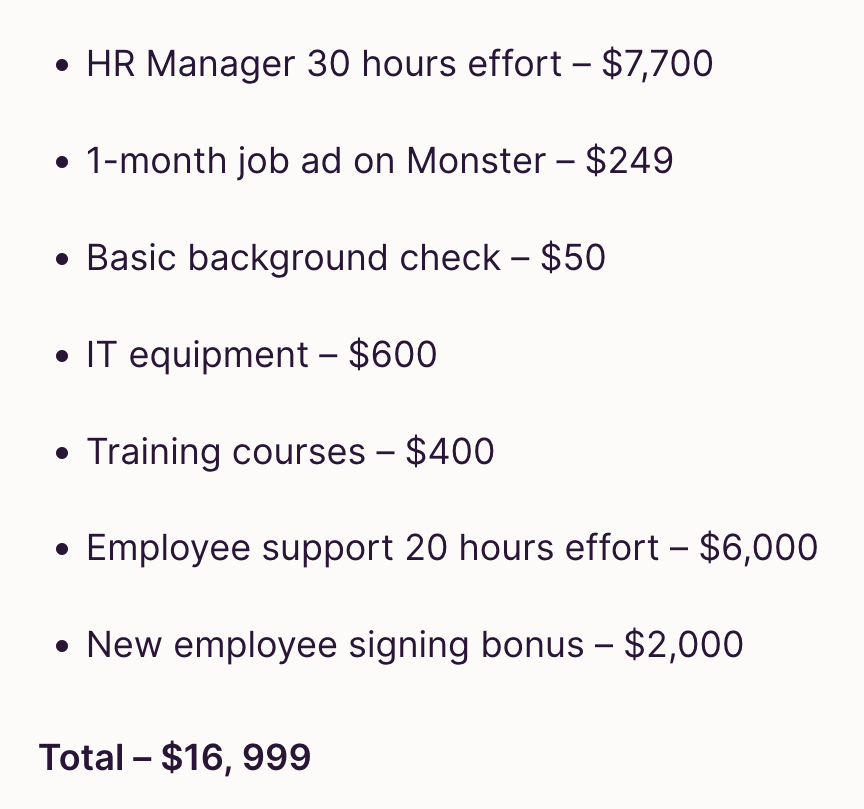 Image from Toggl
Now imagine spending that much per agent to build a customer service team. That comes out to quite the investment. However, customer service isn't an area that a business wants to cut back on. By reducing the number of agents, the company also reduces customer satisfaction, lowering the customer response time.
A solution is outsourcing customer service. By outsourcing, the business won't be responsible for hiring and onboarding costs, reducing overall investment. In addition, the company will have a predictable budget for customer service spending rather than having to budget for employees quitting and finding new hires each year.
5. Support Business Growth
Are you looking to expand your business?
Customer service outsourcing can help support that growth. In addition, outsourcing customer service gives your company a broader reach. You're no longer confined by your current locations, time zones, and employee availability.
Instead, you can access a team of national or global partners able to provide 24/7 support to your customers. Through this substantial support network, you can expand your business into new areas and still provide the same level of customer service.
6. Access Leading Technology
Customer service is a fast-changing environment, with new channels always becoming available. Some of the most popular support channels include:
Phone
Email
Live chat
Self-service
Social media
Video chat
Community forums
Text messages
Customer service agencies can access the latest customer service software and technology to support these channels. Using an outsourcing agency means your business doesn't have to continually update customer service technologies, as the agency will take care of that aspect. Instead, your business can focus on investing in technology for other areas of the company.
7. Create a More Positive Customer Experience
A positive customer experience results in more revenue for your business, as 86% of buyers will spend more for a great experience. Customer service outsourcing improves the customer experience by providing a faster response time, better-trained agents, and friendly professionals that can resolve issues quickly.
When customers are happier, they also stay longer with a brand. For example, a third of customers would switch brands after one poor customer service experience. However, 93% of customers would purchase multiple times from companies that offer a positive experience.
Outsource Your Customer Service
Televerde is your solution for excellent customer service. Our team of highly trained customer lifecycle professionals provides your customers with the support and knowledge they need to make informed purchase decisions.
Contact us to find a customized customer care solution for your business.