5 Things High-Performing ABM Companies Do for Their Clients
Account-based marketing is no longer for white-glove consulting firms or high-ticket buyers only. B2B buyers at every price point and in every industry expect personalized engagement and tailored experiences that demonstrate their business is valued. ABM companies help clients meet these (still growing) demands.
When you hire an ABM company, you're investing in a new level of experience and expertise in the art of engagement. They enable you to get hyper-targeted in your outreach, identify your highest-potential prospects, and maximize average deal size to boost your revenue and growth.
These are only a few examples. In this article, we'll dive deeper into why organizations choose to hire ABM companies, what they do for their clients, and how it translates to real results.
Quick Takeaways:
Marketers report account-based marketing earns them better engagement, improved win rates, higher deal size, and improved ROI.
ABM companies guide clients through the process of identifying target accounts, prioritizing them appropriately, and executing tailored campaigns for each segment.
ABM professionals know how to build strong relationships with important B2B decision makers and navigate all types of sensitive conversations.
The best ABM companies help clients continually adapt and improve as the business landscape changes.
Why Hire an ABM Company?
ABM companies specialize in helping clients realize the full ROI potential of account-based marketing. They provide end-to-end strategic guidance and support for everything from ABM strategy development to prospect identification to campaign execution (and more).
For clients, ABM companies typically bring a level of expertise and experience engaging the highest-level decision makers at organizations—something their internal marketing and sales teams may not be ready to handle.
ABM companies also have the tools and technologies to automate parts of the ABM strategy without sacrificing the necessary levels of personalization. In other words, maintaining a balance between executing at scale and tailoring outreach to engage high-value accounts.
The payoff for doing this effectively has been well proven—an overwhelming majority of marketers say ABM earns them better account engagement, improved win rates, higher average deal size, and improved ROI over traditional methods.
Let's look at some specific ways ABM companies help clients achieve these compelling results.
5 Essential Things ABM Companies Do for Clients
Select and Prioritize Accounts
One of the first things ABM companies do with clients is identify and select target accounts. To do this, they'll assess solution fit and revenue potential in combination, then determine which prospects are most likely to convert and be profitable for the business. They also help prioritize target accounts by level of importance to determine appropriate levels of personalization.
An easy way to think about it is like a target, as demonstrated below. The closer you get to the bullseye, the more time, money, and attention you give to those prospects.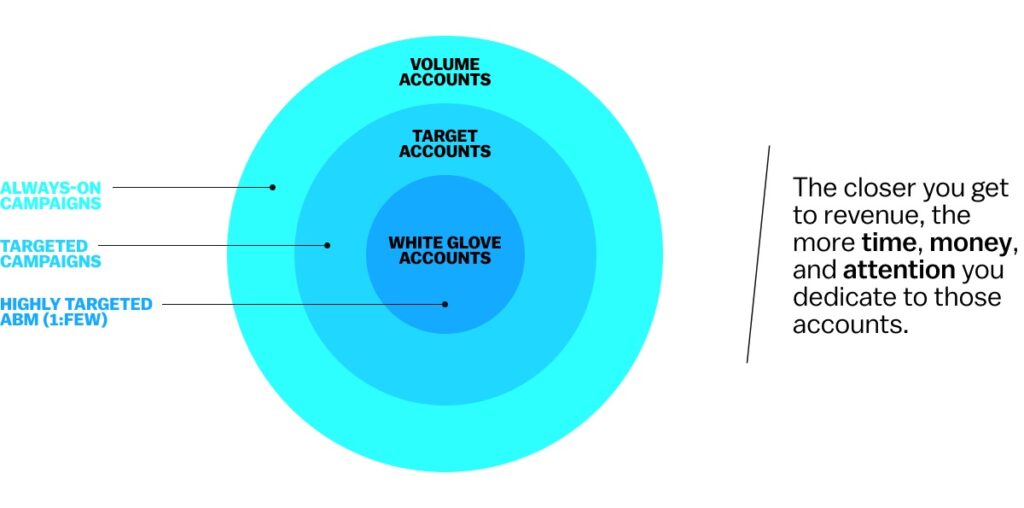 Design Campaigns
ABM companies have extensive experience and expertise designing campaigns backed by ABM best practices. Remember: These are not just run-of-the-mill marketing campaigns. They focus more heavily on engaging high-stakes purchase decision makers, personalizing communications, and establishing thought leadership to build trust with potential clients.
Campaign design typically includes everything from identifying the target prospects to defining goals and KPIs to selecting communication channels to architecting the flow of the campaign—in other words, building a comprehensive roadmap for execution.
Build Relationships with Key Decision Makers
Account-based marketing is all about relationships, and ABM companies know exactly how to build them with key decision makers at your target organizations. This is no easy feat—when you're executing one-on-one or one-to-few ABM outreach, communication must be customized to each prospect, and you're often dealing with high-level executive leaders.
That's why ABM professionals are trained and experienced at building authentic connections with prospects, navigating sensitive conversations, and being savvy communicators across the board. By hiring a quality ABM company, you ensure your company will be well represented.
Execute Personalized Outreach
For ABM to be effective, personalization has to happen at several levels. There are one-on-one conversations, as mentioned, but there are other types of personalized outreach that occur in every type of ABM strategy, including those that are one-to-many accounts. These may include dynamic email content customized by audience segment, targeted ad campaigns, or events designed for a particular customer group (those are just a few examples).
Keep in mind that personalization isn't just a nice-to-have, either—in ABM or any kind of B2B marketing strategy. At every stage of the marketing and sales pipeline, expectations for personalized experiences are significantly higher for B2B audiences than their B2C counterparts.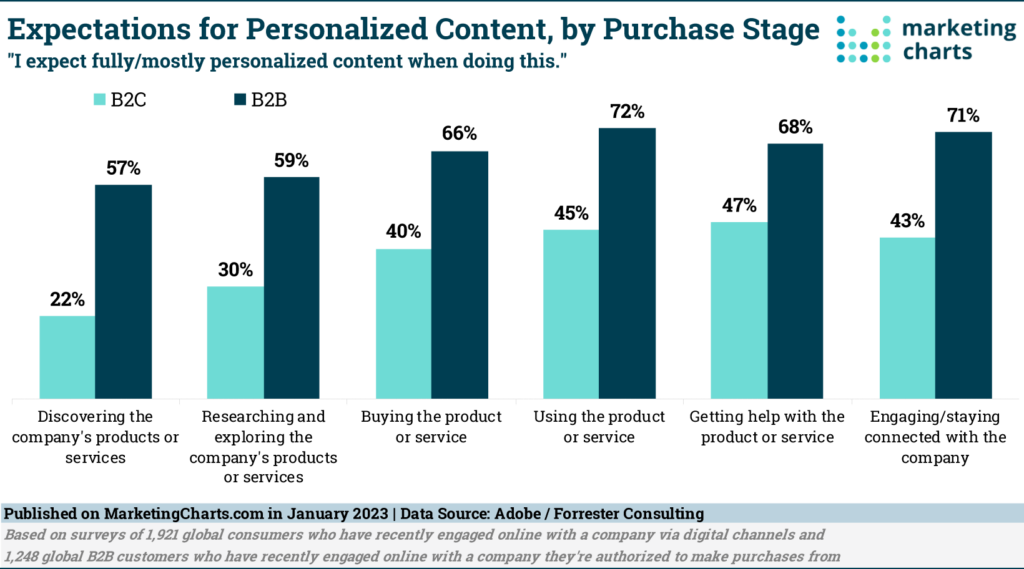 Continually Adapt and Optimize
The B2B business world moves fast. What's considered best-practice today may not be in the near future, and buyer expectations are continually evolving and changing without notice. ABM companies know this, and they stay abreast of timely marketing trends, new technologies, and other industry standards to keep your strategy relevant and effective.
Further, they look for ways to continually improve, adapt, and optimize client strategies to take advantage of new opportunities and maximize ROI.
Final Thoughts
Account-based marketing can only be effective with the right levels of expertise supporting it. Engaging with C-level executives and other important decision makers at your most high-stakes accounts requires more experience and finesse than the average marketer may have in their professional wheelhouse.
ABM companies enable businesses to level up their approaches to engaging top accounts while allowing their internal teams to stay focused on other key marketing initiatives. As a result, they can reach their full marketing potential for every audience.
If you're looking for ABM support, Televerde can help. We support marketing and sales teams with best-in-class ABM approaches customized for every client's unique needs.
Contact our team to learn more about how Televerde can help you convert high-value clients.