6 Cold Calling Mistakes to Avoid if You Want to Rock Your Sales
Cold calling can feel discouraging when customers hang up, you make mistakes, and you can't connect with contacts. Yet, it's a necessity in sales. While not all cold calling mistakes are avoidable, there are steps you can take to reduce your chances of awkward, embarrassing, or frustrating situations.
Learn about the cold calling situations our agents experienced and tips for making better cold calls by preparing and working through common challenges.
Key Takeaways:
Cold calling is still effective if agents have the proper training to handle unexpected and uncomfortable situations

.

Regularly clean data to avoid awkward inaccuracies that negatively impact a cold call.

Agents should always prepare for the unexpected through thorough research

.
Is Cold Calling Still Effective?
Cold calling helps businesses identify quality leads. About 82% of buyers accepted sales meetings after connecting through a cold call. However, connecting with those quality leads isn't easy. Usually, salespeople have to call 33 people daily and only have a 2% success rate.
Despite the challenges, three-quarters of salespeople felt the call was more effective when they fully understood the contact.
But why do cold calls fail?
Cold calls fail without proper training and poor-quality data.
At the heart of successful cold calls is information and training. Callers need complete and accurate data to connect with contacts. Then, they need training in how to use that data during interactions. When fully equipped, they can turn what's often seen as an annoying interruption into a meaningful and valuable connection.
What Cold Calling Mistakes Should You Avoid?
Along the way, there will be mistakes, so we have compiled some of our agents' top cold calling mistakes and challenges, so you don't have to make the same ones. Instead, learn from these situations and how the agents adapted so you can continually increase your success rate and see stable sales growth.
1. Working with Inaccurate or Outdated Information
A call agent contacted "Charles" just to discover that the contact hadn't gone by that name in five years. Thankfully, the agent recovered from what could have been an awkward connection based on outdated information. Ultimately, they had a successful call.
Not all agents can turn those awkward situations around. Some reasons people's information becomes outdated are:
They move

They change numbers

Their family status changes because of marriage, kids, divorce, or other changes

They have name changes

Their needs change
B2B contacts have even more potential changes as contacts quit their jobs, and new people come in as the primary decision-makers. Inaccurate data wastes 546 hours annually per sales rep.
Something as seemingly minor as using the wrong name can have a significant impact since it's the first impression. Instead, focus on the accuracy of data so agents are prepared and knowledgeable from the first impression to the last.
Solution: Annually clean your data to ensure it's accurate. A data audit looks for duplicates, outdated data, and errors.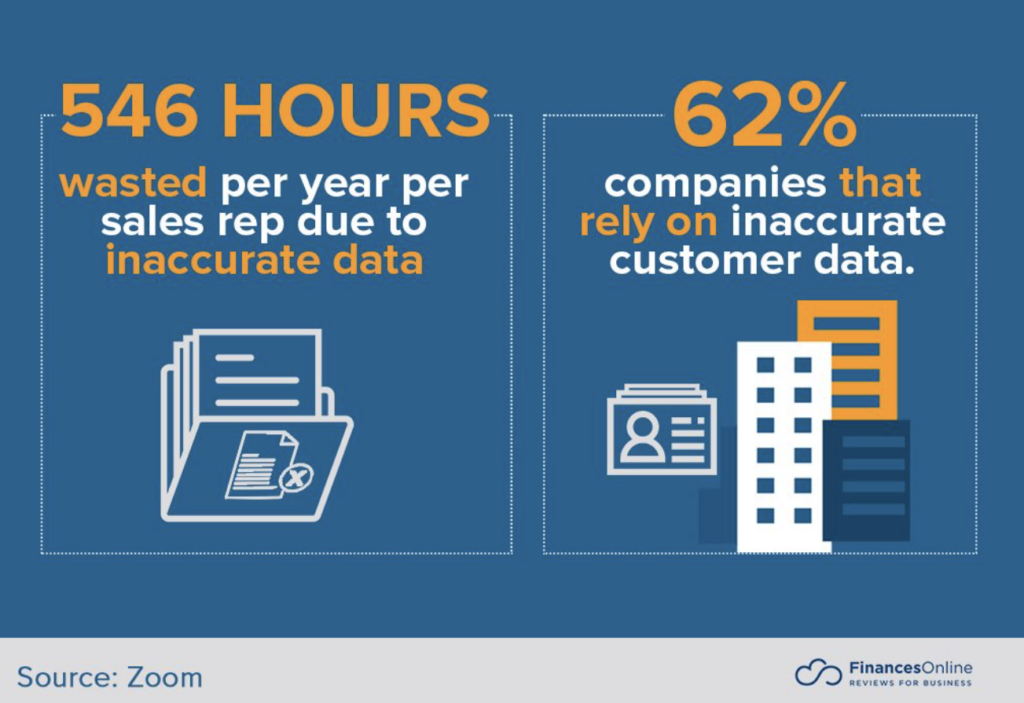 Image from FinancesOnline
2. Not Trusting Your Gut
Experienced sales agents develop an instinct. This instinct helps agents make in-the-moment decisions.
For example, one of our agents saw a contact's name and didn't think it looked right as the first name sounded like a last name. In that situation, the agent decided to go with what the data said rather than their gut.
Their gut was right, and the last and first names were switched.
Solution: If the information seems unusual, always double-check the data. Taking a few extra moments to do research can save a potential lead.
3. Not Doing Your Due Diligence
A sales agent connected with a caller who seemed interested in their brand. After a conversation, the agent felt the caller was ready for the sales team. However, the sales agent making the follow-up call soon discovered the caller was a conspiracy theorist looking for an audience.
Needless to say, the call did not end in a sale.
While the original agent may not have been able to see through the caller, agents often pass leads on without doing due diligence. Due diligence is taking time to understand callers, qualify them as potential leads, and gather data to help the sales rep nurture those leads.
Solution: Do proper research on callers to fully understand them. Then gather more data before passing them along to ensure callers are actually interested. That way, the sales agents have more comprehensive data for nurturing and converting the lead.
4. Expecting Too Much
You finally got ahold of a contact, and the call is going great. An agent might feel tempted at this point to keep the momentum up and pitch to the client.
A sales pitch is the fastest way to end a cold call. Instead, keep the cold call focused on the consumer – discovering their needs and feeling for their interest as you turn the contact into a marketing-qualified lead.
Solution: Know when to stop in a cold call and pass the lead to a sales rep for the next step. Pushing too far, being too sales-focused, and not listening all do more harm than good.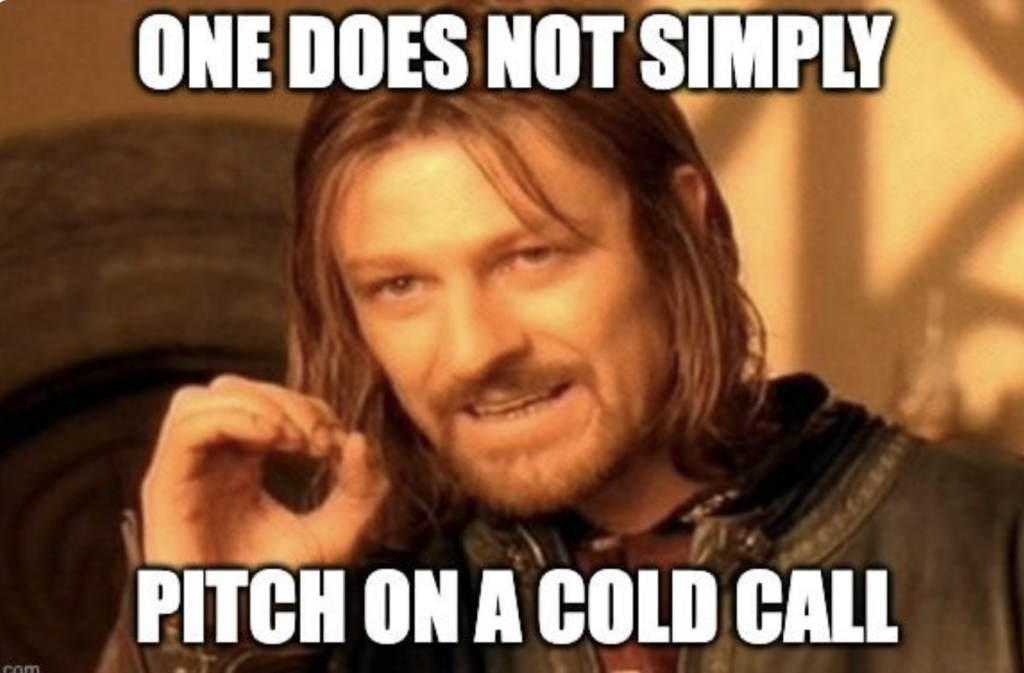 Image from Close
5. Dropping Your Professionalism
Mistakes happen, and awkward situations will arise. The example of running into a conspiracy theorist was just one situation that tested an agent's professionalism.
Are your agents trained and ready to face the unexpected?
Their ability to adapt and remain professional sets great agents apart from good agents. Contacts will have very positive but also very negative reactions from consumers. Consumers will also ask very unexpected questions.
How an agent responds will impact how the contact views the brand and their chances of becoming a qualified lead.
Solution: Train agents on professionalism, even when faced with unexpected or uncomfortable situations. That way, they will demonstrate to contacts that the entire brand holds itself to a higher standard.
6. Expecting Perfection
No agent is perfect, and that's alright. The measure of an agent is how they respond when they make mistakes.
One agent addressed a contact as "Wittle" instead of "Little" because the contact's information was inaccurate. While that mistake was embarrassing, the agent calmly corrected themselves, acknowledged the error, and let the contact know they were updating the name in the system.
Solution: Prepare and research to know how to avoid as many mistakes as possible. When you aren't sure about contact information, you can ask others or find out for yourself to reduce the chances of an awkward cold call. When mistakes do occur, accept the mistake and calmly make things right.
Avoid Common Mistakes with a Highly Trained Team
Training and data are both essential to help your cold calling team succeed. Televerde has both of these ingredients, making our team of agents highly successful. They are ready to face the unexpected, always maintain professionalism, and know how to connect personally with their contacts.
Contact us to learn more about our outbound call center services and how our expert team can help fuel your sales growth.