6 Essential Customer Service Goals for 2023
The new year is fast approaching – is your team prepared to meet it?
Setting customer service goals gives your team an objective to work toward. Goals also align your teams so they all work toward the same outcomes. As a result, you'll see greater customer satisfaction and revenue.
Key Takeaways:
Build a customer-centric model that focuses on customer experience and satisfaction.
Investing in technology helps you reach your productivity and revenue goals.
Invest in your agents alongside your customers to boost your productivity.
Goal 1: Improve Customer Satisfaction
Customer satisfaction directly impacts your company's success. If your customers are happy with your products, service, and support, they will likely purchase from you again. Conversely, unsatisfied customers not only don't do business with you but also share their negative experiences with their friends and families – or leave a negative review online.
On average, customers share positive experiences with six or more people, while dissatisfied customers share the experience with at least 15.
How to Measure Your Success
Investing in customer satisfaction is an investment in your revenue and brand reputation. Some ways to measure your success include:
Customer satisfaction survey results
Online feedback
Customer service complaints
Returning customers
Goal 2: Personalize More Approaches
On average, 71% of customers expect personalization. Personalization also benefits the company as organizations that prioritize it see 40% more revenue than those that don't.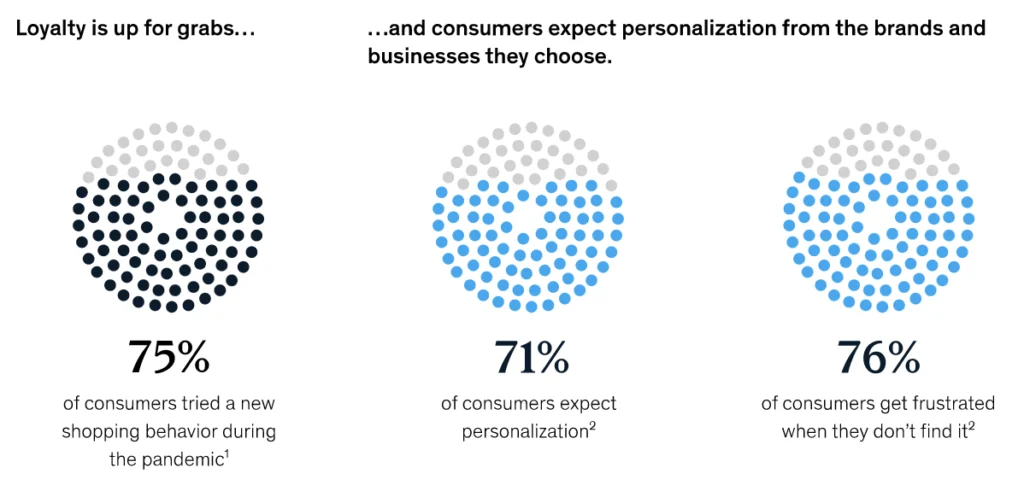 Understanding your customers helps you personalize your approach to improve your customer lifecycle marketing and support. To improve your personalization, start by using the customer data you have. When you unite your sales and marketing teams, you gain a more accurate understanding of your customers and their needs.
Use this deeper understanding to offer solutions and products. Other key data to use include:
Demographics
Point in the sales funnel
Past purchases
Known pain points
How to Measure Your Success
When you offer more personalization, your customer satisfaction will go up, which is the ultimate goal of customer service in 2023. Your agents will also have more data to use in their customer interactions.
Goal 3: Reduce Customer Wait Times
People don't like to wait. So, the customer service industry sometimes uses the 80/20 rule – or agents should answer 80% of calls within 20 seconds or less. However, the average wait time is growing as more customers are making calls.
One of your company's goals this coming year should be to reduce your wait time. Some strategies to use include:
Adopting technology to answer calls
Training staff to be more efficient with calls
Outsourcing call center agents
Offering more self-service resources
How to Measure Your Success
Your average wait times will decrease as your agents consistently reach and surpass your goals. You will also see your customer satisfaction rate increase.
Goal 4: Reduce Your Cost Per Contact
Cost per contact is directly related to the average call time and how many calls agents can take in an hour. Therefore, the cost per contact will reduce when your agents can take more calls within an hour.
The ideal cost per contact is $1.11 to $3.29 for 3-4 customers. However, this is based on companies that only calculate cost per contact by agent costs. For example, how much base pay plus commission the company pays the agent hourly compared to how many contacts the agent makes in an hour.
Some companies calculate non-employee costs like internet, software, and office supplies the agent uses when contacting customers. The average cost per contact for those companies is $2.70 to $5.60 per call.
How to Measure Your Success
You can lower your cost per contact by monitoring calls to ensure the agents are efficient with their time. When agents have a high cost per contact, review their calls to find ways to streamline the contacts.
Goal 5: Improve the Customer Experience
Customer experience is a priority for 45.9% of businesses, even over price and product. Improving the customer experience involves a mix of personalization, short wait times, knowledge, and first-call resolution.
Another way to improve the customer experience is to offer multiple ways to contact customer service. That way, they can receive the help they need in the most convenient way possible.
Offering customers multiple ways to contact customer service can also reduce the load on your agents. That means they have more time to devote to incoming calls and answer the phone faster.
Some alternative means of customer service include:
FAQ pages
Self-service options
Automated phone responses
Email support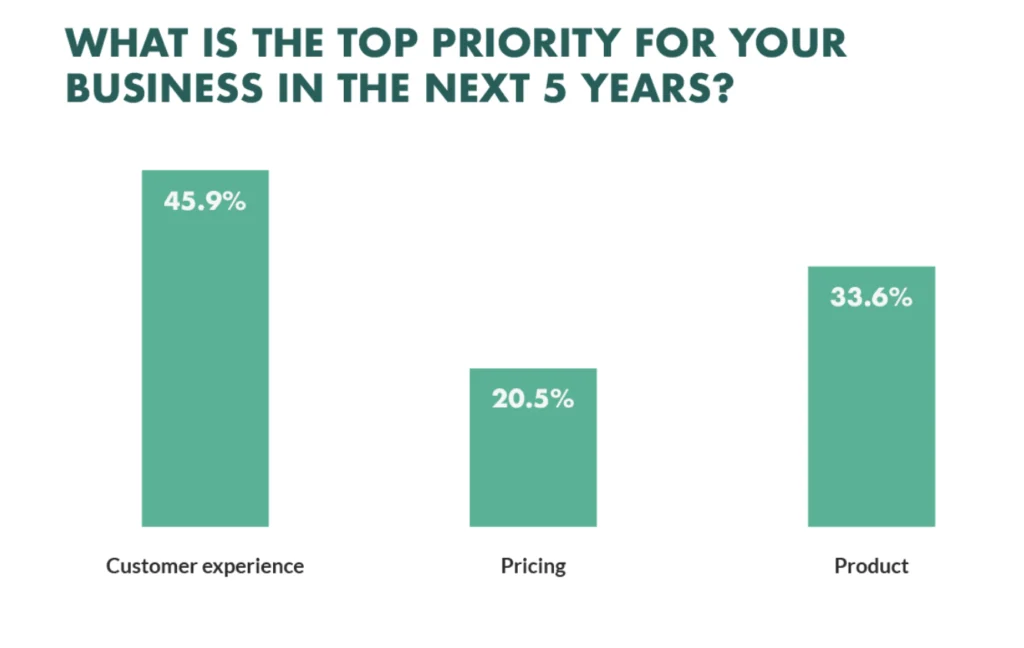 How to Measure Your Success
You know you're successful when customers have a higher satisfaction score. You can also ask about the customer's experience after phone calls or other customer service interactions. If the customer has a poor experience, find ways to streamline your technology and train your agents so they're more knowledgeable.
Goal 6: Improve Agent Satisfaction
Your customer satisfaction relies heavily on your agents' satisfaction. An Indeed survey showed that prioritizing employee happiness improves your competitive advantage and helps you retain more talent. Therefore, you'll have more productive agents.
If your productivity is down, look at your employees' happiness. Are they performing too many mundane tasks? Perhaps you need to adopt new technology that will perform those tasks for the agents. Are they not meeting customer service goals? Meet with the agents to identify potential problems.
Investing in your employees is an investment in the company, as their satisfaction will improve their productivity.
How to Measure Your Success
You know you are reaching your agent satisfaction goals through employee surveys. You can conduct these during quarterly reviews or at the end of each year.
You can also use your turnover rate to measure employee satisfaction. If your employees often quit, the job doesn't meet their expectations.
Consistently Meet Your Customer Service Goals
Televerde can help you meet more of your customer service goals in 2023. We combine technology with a human touch to ensure you have the most efficient customer-centric service solutions.
By outsourcing your customer service needs to our team of customer service experts, you can build a scalable strategy that helps you generate consistent revenue, see greater sales growth, and encourage greater loyalty.
Contact us to learn more about our customer experience solutions.