5 Customer Service Values to Guide Your Strategy
Did you know that the majority (54%) of consumers say they would stop using a brand after just one single bad experience? That means your customer service values—and the success with which you execute them—is a make-or-break part of whether you can keep the customers your marketing and sales teams worked hard to convert.
So what are your company's customer service values? Have your leaders made them clear? Do you know which ones are most important to B2B and B2C consumers?
If you're not quite sure, you've come to the right place. In this guide, we'll cover 5 key customer service values you should prioritize, why they matter, and how to implement them effectively in practice.
Quick Takeaways
Using empathy techniques, you can consistently understand problems from your customers' perspective.
Today's customers expect personalized experiences and become frustrated when they don't receive them.
Your customer service team can boost performance by prioritizing transparency throughout the resolution process and accountability to KPIs.
More than 80% of consumers say brand trust is a deal breaker and deciding factor in their buying decisions.
Many companies outsource customer service to access the resources and expertise needed to meet elevated customer expectations.
Value #1: Empathy
As a customer service professional, you deal with hundreds (maybe even thousands) of requests over a given month or year. You likely hear about several of the same problems and concerns over and over again, to the point where you may feel disconnected from its importance to each individual customer.
Empathy allows us to maintain the understanding that to every customer, their current situation is a big deal—something that's impacting their ability to complete tasks or achieve goals. It is the commitment to seeing things from the customer's perspective, validating their experiences, and approaching the solution process with the same urgency they feel.
The graphic below outlines 5 effective ways to practice empathy in your daily customer service interactions:

Value #2: Personalization
Personalization is one of the top customer service values that your audiences look for when they contact your team to address an issue. McKinsey reports that three-quarters of consumers expect personalization and become frustrated when they don't receive it.
Given that we know people often leave brands after a single poor experience, personalization isn't something you can leave up to chance. Effective ways to personalize your customer service interactions include:
Train employees to use first names and other personalized references
Adopt a customer service software tool that stores customer data in a centralized place your entire team can access
Ask customers how they prefer to communicate (i.e. via email, phone, chat, etc.) and customize interactions accordingly
Use empathy as outlined in the previous section to learn how even the most common problems impact customers in unique ways
Value #3: Transparency
We've all been there: We have a problem that to us feels urgent, and we have no idea when a company's customer service team will resolve it. The digitalization of customer service has exacerbated this problem—when the only way to get in touch with a company is online, it can be frustrating to wait for a response from a real person.
You can improve your customer experience significantly by embracing transparency as one of your customer service values. More specifically, keeping your customers informed about exactly where you are in the resolution process.
Doing so not only helps customers feel more "in the loop" about when and how their issues are being addressed, but it saves your team time answering follow-up calls inquiring about progress or even sharing frustrations about delays.
And believe it or not, customers are more willing to deal with longer resolution times when companies take time to simply let them know what action is being taken.
Value #4: Accountability
There's no doubt about it: Customers expect better and faster service than ever before. In fact, research has found that 90% of consumers expect an immediate response to support inquiries.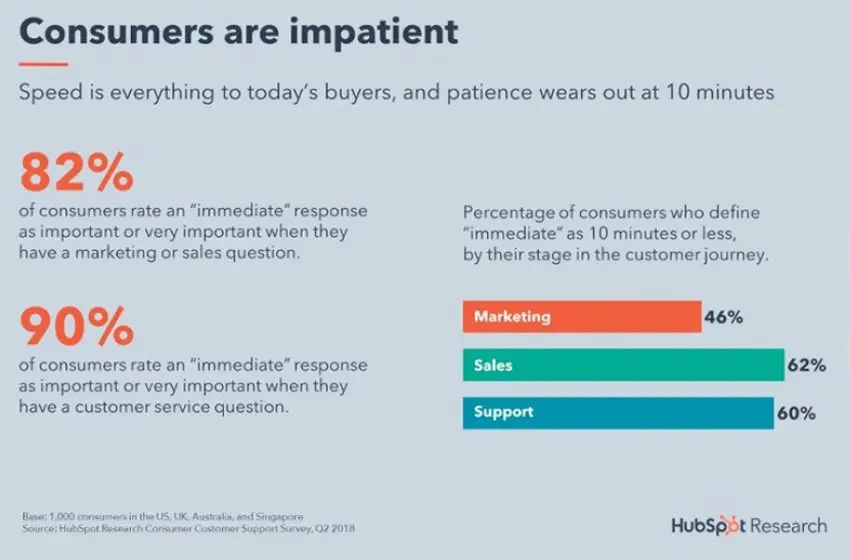 These types of expectations aren't easy to meet, but your customer service team can improve and optimize their performance by knowing these standards exist, setting internal goals to work toward them, and holding themselves accountable for reaching them.
Of course, strong leadership is required to uphold this level of accountability. It means tracking metrics like response times and resolution times, and reporting on performance KPIs frequently to understand where improvements need to be made.
Adopting a customer service platform with data-driven capabilities can go a long way in enabling these capabilities.
Value #5: Trust
According to Edelman research, brand trust is at the center of consumer buying decisions across all age ranges, incomes, and markets—81% say it is a deal breaker or deciding factor for them.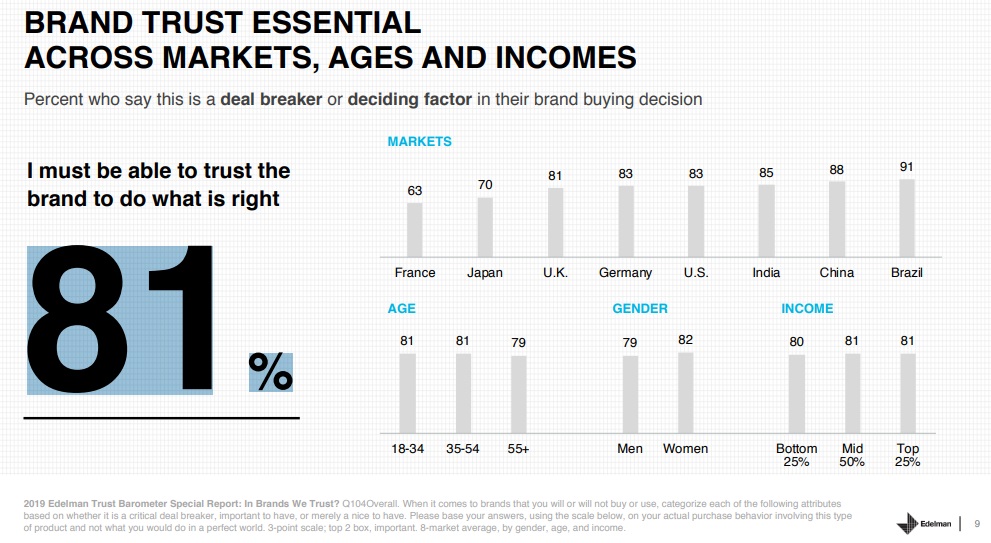 Trust, then, must also be one of your core customer service values.
Building trust through quality customer service is mainly about follow-through. Be transparent about what you can do for customers and how quickly you can do it, and then actually do it. Be proactive in communicating with customers, especially about unexpected delays.
And from an overarching level, be sure your team knows what your brand promises to deliver from a product, service, and support perspective as well as how customer service plays a role in making good on those promises.
Transform Your Customer Service Capabilities
Modern customer service demands require continual, technology- and data-driven approaches that many companies don't have the in-house resources to execute. That's why many choose to outsource customer service processes to a professional service provider.
Televerde offers comprehensive marketing, sales, and customer service solutions built upon industry best practices and customized for every client, ensuring your customers have the best possible experience with your brand at every stage of their journey.

Contact our team to learn more about how our solutions can transform your processes.