How to Drive Growth in Your Existing Accounts
Closing a deal on a new account feels amazing. While you can enjoy that great feeling for a little while, there's still work to do. Knowing how to grow existing accounts is one of the best and most effective ways to improve your account-based selling.
Businesses have long understood that investing in existing customers offers a better ROI than trying to earn new customers – existing customers tend to spend more than new customers. This is why it just makes sense to give your existing accounts the attention they deserve.
We're going to share some actionable steps your sales team can use to improve customer relationships in your existing accounts and grow your sales.
Key Takeaways
When growing your existing accounts, choose the right accounts that have a good potential for growth.
Strengthen the relationships you have with your customers through genuine interactions, offering innovative solutions, and being an active listener.
Personalized marketing and communication can also help drive growth in your accounts.
How to Grow Existing Accounts: 6 Key Strategies
There should be no question about whether you should pursue more sales opportunities with your existing accounts. Use these six strategies to help your sales team grow and reach its goals.
This video also shares some valuable information about growing existing accounts:
1. Choose the Right Accounts
When choosing which accounts to pursue, remember that not all customers are the same. Some customers have more potential for growth than others. One of the easiest ways to determine if a customer wants to do more business with you is to ask them.
Many customers will react positively when offered a strategic partnership. Use your customer relationship management (CRM) tools to help create a customized plan for each account.
2. Understand Your Customers' Needs
Every account has unique needs and goals, even if they're in the same industry. Make sure your sales team gets to know the details of those needs. Have them answer questions like:
What major challenges are they trying to overcome this year?
What corporate priorities do they have?
Who are the key decision-makers?
What are their growth goals?
Can I help them solve any problems or reach their goals?
When you understand the priorities for each account, you'll be much more successful in reaching your account growth goals. Start regularly communicating with your account contacts about these questions, and you'll likely discover places where you can help them.
3. Get to Know Your Full Lineup of Products and Services
Depending on the size and scope of your business, you might have multiple sales departments that focus on the various products and services you offer. They're experts in what they sell. While this strategy works well for large businesses, you should encourage all sales associates to at least have a working knowledge of your full product lineup.
There might be an opportunity where an account that uses Product A needs Product B. If your sales team A recognizes that opportunity, they can introduce the new product before handing it over to sales team B for the expert touch. Without that knowledge, they would miss this opportunity.
Being able to pique the interest of your customers in new products can help grow your existing accounts.
4. Strengthen Relationships with Customers
Having a strong relationship with your customers is one of the most important factors in earning their loyalty and gaining repeat sales.
There are many ways you can build stronger relationships with your customers:
Be responsive: When a customer contacts you, they expect a quick response, whether they contact you by phone, email, or another method. While 24-hour response times used to be acceptable, studies show customers expect quicker responses than that. One study showed nearly one-third of customers expect an email response within an hour.
Offer innovative solutions: Every contact with your customers should have a purpose. Customers will quickly grow tired of messages that say "just checking in." Instead, come to them with innovative solutions and ideas. Whether that's sharing the benefits of your latest product or offering a new way to use something they already have. Try to find a way to improve their success or relieve some pain with every interaction.
Stay ahead of changes: To build a strong relationship with your customers, try to stay ahead of any industry changes. Pay attention to any relevant news and updates that could affect your accounts. You might alert your customers to important updates before they know about them. When you do, tell them how it might affect their use of your products or if there's a new solution to an upcoming issue you can solve.
Become an information source: Welcome all questions from your accounts, no matter how big or small. When they turn to you for information, you build their trust in you and your brand. You could even send out regular email newsletters with links to the latest blogs and share some innovative tips.
Be an active listener: As you get to know your customers, they may open up to you more and share their concerns or other emotions, whether positive or negative, about your products. When they do, pay attention to what they're saying. Then, respond appropriately.
Using one or more of these relationship-strengthening strategies should lead to sales growth within your accounts.
5. Create a Personalized Experience
Personalization has become ubiquitous in the digital world, even in the B2B industry. One survey from Zippia found that 45% of B2B customers want personalized content.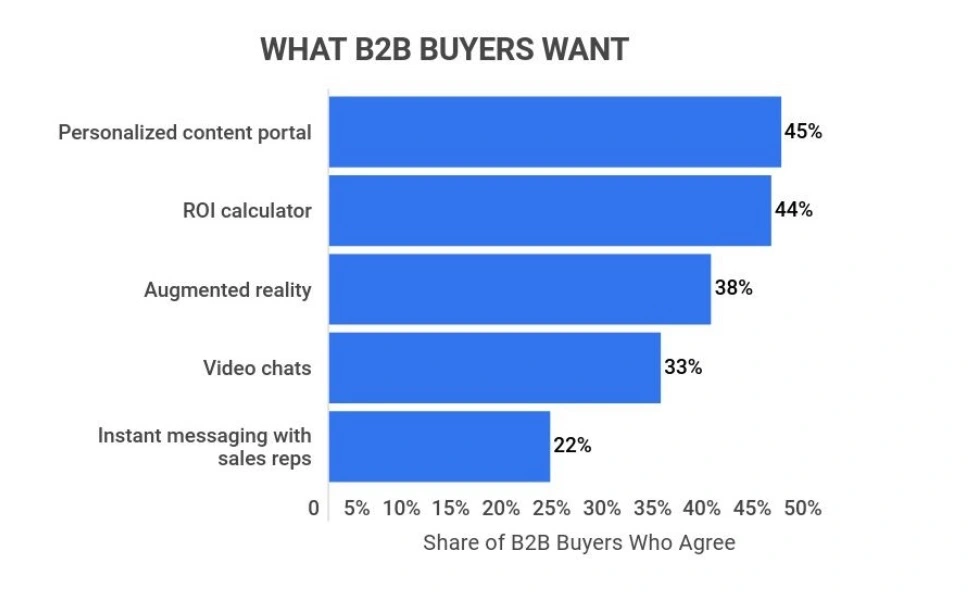 You can add personalized content to:
Email marketing
Your website
Customer surveys
6. Give Your Sales Team Sales Enablement Tools
Sales enablement tools are anything you give your sales team that makes it easier and more rewarding for them to do their job.
These tools may include:
CRM software (customer relationship management)
Sales automation
Marketing automation (lead generation and email marketing)
Content management
Sales forecasting
According to Oracle, companies that use sales enablement processes see better results than those that don't, including having a 60% higher customer retention rate.

Drive Growth in Your Existing Accounts with Televerde
If your sales progress is not where you want it to be, you may need some outside help. At Televerde, we offer expert solutions for every stage of the customer journey, including customer retention, expansion, loyalty, and advocacy.
Want to learn more about our innovative solution? Contact Televerde today.