How to Hire the Perfect Lead Generation Agency
You've realized marketing is too broad and ever-changing to keep up with your in-house team. Now you're ready to hire outside help. Outsourcing through a lead generation agency frees up your team for core business tasks while also allowing you to grow your marketing strategy. However, the choices are overwhelming.
Learn how to find and hire a lead generation agency that will work seamlessly as an extension of your in-house team.
Key Takeaways:
A lead generation agency fills gaps in your in-house talent and allows you to grow your business
Hire an agency that aligns with your goals, budget, and niche
A lead generation agency should focus more on the quality of leads than the number of leads
When to Hire a Lead Generation Agency
Lead generation is the most important goal for 91% of marketers. Yet, many marketers don't know how to go about lead generation. That's why they turn to lead generation agencies.
Lead agencies not only help businesses unsure how to perform successful lead generation but also help successful businesses grow larger than they could use their in-house team alone.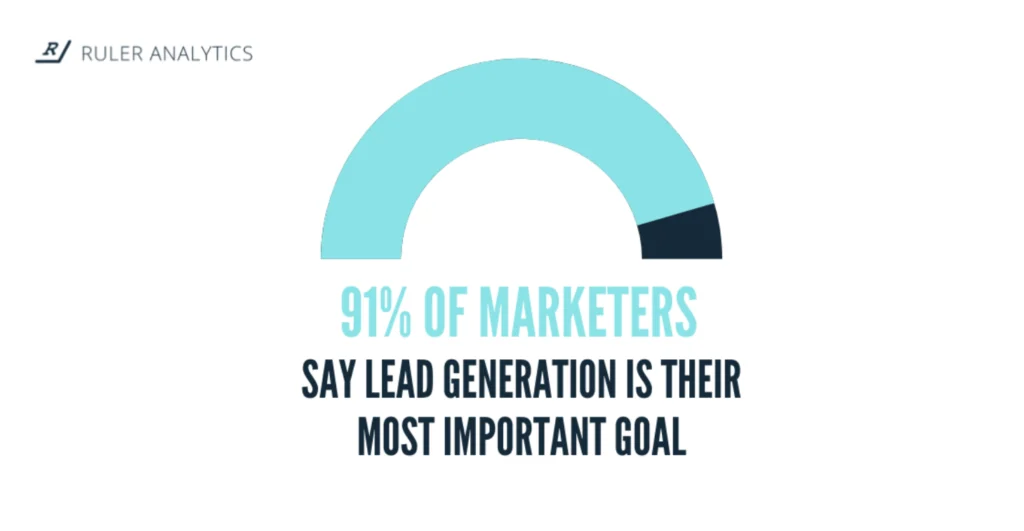 What to Do BEFORE Hiring a Lead Generation Agency
Before you're ready to hire a lead generation agency, first know why you're hiring the agency and how you'll handle the leads you generate.
Evaluate Your Goals
The agency you hire should align with your marketing goals. So, before you know who would be the best fit, you need to know what you want them to accomplish.
Ask yourself these questions:
How many leads do you want to generate?
What is the timeline for generating those leads?
Who do you want to attract (your ideal customer profile)?
How many of those leads do you hope to convert?
What's your target sales growth?
Strengthen Your Marketing Team
Lead generation is just one part of customer lifecycle marketing. To ensure your investment in a lead generation agency has a high return, you need to strengthen all other areas of your marketing team and process.
Some ways to prepare your marketing department for hiring a lead generation agency include:
Updating your website
Evaluating your value proposition, products, and unique selling points
Updating and creating marketing content
Outsourcing customer service and lead nurturing to handle more leads
Choose a Follow-Up Plan
A lead generation agency will bring in leads, but you're the ones who will convert those leads. On average, 80% of leads don't convert into customers. So you need to be ready to nurture and move the leads you receive through the buyer's journey before they become part of that 80%.
If you wait till you receive your first batch of leads to decide what you'll do with them, you won't see as strong results. You're 21X more likely to qualify leads with a fast response time.
Some potential uses for leads include:
Building awareness around your brand
Filling your database with lead information
Converting leads into customers
Once you settle on your end goal, start preparing a follow-up strategy. For example, your strategy might be an email drip campaign, sales call, or targeted ads.
Understand Your Costs
Outsourcing lead generation might be a monthly cost or a cost per lead setup. You'll need to establish what percentage of your budget you'll use for lead generation and which format you prefer.
Over half of marketers spend more than 50% of their budget on lead generation.
Additionally, calculate how much you should generate from the leads. This calculation will help you decide how many leads you'll need to generate to offset the outsourcing costs. A quality lead generation agency will bring in enough quality leads to make more profit than if you generate leads in-house.
Many options are available, so you don't need to settle on the first agency you find. Instead, take time to research your options.
Some places you can find suggestions include:
Research Your Options
Recommendations from your network
Agencies others in your industry use
Top-rated agencies
As you find potential agencies, look at past clients, case studies, and testimonials for a good idea of who they are and whether they are a good fit for your company and culture.
5 Things to Look For When Hiring a Lead Generation Agency
After researching your options, you may have a list of several quality lead generation agencies. Use these five criteria to narrow that list down to the best lead generation agency for your company.
1. Strong Communication and Results Reporting
Communication and reporting keep you connected with your agency so you work as one unit. When companies eliminate data siloes, the lead generation agency becomes an extension of their team.
You freely share data, so you and the agency work with real-time customer data. In addition, you'll receive complete reports on your results. That way, you can use that lead-generation data to boost all your marketing efforts.
Businesses with aligned teams see 38% higher sales win rates.
2. Customized Lead Generation Process
How an agency generates leads is just as crucial as its leads. Customized lead generation processes will treat each customer journey as a unique process. They'll take time to get to know businesses before diving into campaigns.
Poor quality agencies use cookie-cutter strategies. You'll want to be very careful about who you associate with. Poor lead-generation practices will land your domain and business on a spam list, hurting future lead-generation campaigns.
3. Experience in Your Industry
Each lead generation process will be unique depending on your business and industry. For example, a B2B tech business will have vastly different needs than a B2C retail business. The agency you work with should have experience in your industry.
Look at past clients and case studies or ask them for their experience in your industry.
4. Prioritizes Quality Over Quantity
You might generate 1,000 leads but only convert 10, then generate 100 leads and convert 30. That's because quantity does not equal quality.
Quality leads are contacts that match your ideal customer profile. These leads are able, willing, and ready to become customers. However, they need the proper nurturing techniques to convince them to purchase from your brand.
Ask the agency you work with where they get their leads. If they purchase lead lists, you won't see many quality leads. Instead, go with an agency that has a customized process for identifying and qualifying leads to ensure the leads you receive match your customer profile.
5. Doesn't Overpromise
Overpromises and guarantees are red flags for lead generation agencies. Every business is unique, so promising all companies will receive a set number of leads or conversions indicates a poor-quality agency.
Instead, look for agencies with realistic ROIs and promise quality rather than set numbers. For instance, the agency might guarantee qualified leads, extensive lead reporting, customized demand generation, and excellent customer service.
Find an Agency that Exceeds Expectations
Televerde strives to exceed every client's expectations in a lead generation agency. We work side-by-side as your partners and extension of your team. With our help, you'll see sales growth through higher-quality leads, stellar customer support, and consistent reporting.
Contact us to learn more about how we help businesses generate quality leads in every niche.