The 1-2-3 Guide to Scaling Your Business
Scaling your business is an exciting but challenging process. While growth is certainly a positive indicator of success, it can also be fraught with potential obstacles and pitfalls. To overcome these challenges and achieve sustainable growth, it is essential to have a well-thought-out plan that addresses key areas of your business.
In this article, we'll explore five essential steps to successful business scaling and how you can put each into action right away. These include:
Creating a detailed scalability plan
Optimizing product/market fit
Prioritizing marketing and sales
Investing in technology
Outsourcing key business functions
Reporting on KPIs
Whether you are a startup looking to rapidly grow your business or an established enterprise seeking to expand into new markets or sectors, this guide will provide you with valuable insights and strategies to help you achieve your scalability goals.
Quick Takeaways
Scalability requires detailed planning that includes goals, timelines, and roadmap for executing your strategy.
Create a Plan
The best scalability plans are clear on two things: goals and timelines. You want to know what you're aiming to accomplish and the ideal timeline for doing it. Documenting these in a business scalability plan is equivalent to creating a roadmap for growth — one that keeps you and your teams accountable for hitting milestones and reaching your target state.
If you're thinking about scaling, start by creating this plan. Aim to use a true roadmap format to make your plan visible and highly understandable for your stakeholders (i.e. the C-suite, board members, investors, and the like). In addition to goals and timelines, be clear about what needs to be done to reach each milestone and who is responsible for doing it.
Here's one example of what a business plan roadmap looks like: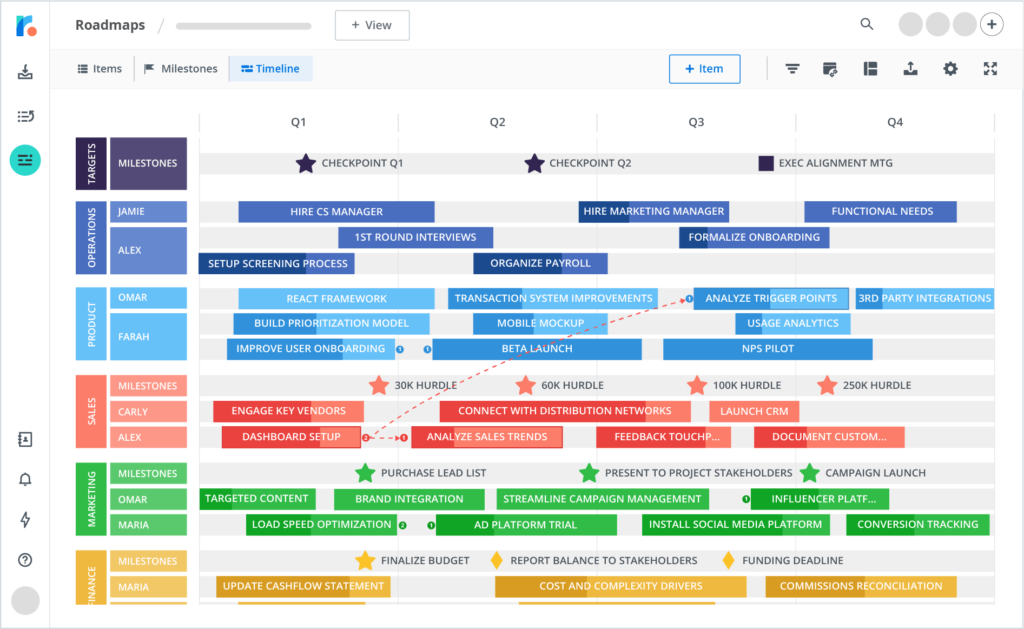 Roadmap plans work for every kind of company — from new startups aiming to scale significantly to businesses entering new markets to global enterprises designing a digital transformation. They can be highly customized to fit the preferences of your stakeholders and reflect the unique goals and priorities of your organization.
Optimize Product/Market Fit
One of the top reasons companies fail to grow (or even fail completely) is because they do not meet a real market need or misjudge the level of demand that exists for their offerings. While this may seem obvious, it happens way more than you might think.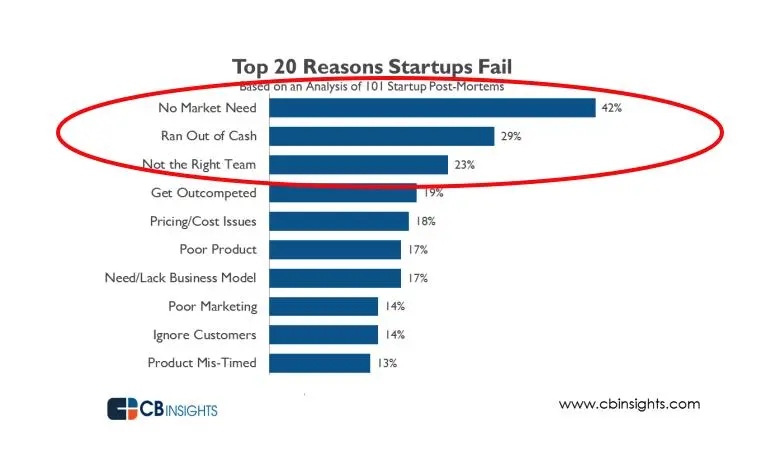 The thing is, founders and business leaders become attached to their products and services. It's understandable — we all think what we offer is valuable. Otherwise, we wouldn't be selling it.
But to scale your business, you need to look objectively at product/market fit and optimize it to the fullest extent. Center your products and services totally around what your customers need and want rather than the features or capabilities you thought would resonate or have your own strong opinion about.
Scaling at its core is really all about the customer, so this step is crucial. Once you've aligned with your target audiences and demand is there, all you need to do is execute marketing and sales effectively and your business will grow.
Prioritize Marketing and Sales
No business can scale without an active, well-developed marketing and sales strategy. If up until now you've been so laser-focused on planning and product development that you know your marketing and sales have taken a backseat, now is the time to shift back to these priorities. Take stock of your current efforts and how they're performing. Take steps like:
Evaluating key metrics to understand current performance
Ensuring your marketing and sales teams have the resources they need
Assessing current strategies and aligning them with your goals
Making marketing and sales a front-and-center part of your scalability plan
In addition to evaluating marketing and sales performance separately, be sure the two are well aligned and deliver a seamless buyer experience as they move down the pipeline. Aligning marketing and sales isn't an easy undertaking in most cases, so it's best to enlist leaders in both departments to collaborate on strategy and responsibilities related to scaling your business.
Invest in Technology
Technology is the X factor when it comes to scaling. More specifically, tech-powered automation now enables businesses to operate business functions at a speed and scale not possible even just a few years ago. If you want to scale for the long-term, start by adopting the key tools every business needs — a CRM system, content management platform, marketing automation tool, bookkeeping system, and an IT infrastructure management platform.
These tools (and others) eliminate cumbersome manual processes, reduce human error, boost your ability to leverage data-driven insights, and of course automate processes so that you and your teams can focus on strategic growth-focused activities.
There's no doubt that technology tools are a significant line item on your budget, but the ROI you earn back in the form of efficiency alone make them well worth the investment.
Outsource
When it comes to scaling, you don't have to go it alone — in fact, most businesses don't. From marketing and sales to IT management to customer support to payroll and accounting (and more), outsourcing is becoming a key solution for businesses who know they need to scale but don't have (or want) the in-house team to do it.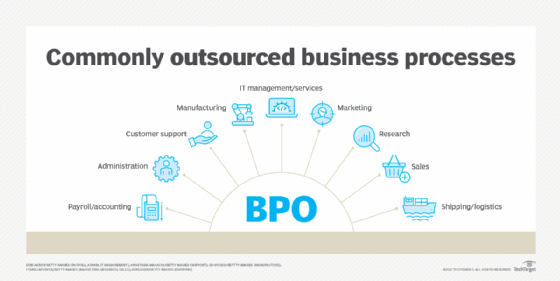 Why? Because full-time staff come with significant overhead costs. Salaries and benefits, office space, equipment, and time spent managing full time staff can all be eliminated by outsourcing key business processes to third-party providers. In fact, outsourcing can save companies up to 30% on these and other operating costs.
Further, agencies have the teams, tools, and bandwidth to scale quickly as your company grows so you're never slowed down by functional capability barriers.
And finally, outsourcing partners have experience and expertise in each specialty area that can deliver serious value to your business as you work to scale intelligently.
Identify and Report on KPIs
Scaling your business requires monitoring growth progress on a continual basis. Identifying the key performance indicators (KPIs) most important to your business and regularly tracking your progress against them is the surest way to keep your scalability plans on track.
KPI reporting powers transparency across teams and stakeholders involved in your efforts and enables you to more proactively address and eliminate issues that arise and could hinder growth. It also allows you to implement a more agile scaling strategy that's responsive to actual results and changes course when needed.
As you build your business scalability plan (as we outlined earlier in this article), partner with your team to identify your company's KPIs and design a reporting structure and frequency that you can carry out consistently.
Ideally, implement an analytics platform that automatically tracks KPIs for you and provides a 24/7, real-time view into progress that key stakeholders can share.
Over to You
Are you looking to scale your business? Televerde can help! We offer end-to-end customer journey solutions for B2B businesses that help you scale, move you toward your goals, and build a stronger connection between your business and the audiences you serve.
Contact our team to learn more about our customizable solutions.