5 Demand Gen Solutions to Grow Your Biz in 2023
Demand generation is the foundation of every modern marketing and sales strategy — it's what establishes the brand awareness and visibility that allows for successful and reliable lead generation. Unfortunately, it also often gets overlooked in favor of lead gen. This misguided view is what often leaves companies fighting an uphill battle to keep their pipelines healthy.
In this guide, we'll discuss the general importance of demand generation, plus demand gen solutions you can use to reliably support pipeline growth. The good news is that you're probably already using most of them to some extent, so all you need to do is harness them in specific ways that boost demand generation effectiveness.
Let's dive in.
Quick Takeaways
Demand generation happens at the top of the funnel and supports lead generation efforts in later stages.
Demand gen solutions like social media and webinars facilitate connections and relationships rather than a hard sell.
Social media platforms and search engines have built-in features that drive better demand gen, such as analytics reporting and PPC ad programs.
Demand gen software solutions are effective for streamlining and centralizing your efforts.
What is demand generation and why is it important?
Demand generation is the process of generating awareness and interest in your products or services, with the goal of driving customer acquisition and revenue growth. It includes activities like SEO, content marketing, active social media, events, advertising, and more.
The goal of demand gen is to target potential customers that fit your ideal audience and build a foundation for lead generation, which is the process of driving users to take action that converts them to leads in your pipeline.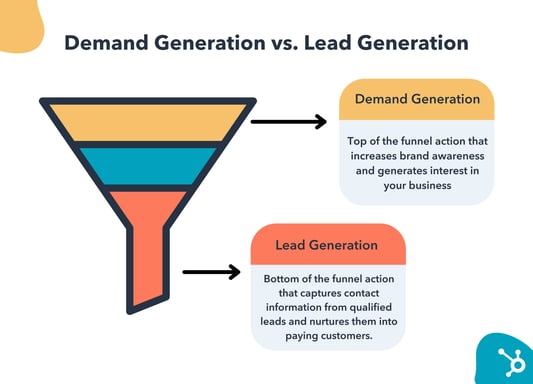 Demand generation is more important than ever as online marketplaces and business landscapes in general become more crowded. Buyers have more options at their fingertips than ever, increasing the likelihood that they'll choose brands they recognize and thus feel that they can trust.
For this reason, it's absolutely critical to build brand awareness with your target audiences even before they're in need of your solutions or ready to make a purchase.
Despite the ample platforms companies now have to reach audiences — websites, social media, search engines, online events, and more — generating traffic and leads continues to be the top challenge identified by marketing teams. It's clear that organizations need ways to increase their demand gen effectiveness to make actual lead generation and conversion easier later on.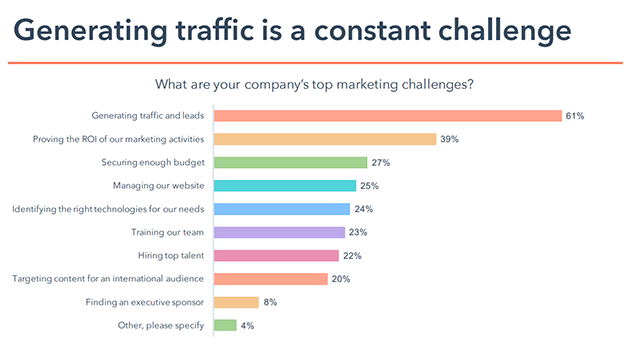 You can significantly boost your brand reach and awareness by leveraging demand gen tools that can automate processes, execute repeatable tasks at scale, and use AI technology to deliver data-driven insights. Some of these solutions may even be in place already at your organization and just need to be harnessed specifically for demand gen.
In the next section, we'll walk through 5 demand gen solutions every company should consider and how to use them to drive growth.
5 Demand Gen Solutions to Try in 2023
Social Media Platforms
Buyers use social media to find and follow brands. Even if a user doesn't plan to buy from a brand right away, they'll follow them if they post interesting content and engage effectively with their audiences.
Research shows that while learning about products and services is still the top reason consumers follow brands on social platforms, they also do it to be educated, entertained, inspired, and to content with people that are similar to them.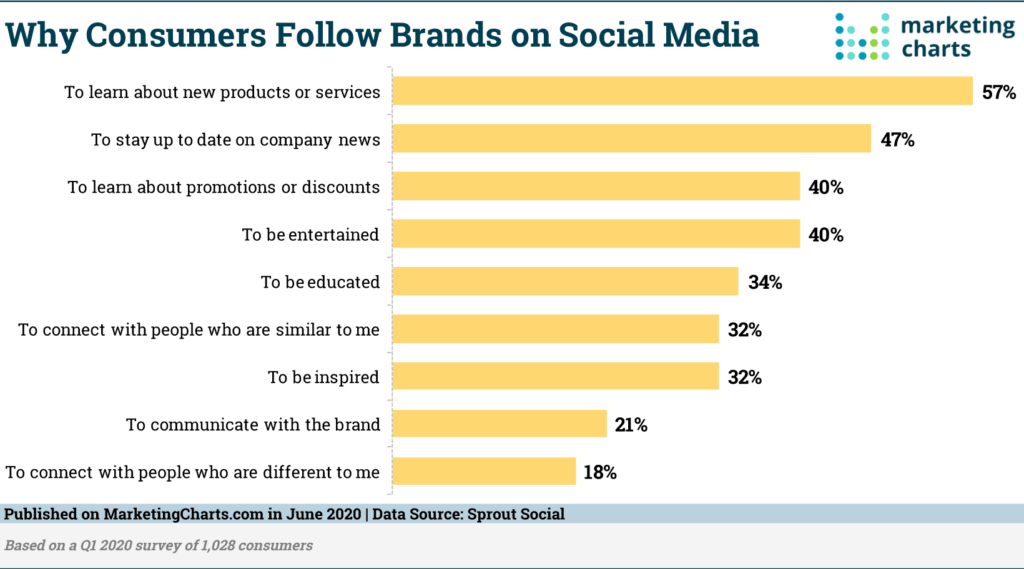 To leverage your social media platforms as demand gen solutions, think beyond promoting your brand and offerings and think about building connections. Pay attention to the valuable insights your platforms deliver through analytics reporting, and use it to refine your approaches and better engage your followers.
Online Events
The pandemic in 2020 and subsequent absence of in-person interaction led to a massive rise of online events like webinars and conferences, and today they show no sign of fading. As with social media, buyers attend webinars for reasons beyond researching a potential purchase. They also want to build their networks, learn about topics that interest them, be entertained, and work on their own professional development.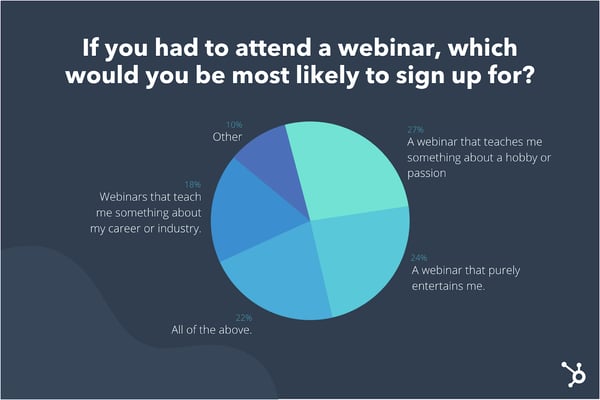 By hosting and participating in webinars and other online events, you can position yourself as an industry leader, engage directly with your audiences, and create reusable assets to be leveraged long-term (ex: sharing on on-demand versions of your webinars via SEO landing pages).
Even better, webinars are cost-effective and can be executed using tools most organizations are already using, like Zoom or social media live streams.
Content Syndication
Content syndication is a formal process for amplifying your best-performing content on external websites where your audiences are browsing. Using targeted segmenting filters such as industry, job title, company size, or location, you can build awareness with audiences most likely to need your solutions.
This is typically executed using content syndication software tools or by working with service providers who have access to established content syndication networks.
Types of content you can syndicate include blog articles, webinars, whitepapers, infographics, ebooks, and videos. Doing so presents a significant opportunity to expand your brand reach and uncover new audiences you may not have found otherwise.
Pay-Per-Click Ads
Similar to content syndication, pay-per-click (PPC) ads use online user behavior data to target the right prospects and build your awareness with ideal buyer audiences. Search engines and social media platforms now have formalized ad programs that make this process easy.
All you need to do is enroll in the formal ad program (like Google Ads, LinkedIn Ads, or Facebook Ads) and use their built-in features to select features, design ad content, and launch campaigns.
PPC ads build brand visibility and awareness and, ultimately, have shown to yield 200% ROI — a $2 return for every $1 spent.
Demand-Gen Platforms
There are software tools like HubSpot and Leadfeeder that help to streamline, centralize, and track the results of your demand generation efforts. If you're looking for a single tool to support your efforts and help you refine it continuously, adopting this type of tool could be the best option for you.
How Televerde Can Help
For most organizations, implementing new and better demand gen solutions means expanding the time and resources you allocate to it. And if, like most organizations, you don't have everything you need in-house, Televerde can help. We offer customized solutions for every stage of the marketing and sales funnel to drive growth for your business.
Contact us today to learn more and get started.