Why Should You Outsource Sales Development?
Engaging top-of-the-funnel prospects and moving them efficiently to the next stage of the sales process is essential to a company's ability to grow their revenue. But it's also consistently rated a top challenge by B2B organizations. That's why nearly 80% of companies choose to outsource sales development to an agency.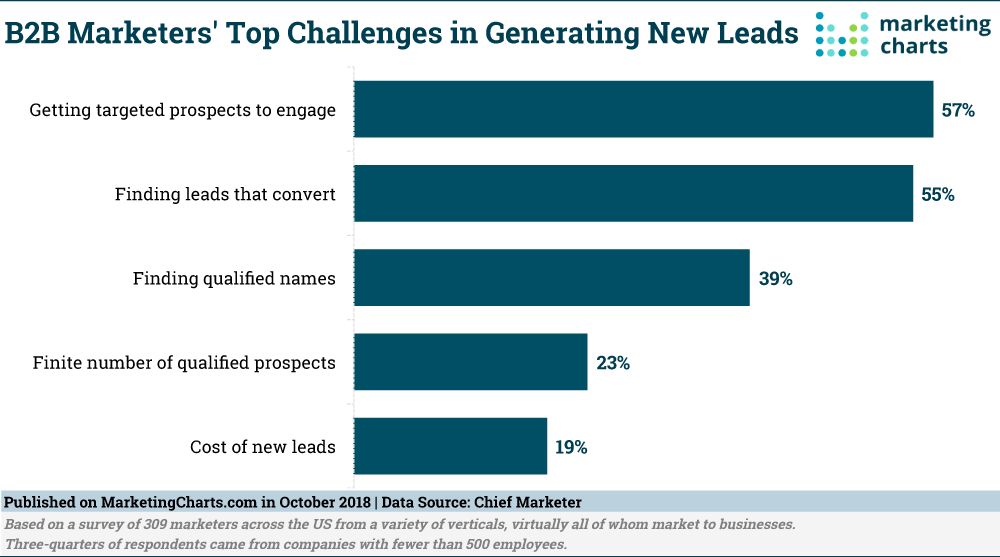 Sales development agencies provide key benefits associated with any kind of outsourcing (i.e. cost savings, greater efficiency, and high levels of expertise) as well as sales-specific advantages that can help you scale and optimize your strategy without sacrificing in other areas.
If you're considering outsourcing sales development, this guide is for you. In the sections that follow we'll explore what sales development agencies do, specific benefits to working with an agency, and how to find an outsourcing partner you can trust to help you achieve your goals.
Quick Takeaways
Sales development agencies provide key top- and middle-of-the-funnel services such as lead-gen, cold outreach, lead scoring and qualification, and appointment setting.
Cost savings is the top-rated benefit of outsourcing for 70% of organizations.
Other important benefits of working with a sales development agency include access to sales technologies, experienced SDRs, faster entry to new markets, greater scalability, and data-driven performance reporting.
To find a reliable sales development agency, look for proven client track record
What do sales development agencies do?
Sales development is the bridge between marketing and sales. Sales development reps (SDRs) are responsible for qualifying and engaging marketing-generated leads and connecting them to your sales team by setting up meetings.
This job puts SDRs at the front line of your prospect engagement. In many cases, they're the first actual people from your company that a prospect interacts with from your company. They make a first impression on new leads that can determine whether or not they choose to move forward with your solutions.
Services typically offered by sales development agencies include:
Targeted lead-gen — Finding and pursuing high-fit leads that fit with your ideal customer profile and buyer personas.
Prospecting and cold outreach — Performing prospect research and conducting omnichannel outreach through email, phone, social media, and more.
Lead qualification and scoring — Evaluating and prioritizing leads as they enter the pipeline to target those most likely to convert.
Appointment setting — Engaging leads to book appointments with your sales team.
Market research — Evaluating new markets and developing strategies to enter them.
Performance reporting — Measuring sales KPIs and metrics, reporting on strategy effectiveness, and making recommendations to continually improve.
6 Benefits to Outsourcing Sales Development
Cost Savings
Across the board, cost savings is the top reason companies choose to outsource and one of the top benefits of doing so — 70% of companies rate it as their top outsourcing objective.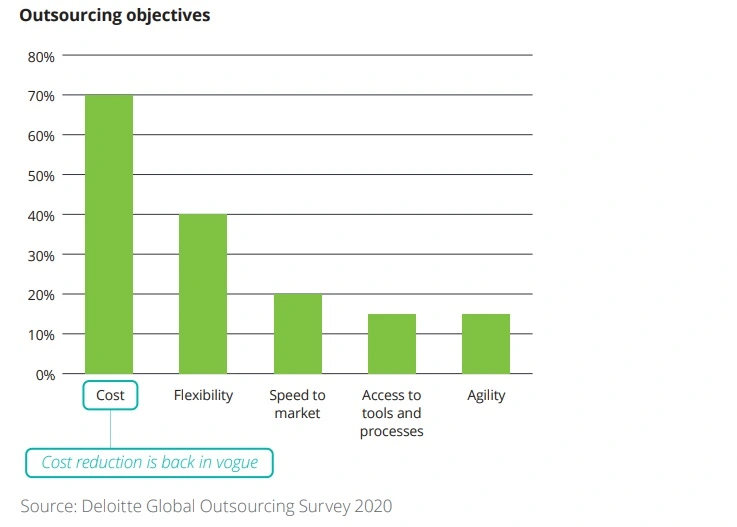 Sales development is no exception. Outsourcing sales development makes for more efficient processes, bundled services, and lower operating costs, which translates to significant savings for your business.
Sales Development Experience + Expertise
Training sales reps can be a lengthy process, and it often takes months before new SDRs start making a real impact on your pipeline. When you outsource sales development, you eliminate this learning curve and get immediate access to experienced teams and industry expertise.
As a result, you'll save time and money you would otherwise spend on sales training and can be confident you're always keeping up with evolving sales best practices.
Access to Top Sales Technologies
Sales software tools are a key part of executing automated, scaled strategies that reduce human error, power targeted and personalized outreach, and ensure that no lead ever falls through the cracks. Sales development agencies have these tools at the ready.
Even better, agencies can typically integrate their tools directly with those you use internally (like your CRM, for example) for seamless execution, greater pipeline visibility, and a more active partnership between your in-house and external teams.
Ability to Prioritize Strategic Initiatives
There's no way around it — sales development is time consuming. It requires ongoing attention, high-volume outreach, and continual follow up to keep prospects moving down the pipeline.
Plus, given current buyer expectations around responsiveness and engagement (most expect to hear from you within hours, if not minutes, of inquiry), executing an in-house sales development strategy can leave you feeling like you don't have time for much else.
When you outsource sales development, you don't have to put other strategic priorities on the back burner in order to keep your pipeline full. You know the top of your funnel is getting 24/7 prioritization while you focus on other mission-critical activities, like serving current customers and developing innovative new products and services.
Faster Entry to New Markets
Entering new markets and capturing new audiences is a key capability to growing your business — and one that requires significantly ramped-up sales development efforts. Even the best companies and offerings can fail on the market without effective marketing and sales outreach to build momentum from the start.
When you outsource sales development, you can easily scale your sales development efforts up or down to align with your current needs and goals (vs. maintaining full-time internal positions that are difficult to add or eliminate).
The larger impact of this capability is significant — you'll be better able to recognize and pursue new opportunities, gain an understanding of new markets and audiences, and operate an overall more flexible and agile sales strategy.
Data-Driven Performance Reporting
Agencies prove their value to clients with frequent data-driven reporting. Not only will you see exactly how your outsourcing partnership is adding value and delivering results, you'll get access to insights that can be used in other important contexts.
For example, data about audience engagement by segment can help you better prioritize your targeting efforts toward segments most likely to convert. You can use inquiry data to understand demand for your products and services and even make better sales forecasts.
In general, your team will be better equipped to make data-informed decisions vs. using outdated "gut-feeling" approaches that sales teams relied on in the past. The resulting benefits can't be understated — data-driven organizations have been found to convert more customers, generate more revenue, and grow faster than counterparts not using data insights.
Closing Thoughts: Finding an Agency You Can Trust
The benefits we covered in this article can give you a good sense of what to look for in an agency when you first decide to outsource sales development. Here's a quick summary:
Sales development experience and expertise — This should be demonstrated with a strong track record of results with current and past clients.
Tools and technologies — A good agency will help you execute a highly automated strategy. Ideally, their tools should be able to integrate with yours for full visibility.
Strategic support and insights — The best sales development agencies deliver value beyond operational support (i.e. booking appointments, etc.).
In the end, remember that no agency is the best fit for every client. Do your research on top vendors, talk to their teams, get to know their processes and culture, and choose the agency that you feel fits best with your teams and organization.
How Televerde Can Help
Televerde's experienced business development team can identify, qualify, and develop leads while supporting your sales team through the early to middle stages of your sales pipeline. Our
SDRs use account-based insights for targeted engagement that helps you build relationships, increase pipeline velocity, and grow your business.
Ready to explore how our solutions can make an impact for your business? Contact our sales team today.