Talent Development Doesn't Always Have to Be In-House
Exceptional talent development drives innovation, adaptability, and customer-centricity—all key competitive differentiators and growth drivers in today's fast-moving B2B landscape. Talented employees are better able to meet changing customer expectations, solve problems, learn new technologies, and think creatively to move a business forward.
Executives are increasingly recognizing the need to prioritize talent in their larger business strategies. A recent Accenture survey found that 89% of CEOs say their Chief Human Resources Officer (CHRO) should have a central role in ensuring long-term profitability.
Still, there is a big disparity between this awareness and true action—only half of those 89% say they have actually made room for their CHRO to lead business growth.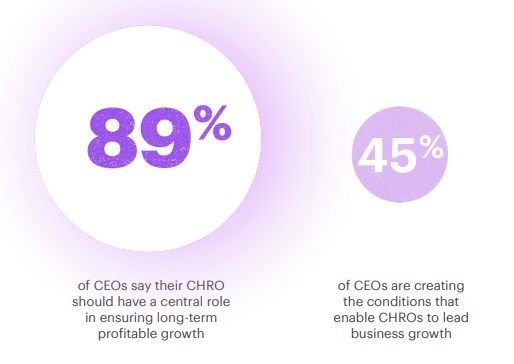 In other words: Talent is a fairly unanimous business priority, but strong talent development is much less prevalent.
Part of the problem is undoubtedly a lack of knowledge and internal resources to implement a real talent development strategy and manage it over time. If this sounds like a familiar challenge to you, the best approach for your business could be to hire a third-party service provider.
Talent development doesn't have to be handled in-house, and outsourcing it can be a smart way to manage talent more cost effectively, access the expertise and experience you need, and retain more sustainable talent across your organization.
Quick Takeaways
Talent development is an end-to-end process that includes recruiting, training, and cultivating talented employees in a continuous way.
DEI has become an important part of effective talent development. Young prospective employees care about diversity and inclusion, and they want to work for companies that prioritize it.
Key benefits of outsourcing talent development include access to expertise, a larger talent network, and cutting-edge technology tools.
Outsourcing doesn't have to be an all-or-nothing strategy. You can start by outsourcing specific projects or initiatives.
What Goes Into Effective Talent Development?
Talent development is the process of identifying, nurturing, and enhancing employee talent at your organization to help individuals grow personally and professionally. When done effectively, talent development creates more productive, proactive, satisfied employees who contribute to business success at a higher level.
Key aspects of talent development include:
Identifying and Recruiting Talent — Recognizing individuals with exceptional skills and potential who fit the roles you need to fill at your organization
Training and Skill Development — Providing training and learning opportunities to help individuals improve their existing skills and develop new ones
Career Development — Creating pathways and opportunities at your organization for employees to advance in their careers
Performance Management — Regularly evaluating performance and providing feedback to identify areas of improvement and ensure alignment with organizational goals
Succession Planning — Identifying potential future leaders and ensuring a pipeline of talent for critical roles within the organization
Employee Engagement and Retention — Fostering an environment that encourages employee engagement and job satisfaction, which, in turn, helps retain top talent
Diversity and Inclusion— Ensuring that talent development practices are inclusive and provide equal opportunities for individuals from diverse backgrounds
Continuous Learning and Adaptation — Encouraging a culture of continuous learning, where individuals are open to acquiring new skills and adapting to changes in their roles
Strong talent development practices help companies succeed by finding top talent and retaining them long-term. They create a mutually beneficial environment where employees add value to their organizations, and in return, employers actively help them reach their full potential.
What Do Talent Development Agencies Do?
Talent development agencies help businesses build diverse, high-performing teams by tapping into their extensive networks and industry expertise. They save time and resources by providing bundled services and applying talent management best practices to optimize results.
Some of the specific services talent development agencies offer are:
Talent scouting and identification
Extensive industry networks
Evaluation of potential candidates
Contract negotiation
Hiring and onboarding new employees
Meeting DEI standards
Professional development programs
Self-studies to determine HR needs
Upskilling/reskilling current employees
Optimizing the employee experience
More recently, talent development service providers have also been helping businesses navigate the proverbial buyers' market that exists for top candidates in today's hiring landscape. Rather than prioritizing traditional factors like location or salary, the best candidates now look for more from their potential employers.
A recent study by executive search firm Adam found that the intangible "bad interview vibes" far surpassed pay and benefits as the top reason why candidates turned down a job offer.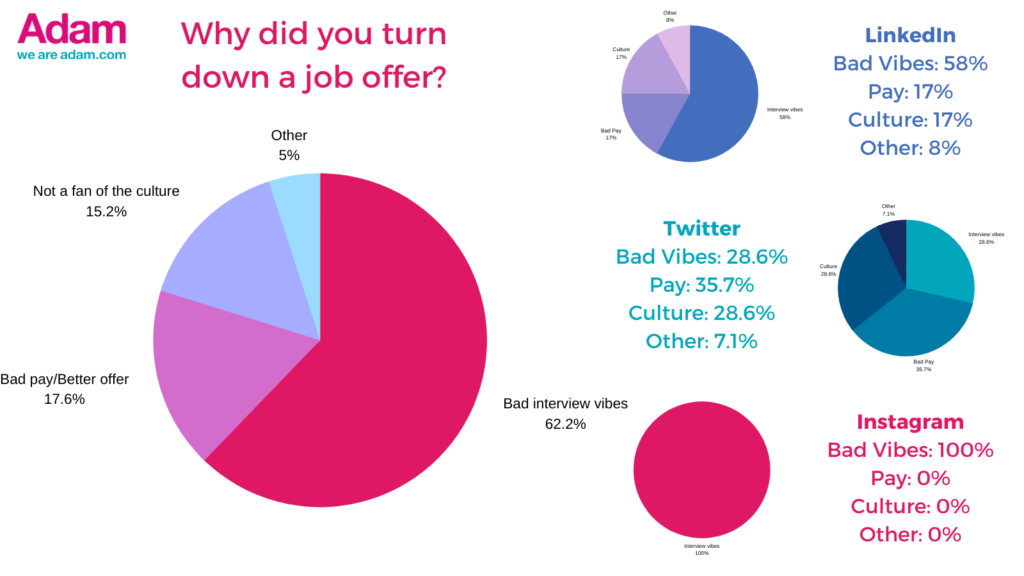 All of a sudden, organizations have been tasked with impressing their candidates just as much as they want their candidates to impress them.
Attracting top talent now requires a defined, proactive strategy to target the best candidates for an organization and meet their needs in a similar way companies do with their customers. Hiring outside experts to guide you through this process can significantly increase your ability to recruit top prospects and thus maintain a more productive and talented workforce.
Further, once you hire good employees, a talent development agency can help you deliver the type of experience that will keep them around.
What's the Right Strategy For Your Business?
Deciding whether to outsource talent development is a big decision. Many factors go into it, including budget, business needs, and the makeup of your internal resources.
The benefits of outsourcing are clear: Services and costs are bundled, you'll gain expertise and top technologies, and you'll have access to a more expansive talent network. But it also has to make sense financially and strategically.
Fortunately, you don't have to take an all-or-nothing approach. If you're considering working with a talent agency but aren't sure about outsourcing the entire function, you can start with a specific initiative or area of your talent management strategy to explore what works.
For example: You might hire an agency to conduct a search to fill a high-level position, or help you carry out a particular training program, or execute a project to optimize certain processes.
How Televerde Can Help
If you're seeking talent support, Televerde can help. We offer marketing, sales, and customer service solutions that include access to top talent in each of these areas—talent that Televerde recruits, trains, and develops for you.
Contact us today to learn more.