How to Build the Ideal Customer Success Team
In today's relationship-focused B2B business environment, your customer success team can make or break your ability to convert and retain customers. They're your in-house experts on your customers, and the ones tasked with driving value for them long after initial purchase.
With an exceptional customer success team in place, you'll have satisfied customers who leave positive reviews and drive referrals your way. Without one—or worse, with a poor customer success team—you'll lose out on new opportunities and send current customers packing to try out competitors.
So how do you build a customer success team that delivers? In this article, we'll tell you how.
Quick Takeaways
Customer success is a comprehensive function that helps customers maximize value from their product/service investments and experience with your company.
Customer service is a component of customer success, but not the same thing.
Key areas of responsibility customer success teams handle include: onboarding, service and support, adoption/implementation success, and upsells/renewals (among others).
Building your ideal customer success team requires evaluating your current team and resources, defining goals, recruiting top talent, and adopting the right customer success software tools.
An exceptional employee onboarding program sets the foundation for your customer success team to succeed.
Customer Success: What It Is and Why It Matters
Customer success is a comprehensive engagement strategy aimed at optimizing the customer experience in every way possible. It guides new customers through the onboarding and implementation processes, and proactively identifies and addresses their challenges and needs throughout their entire lifecycle with your company.
Customer success is different from the more commonly-mentioned customer service function, which is a component of customer success but not as complete.
While customer service is primarily focused on addressing issues and responding to inquiries, customer success maximizes value for customers in an ongoing way. Below, you can see an overview of other key differences between customer success and service, including separate strategic goals, perspectives, and functional execution.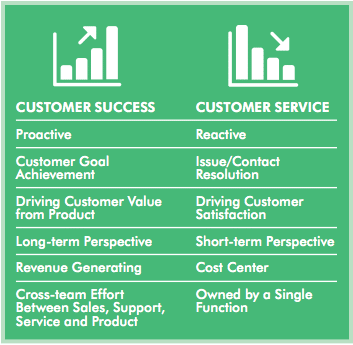 Today, with customer experience expectations at a sky-high level (and still getting higher), every business needs a customer success team in place to ensure their customers are happy.
The benefits are well worth the effort. Satisfied customers stick around longer, make additional purchases, and spread the word about your brand—all of which will help your business grow.
What Do Customer Success Teams Do?
Customer success teams have a wide range of responsibilities essential for keeping customers engaged, ensuring they're satisfied, maximizing customer retention, and preventing churn.
Specific initiatives customer success teams typically handle include:
Onboarding and Relationship Building —Facilitating the smooth, successful onboarding of new customers and nurturing strong relationships with them as active advisors
Customer Engagement — Proactively engaging with customers regularly to understand their needs, challenges, and objectives
Customer Service/Support — Providing timely and effective support to address customer queries, troubleshoot issues, and ensure a positive customer experience
Goal Alignment — Understanding customer goals and aligning them with product and service capabilities to drive value
Adoption, Upselling, and Renewals — Encouraging customers to fully utilize product and service features, ensuring renewals, and identifying opportunities for upselling or cross-selling
Customer Health Monitoring — Tracking the health of customer accounts, identifying potential risks, and implementing strategies to mitigate churn
Customer Success Planning — Developing and executing customized success plans for key accounts to achieve their goals
With such a comprehensive and mission-critical responsibility list at stake, it's essential to build a customer success team that is knowledgeable, capable, and committed to their work. In the next section, we'll walk through 6 steps you can take to ensure your team is ready to take it on.
6 Steps to Build Your Ideal Customer Success Team
Define Your Customer Success Goals
The first step in building an effective customer success team is to define clear and measurable goals. Consider what success means to your customers and align your team's objectives with these expectations. Your goals might include: improving customer satisfaction, reducing churn, increasing upsell opportunities, or enhancing customer engagement.
To develop your goals, analyze customer feedback, conduct surveys, and gather insights from your sales and support teams. Once you have a clear understanding of your objectives, you can proceed to the next step.
Evaluate Your Current State of Customer Success
Next, evaluate your current team. Do they successfully handle the responsibilities we outlined in the previous section? Do you recognize any skills gaps that need addressing? Is your customer success leadership up to par?
If the answer is no to any of these questions, it's time to build a stronger team. Even if your customer success team is performing well, use this process to find opportunities to improve and optimize. Build a checklist to make certain that your customer success team:
Is positioned on your org chart for cross-department collaboration with marketing, sales, customer service/support, and all other customer-facing teams
Has a strong leader and the knowledge and resources needed to execute at a high level
Understands the purpose of their function and specific roles and responsibilities
Has metrics in place to measure and report on performance
Is receiving positive feedback from customers and driving equal customer satisfaction in all aspects of the customer experience
Recruit and Maintain Top Talent
A customer success team requires sustainable talent and employees who are not only skilled, but also deeply customer-focused. Look for candidates who possess strong communication skills, empathy, problem-solving abilities, and a true passion for delivering exceptional experiences.
Consider creating a diverse team with a mix of experience levels and backgrounds. This diversity can bring in different perspectives and foster creativity within your team. Invest in continuous training and professional development to keep your team updated on the latest industry trends and customer success practices.
Establish an Exceptional Onboarding Program
A robust employee onboarding program sets the stage for your customer success employees to provide exceptional support and guidance to your customers. From the start, it equips them with the knowledge and tools they need to help customers earn maximum value from your offerings.
Companies that have established strong onboarding programs report significant benefits that include higher revenue, positive KPI results, and gains in employee engagement. When it comes to your customer success team, who interacts directly with customers on a daily basis, these elevated results are even more impactful.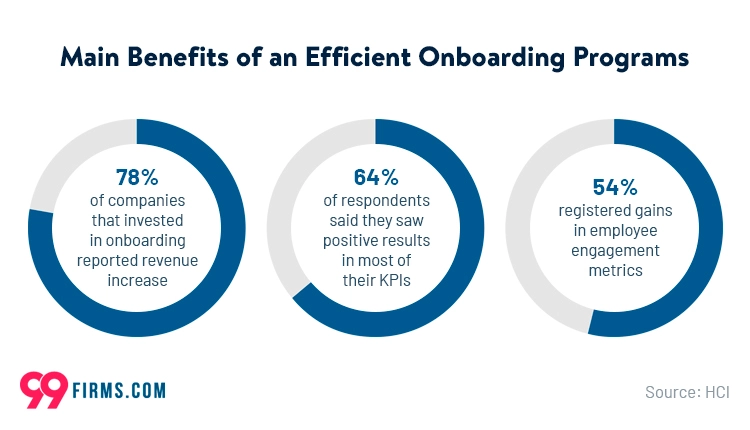 To be most effective, your onboarding program should include:
Company Introduction — Introduce new team members to the company's mission, values, and culture. This helps them align with the organization's goals and feel a sense of belonging.
Product and Service Training — Provide comprehensive training on your products, services, and solutions. This empowers customer success team members to understand the offerings from a customer's perspective and offer valuable insights.
Tools and Systems — Familiarize employees with the software tools and systems they'll use daily. This includes CRM software communication tools, and analytics platforms.
Customer Journey Understanding — Offer insights into the customer journey, including touchpoints, pain points, and opportunities for engagement. This helps employees develop empathy and provide targeted assistance.
Cross-Functional Collaboration — Emphasize the importance of collaboration with sales, marketing, and product teams. Highlight how each department contributes to the overall customer experience and success.
Role-Specific Training — Tailor training to each employee's role within your customer success team.
Shadowing and Mentorship — Pair new employees with experienced team members for shadowing and mentorship to accelerate learning and integration into the team.
Continuous Learning — Highlight the value of continuous learning and professional development. Encourage employees to stay up to date with industry trends, customer success practices, and relevant skills.
Adopt the Right Customer Success Software Tools
In the same way marketing and sales employees track a lead's movement along the pipeline, your customer success employees need to be able to track new customer progress through the processes of onboarding, implementation, and continued success.
This requires the help of software tools to automate the tracking process and make important historical data available to your teams. For example: Tracking and storing historical customer interaction data prevents customers from having to repeat themselves when they get in touch with a customer success representative, and it makes for a more seamless experience.
Further, it allows your teams to leverage features like automated alerts to recognize gaps in engagement or potential issues, and proactively reach out to solve them.
Measure Performance and Iterate to Improve
Finally, stay on top of performance and aim to continually improve your approaches. Establish customer success metrics to measure the success and progress toward goals. Regularly analyze the performance data and iterate your strategies based on the insights gained.
Celebrate successes when it happens and clearly communicate identified opportunities for improvement. Continuous optimization will lead to a more agile, responsive customer success team that delivers exceptional results.
Over to You
If you're looking to optimize, scale, or implement a new customer success team, Televerde has solutions that can help. We offer comprehensive customer success solutions that are rooted in industry best practices and aligned with every client's individual needs.
Plus, we can help you seamlessly integrate enhanced customer success tools and processes with other key customer-facing functions, like marketing, sales, and product development.
Get in touch with us today to learn more about how we can help your customer success team transform.