8 Customer Service Strategies for Exceptional Support in 2023
Improving your customer service strategies can help you offer an exceptional customer experience in 2023. Customer expectations have never been higher, meaning businesses must be smarter when interacting with their customers, especially when there is a problem.
Exceptional support can lead to strong brand advocates, while poor customer support can leave your brand floundering. Even if your customer support strategy works, there is always room for improvement. Without continual progress towards exceeding expectations, your customers will not hesitate to leave you for another brand.
Do you need new customer service strategies? Keep reading to learn how to impress your customers and keep them coming back for more.
Key Takeaways
Improving your customer service strategy can increase customer loyalty and trust in your brand.
While the phone is still the most popular method of contacting customer support, your business needs an omnichannel experience to serve all types of customers.
You should try to work surprises into your customer support strategy to help delight your customers and exceed their expectations.
Benefits of Improving Your Customer Service Strategy
It doesn't take much for customers to leave your business for someone else. According to the 2020 Achieving Customer Amazement survey, 96% of customers will leave a brand after experiencing bad customer service.
Improving customer service typically does not require monumental effort. You can experience the numerous benefits of a good customer service strategy with a little work.
These benefits include:
Increased customer loyalty
Increased customer spending
More word-of-mouth recommendations
Better online reviews
Lower marketing costs
Improved crisis management
More trust in your brand
8 Customer Service Strategies to Surpass Your Customers' Expectations
In today's highly competitive world, you cannot simply meet your customers' expectations. You must exceed them. One of the best ways to do that is with excellent customer support. Use these 8 customer service strategies to improve your inbound customer support.
1. Create an Omnichannel Support Experience
According to the State of the Connected Customer report, 59% of customers still prefer using the phone to reach customer support. However, other online methods like email and chat are growing in popularity. Make sure you offer a cohesive omnichannel experience so your customers can communicate with you through their preferred channel.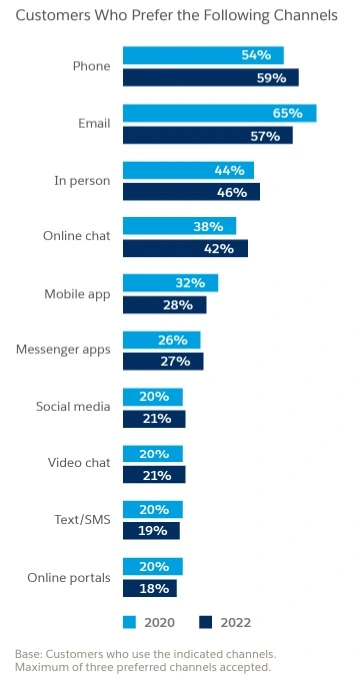 It is also important to remember that a customer will not always contact you the same way each time. This is why creating a cohesive support network where agents can access the necessary customer information regardless of the channel used is crucial.
2. Measure the Right KPIs
It is important to track the performance of your support staff. However, if you are tracking and incentivizing the wrong metrics, this could be driving customer satisfaction in the wrong direction. For example, if the time spent on a phone call is a primary factor in an agent's performance, they will likely be more focused on wrapping up a conversation as quickly as possible instead of doing robust troubleshooting.
3. Speed Is Important
While pushing your service agents to quickly move on to the next customer is counterproductive, promoting speedy service is not. An important speed metric is how quickly your service team responds to a customer request. If a customer sends an email asking for help, how long do they have to wait before they get a response? Are customers stuck waiting in limbo chatting with a bot instead of a live person? You may need a larger service team if your customers wait too long for support.
4. Ask Your Customers Where You Need to Improve
Your customers are the best resource for finding bottlenecks in your inbound customer support. Ask them to respond to surveys, call some customers directly, or post simple polls on social media. You can also use email as a quick way to gather insights. After a support interaction, send your customers an email with a link that takes them to a quick survey to rate the support they received. Include the option to share additional comments if they want.
5. Surprise Your Customers
Meeting your customers' expectations is a bare minimum. To truly keep your customers satisfied and spread the word about your business, you must surprise and delight them. This does not have to be something excessive or expensive. It could be as simple as a phone call after an interaction, sending a follow-up email after they contact customer service, or including a handwritten note in their next shipment.
6. Use Artificial Intelligence
Artificial intelligence can dramatically transform your customer support capabilities. Many customers want instant access to support. You can use chatbots to support your customers when your live staff is unavailable or to help solve simple problems, like unlocking an account or checking the status of an order. You can also use AI to send automated messages after support interactions. However, make sure you do not rely on AI too much as most customers still prefer interacting with live humans.
7. Support Your Employees
Employees who feel supported and trusted in their roles are likelier to be happy and productive. Give your customer service agents adequate power to solve customer issues without needing to escalate every problem. In addition, make sure your employees are supported psychologically and aren't feeling overworked. Conduct routine employee satisfaction surveys or interviews to make sure each employee is in a role that best suits their skills.
8. Grow with Complaints
While no one likes to hear negative things about their business, when you do get complaints, you should welcome them instead of feeling defensive. Change your mindset to see complaints as free market research – your customers are identifying problems for you.
To use complaints to your advantage, try this four-step process:
Make sure you hear all complaints
Find innovative solutions to them
Do not repeat the mistakes
Learn from your mistakes and pass this knowledge on
Consider Outsourcing with Televerde as a Customer Service Strategy
There may be times when your in-house customer service strategy is not working. By outsourcing with Televerde, you will get exceptional customer support from day one. Our expertly trained teams are specialists in solving customer issues quickly and accurately.
We take the time to get to know your business and customer processes to create a seamless experience for every customer. Our team members become part of your team. Ready to hear more about our expert customer support strategies? Contact Televerde today to get started.