The Perfect Customer Retention Program: 6 Must-Haves
Efficient companies attract new leads and convert them to customers at a reliable rate. But the smartest companies? They also know their highest profitability potential lies with their existing customer base—and they focus their efforts on running a strong customer retention program.
Here's why: When you keep your customers happy and build strong connections with them over time, word-of-mouth referrals and social proof content drives new business your way.
Plus, you don't have to forgo new client acquisition efforts (of course), but rather refocus to capitalize on revenue opportunities with your current customers at the same time.
In this article, we'll go over why retention is so critical to B2B business success, plus 6 must-have components of a customer retention program that ensure its success.
Quick Takeaways
Customer retention is significantly more cost-effective than acquiring new customers.
Your customer retention program should include customer segmentation and highly personalized engagement.
Customer service and support quality heavily influence B2B buyer decisions about brands.
Active reward and incentive programs offer perks beyond product/service offerings that add value and grow loyalty.
Smart companies collect customer feedback and use it to continually improve.
Why is Customer Retention So Important?
Customer retention is the process of keeping current customers happy so that they stay with your company (i.e. make repeat purchases, renew subscriptions, expand contracts, etc.) over an extended period of time.
Acquiring new customers is critical, but retaining existing ones is equally (if not more) important for a number of reasons. Retained customers are loyal and can act as brand advocates, cost significantly less to retain than new customers cost to acquire, and increase your profitability by spending more as they build trust with your brand.
The numbers here don't lie—it costs 6-7X more (on average) to acquire a new customer than to retain an existing one, and a mere 5% increase in customer retention can translate to a 25-95% profitability increase!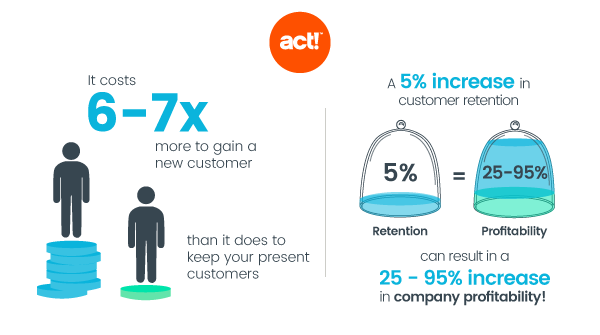 Further, customer retention helps you build stronger relationships with your customers and a better understanding of your audience and their needs, helping you target the right prospects and optimize the customer experience, eventually creating a virtuous cycle of successful lead generation, conversion, and retention.
Not surprisingly, the average customer retention rate of the top five players in most industries is above 90%. It's clear that effective retention is a key differentiator for every kind of business.
Finally, it's important to note that customer retention is even more critical for businesses that depend on recurring revenue, like SaaS companies and others operating on a subscription-based business model. For those organizations, a formalized, intentional customer retention program is essential to ensure that current customers are happy and renew at a high rate.
Let's look at 6 must-have action steps for launching a customer retention program that works.
6 Must-Haves for Your Customer Retention Program
Accurate Customer Segmentation
Not all customers are alike, and to retain your customers you must align your offerings, service, and the overall experience you provide with the needs of unique customer groups. An SaaS company, for example, wouldn't treat enterprise-level and small business customers the same. A marketing agency wouldn't create the same strategy for clients regardless of industry.
To retain customers effectively, then, it is important to have a segmentation strategy that separates them based on their attributes, behaviors, preferences, and needs and align their experience with your brand accordingly.
You can do this using ideal customer profile (ICP) and buyer persona frameworks to understand who your target customers are, and tools like Strategyzer's Value Proposition Canvas to pinpoint why and how exactly they need your solutions.
Exceptional Customer Service and Support
Customer service and support are related but different, and understanding these two clearly is key to a strong customer retention program. Customer service refers to the way you serve customers in any interaction they have with your business, from the sales process to onboarding to ongoing support.
Customer support is part of customer service, but refers specifically to supporting customers in their use of your products and services. It includes troubleshooting customer issues helping them maximize ROI through smart implementation, and explaining technical processes (among other things related to ongoing customer success).
According to Salesforce research, prioritizing this level of service can make or break customer decisions about staying with your company:
59% say that tailored engagement based on past interactions is very important to winning their business
70% say service agents who are aware of sales interactions are very important to keeping their business
80% say the experience a company provides is as important as their product/services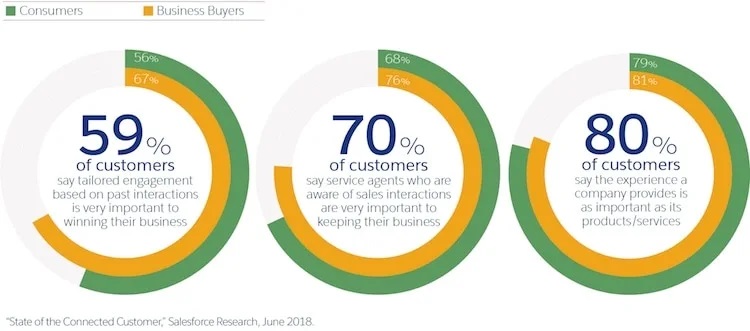 For these reasons, it's best practice to leverage software tools that maintain records of customer interactions and make them visible and accessible to service representatives so they can provide an optimal experience for customers.
High Level of Personalization
A high level of personalization was once a nice-to-have for buyers with a big budget. Today, it's a  must for every customer retention program (and really, every part of your lead-gen, sales, and customer service strategy). Research found that 68% of B2B buyers said they chose their vendor over others because they showed a strong understanding of their unique needs.
Further, McKinsey research reports that three-quarters of consumers expect personalization in their brand interactions and become disappointed when they don't experience it.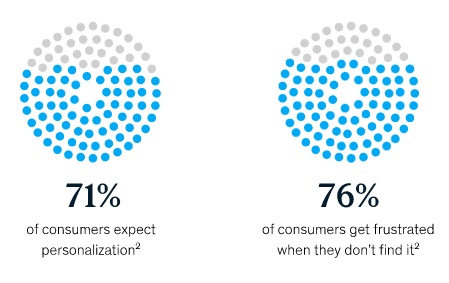 The takeaway: To keep customers happy and retain them at a high rate, their experience must be personalized from the very start of their customer journey, and stay personalized even after they come on board as paying customers.
Marketing automation tools help immensely with this—they can store customer interaction history for service and support teams and enable targeted and dynamic retention campaigns.
Active Reward and Incentive Programs
Adding rewards and incentives to your customer retention program motivates customers to stay with your company for reasons other than your products and services. In short: They offer perks.
They don't have to be complicated, either—rewards and incentives can be as simple as a point system to earn discounts and freebies, referral bonuses (which can be huge drivers of new business), and special discounts for certain milestones (i.e. one, three, five years as a customer).
Offering rewards and/or incentives also adds to the overall experience of being a customer of your brand. It makes it about more than just using a product or service and gives customers an opportunity to obtain value-adds that benefit them.
Proactive Engagement
As part of your customer retention program, it's up to you to maintain regular communication with your customers and stay top-of-mind. This can include things like personalized emails, newsletters, social media engagement, or even targeted direct mail campaigns. Stay connected and provide valuable information, updates, and offers that align with their interests.
This is a big part of the reason content marketing is so important even for current customers. It provides you with assets to share with your customers that educate and entertain them, showcase your thought leadership, and keep your brand (not just your offerings) present to your customers in an ongoing way.
Feedback and Continuous Improvement
The smartest businesses—even those that are continually performing and hitting goals—know they can never stand still. The world changes fast, and so do customer expectations and preferences. Further, they understand that they don't know everything, and the only way to be truly informed about the customer experience is to ask them about it.
To complete your customer retention program, put processes in place to collect customer feedback and analyze it to make improvements.
You can and should do it through surveys sent at certain times throughout the customer journey, but it can also happen in quicker ways by asking customers to give content a thumbs up or thumbs down, for example, or rate the quality of an event on a scale of 1-10.
The goal is to keep your finger on the pulse of how your customers feel about their experience, and never operate based on assumptions about what you think is working.
Final Thoughts on Customer Retention
Your marketing and sales teams work hard to engage the right target prospects and convert them to paying customers—but conversion is only the beginning of your relationship with your new customers.
Implementing a customer retention program is a way to keep your relationships with customers strong and maximize their lifetime value. With simple but consistent efforts like segmentation, quality service, personalization, incentives, proactive engagement, and continuous improvement, you can retain your customers at a high rate and even capitalize on opportunities to increase the size and/or frequency of their purchases.
How Televerde Can Help
Televerde offers comprehensive marketing, sales, and customer service solutions for every stage of the pipeline. Our solutions are rooted in industry best practices and customized for every client's unique needs. To learn more about how Televerde can help you optimize and grow, get in touch with us to schedule a consultation.
Related News & Blog
This Is What Salespeople Say They Need Marketing To Do Better: 14 Ideas from Televerde Survey
Read Post