7 Defining Characteristics of Socially Responsible Companies
Corporate social responsibility (CSR) is becoming increasingly important in the business world. Not only are consumers looking for more socially responsible companies, but businesses are also being more careful about who they form partnerships with.
Being a socially responsible company is not only good for your public image, but it can pay off financially, too. Companies with strong CSR principles see lower turnover rates and more investment. But what exactly makes a company socially responsible?
We will explore seven defining characteristics of some of the best socially responsible B2B companies. This can help you identify characteristics within your own business and your business partnerships.
Key Takeaways
Modern businesses cannot afford to not focus on social responsibility.
Businesses of all sizes can follow the examples of large, global brands like General Electric, General Motors, and SAP when communicating their purpose and forming positive partnerships.
You can tell the difference between companies that talk about social responsibility and those that act responsibly.
Having sustainable practices is a key characteristic of socially responsible companies.
7 Characteristics of Socially Responsible Companies
Whether you are evaluating your own business or looking for new partnerships, these are some of the top defining characteristics of socially responsible companies.
1. Communicates a Clear Purpose
In recent years, more and more businesses have been focusing on their purpose. A purpose is the reason the company exists outside of making a profit. Many companies share their purpose with a purpose or mission statement.
In 2015, global consulting brand Deloitte created its bold purpose statement of "Making an impact that matters." It defines this as serving clients with quality, delivering value for the future, and contributing to society.
2. Creates Positive Partnerships
We all know we are not alone in this world. Many businesses recognize that they can amplify their positive impact by choosing the right partners. This creates an echoing effect where socially responsible businesses support each other to make the world a better place.
A great example of this is the global software company SAP. In 2020, it launched a new initiative called 5 & 5 by '25. This goal is to invest 5% of its procurement spending with social enterprises and another 5% with diverse businesses by 2025. In addition to supporting these businesses, SAP hopes its goal will inspire others to choose more purposeful suppliers to make a bigger positive impact on society.
3. Has Inclusive Policies
We have long known that diversity in the workplace leads to new ideas, better problem-solving, and fresh perspectives. Diversity and inclusion can help employees feel happier and more productive.
In 2017, Accenture started a powerful campaign focused on inclusion and diversity called "Inclusion Starts with I." It used its employees and the experiences they have had struggling with inclusion. One of the main features of the campaign was a YouTube video.
4. Is Authentic
A company can say anything it wants about social responsibility. However, most consumers and other businesses can tell the difference between simply making a statement and taking action in the world. Businesses that live up to their social responsibility statements ensure their actions match their goals.
General Electric (GE) is an example of a company that matches its mission with its action. GE has a mission state of "building a world that works." Not only does it engineer complicated tools and machinery, but it also promotes inclusivity and healthcare worldwide. Its Instagram page highlights many of the accomplishments of its employees and products.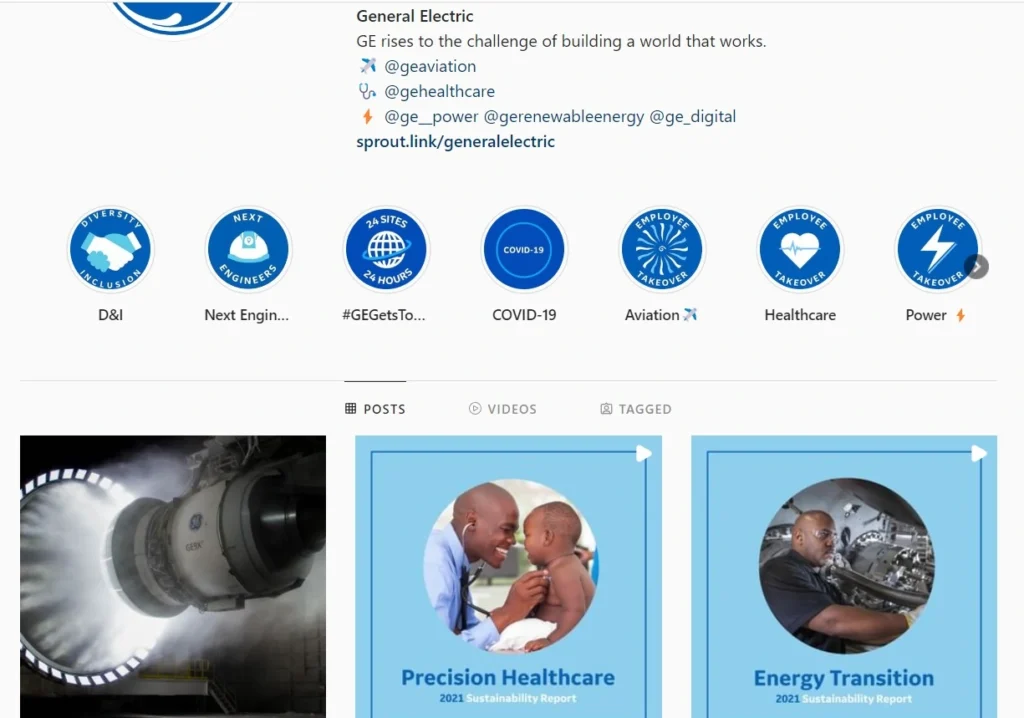 Source: https://www.instagram.com/generalelectric/
5. Exhibits Empathy
As human beings, empathy is being able to understand or share someone else's feelings. In the business world, this is harder to identify. However, businesses that go beyond the dedication to profit and show compassion towards struggling communities or individuals are a good example of organizational empathy.
One notable example of organizational empathy from the past two years is eBay's "Up & Running" campaign. When much of the world shut down in early 2020, eBay launched this program to help small businesses that would otherwise have failed. The program gave businesses a free e-commerce platform to continue selling their products. eBay also offered free advertising and marketing along with shipping discounts
6. Promotes Equity
Equity is the practice of promoting social justice and eliminating disparities and discrimination. As employers are critical parts of many communities, businesses are in an ideal place to make a difference in promoting equity.
General Motors (GM) has long supported a more equitable future. The company has taken public stances against racism, bigotry, police brutality, and others. GM has also pledged to donate $10 million to organizations that promote inclusion and racial justice.
7. Create Sustainable Change
The goal of sustainability is not to deplete our natural resources. This is a critical component of being a socially responsible company. A brand that does not try to reduce its waste and recycle its materials will not last long, especially in the realm of public opinion.
While most large companies today have sustainability goals, it can be hard to know where to start. A relatively new brand, Novi, is trying to eliminate that excuse. Novi has created a marketplace specifically for B2B brands where they can source sustainable packaging, ingredients, and other materials. It has already worked successfully with big brands like Sephora and Gove Collaborative.

Source: https://www.noviconnect.com/
Create a Socially Responsible Partnership with Televerde
With so many examples of corporate social responsibility, it can feel overwhelming if you are just getting started. However, even one step in the right direction puts your company in a better position than before.
One place to start is choosing brand partnerships with the same socially responsible mission as your company. Here at Televerde, we have long been committed to principles of diversity and inclusion, particularly with second-chance hiring.
Our diverse team learns valuable skills to help businesses like yours with customer experience, marketing, and sales.
Ready to see your business succeed with a socially responsible partnership? Contact Televerde today to learn how to get started.