6 Most Socially Conscious Companies in Business Today
The days of social responsibility being the sole purview of nonprofit and volunteer organizations are long gone. Today, socially conscious companies exist in practically every business sector. Paying attention to and responding to social needs is critical if a business wants to succeed.
Many investors and much of the public consider a company's socially conscious activities before investing or spending money there. Years of evidence show that promoting sustainable practices and incorporating social justice principles into a business naturally leads to financial success.
If you are ready to be a socially conscious business, follow the lead of these 6 top performers.
Key Takeaways
Socially conscious companies are businesses that put a priority on improving social issues.
Companies with social and environmental priorities tend to be more successful than those that don't.
Some of the most socially conscious companies include Ben & Jerry's, TOMS, and 3M.
What Are Socially Conscious Companies?
Socially conscious companies are brands that use their resources and influence for something more than increasing the bottom line for their shareholders. Their business model likely includes a focus on promoting social change and positively impacting their communities and customers.
However, socially conscious companies do not disregard profits. Profits are just not the primary focus of every business decision. In 2019, CEOs from some of the top companies in the United States held a roundtable meeting and said corporations should focus more on social responsibility instead of profits. A year later, in August 2020, many of these businesses shared their continued commitment to social improvement.
Socially conscious companies also choose business partners with similar sustainable goals.
This video explores what being a conscious business means.
Having a good example to emulate is sometimes the best way to make progress toward a goal. If your company wants to become more socially conscious, consider the standards set by these six impressive brands.
1. Ben & Jerry's Puts its Social Responsibility First
The gourmet ice cream brand Ben & Jerry's has long been recognized for its social responsibility and is a certified B Corporation, which means it must meet certain social, economic, and environmental standards.
The two founders started their company not just to create mouth-watering ice cream but to focus on social principles such as racial justice, fair trade, climate action, democracy, and LGBTQ equality.
Since 1988, the company releases an annual Mission Statement that includes its Social Mission. This report outlines the company's racial demographics and core values.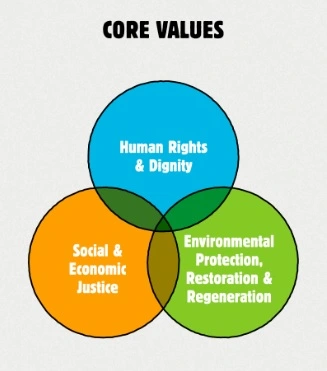 2. Aspiration Makes Banking Fair
Another certified B Corporation is the online bank Aspiration. This financial institution is working hard to redefine how banking can leave its impact on the world. Its home page boasts a tagline of "Leave your bank, save the planet" and promises to never use customers' money to fund the oil or coal industry.
The brand also offers customer-friendly policies, such as letting customers choose the fee amount they think is fair, offsetting carbon emissions from gasoline purchases, and allowing customers to neutralize their carbon footprint through a Plant Your Change program.
Aspiration also offers business banking services and can help them understand their carbon footprint. Businesses can also take advantage of Aspiration's unique sustainability programs that can help a business empower its employees to make a change.
3. TOMS Gives Shoes to Those in Need
If you like comfort combined with sustainability, TOMS is the shoe brand for you. This company was one of the first to promote its one-for-one business model. For every pair of shoes they sell, they donate a pair of shoes to a child in need with a partnership with Save the Children.
TOMS is not afraid to talk about its social impact goals. It is a Certified B Corporation and shares how it improved its first B Corp score of 96.3 in 2018 to an impressive 121.5 in 2021.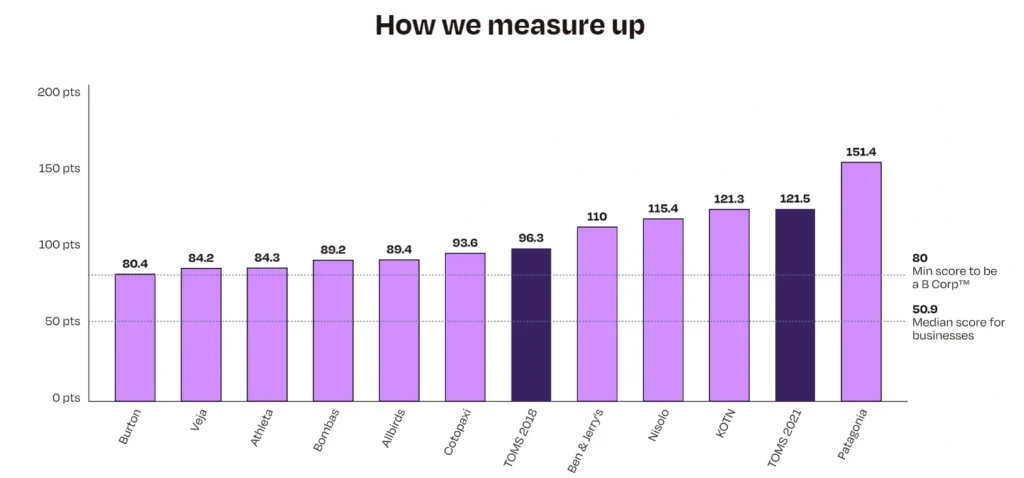 4. Patagonia Sets the Standard for Environmental Responsibility
The outdoor brand Patagonia has long been the leader in the realm of social consciousness. For nearly 40 years, Patagonia has supported grassroots efforts to support environmental issues through its Patagonia Action Works program. This program has donated over $20 million to environmental efforts through customer contributions.
Patagonia gives 1% of all its sales to support environmental programs. It promotes its environmental programs directly on its homepage and has a sustainable option to browse used Patagonia items available for purchase.
To top it all off, Patagonia is one of the founding members of the Fair Labor Association and makes all its products using either recycled or sustainable materials.
5. 3M Is Dedicated to ESG Principles
3M is a global business that produces products like adhesive tape, electronic components, cleaning products, and water filters. It creates products for both consumers and other businesses.
It has long been dedicated to producing a more sustainable future and tries hard to implement ESG principles. Since 2002, 3M has reduced its greenhouse gas emissions by 72% and plans to invest $1 billion to reduce plastic use and improve water stewardship.
Its specific social goals include hiring a more diverse workforce, expanding STEM opportunities for underrepresented communities, and investing in environmental education programs.
6. IBM Offers Advanced Sustainability
Sometimes a business wants to be more sustainable but does have the right tools to achieve those goals. IBM offers business solutions that can help you map, build, and apply your sustainability plan.
IBM has a free Sustainability Accelerator program for smaller nonprofit organizations that may not have the needed resources. This social impact program uses IBM technology to help vulnerable populations find environmental solutions focusing on clean energy and sustainable agriculture.
Be More Socially Conscious with a Televerde Partnership
In addition to promoting your own social and environmental causes, you can become more socially conscious by choosing the right business partners. If you are searching for new solutions for marketing, sales, or customer experience, Televerde is here to help.
Televerde's unique, socially conscious approach focuses on second-chance hiring. It concentrates on empowering women who might get overlooked because of past mistakes.
Want to learn how Televerde can help you reach your goals? Contact us today for a free consultation.