What Can an Inbound Call Center Do for Your Business?
A well-run customer support team can make a huge difference in how satisfied your customers are. If your customer support is lagging, an inbound customer support team or contact center might be what your business needs.
With customer expectations reaching an all-time high for many industries, meeting and exceeding those expectations has never been more important. For many businesses, partnering with an inbound call center can help them achieve their customer support goals.
Here, we will explore what an inbound call center is and look at the distinct benefits they offer.
Key Takeaways
An inbound customer call center answers and responds to customer calls and other types of customer communication.
With a dedicated service team, inbound customer call centers can help improve customer satisfaction and customer loyalty.
Businesses can see increased revenue with the right call center partner, thanks to reduced operating costs and improved customer satisfaction.
What Is an Inbound Call Center?
An inbound call center provides customer service typically through the phone. Many modern call centers are contact centers that use multiple channels to communicate with customers. This might include live chat, email, and even social media interactions.
However, having live agents available to answer phone calls is crucial. Even in 2022, most customers still prefer to speak to someone over the phone.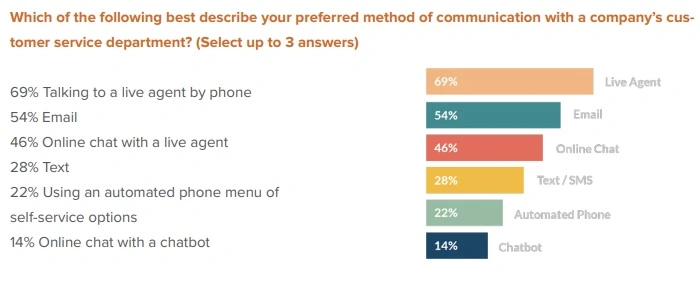 Most customers contact an inbound call center because they have a problem or question. The role of agents in a call center is to resolve the customer's issue as quickly as possible in a way that meets or exceeds the customer's expectations.
Benefits of an Inbound Call Center
A dedicated inbound call center offers numerous benefits to all types of businesses.
1. Improve Customer Service
Your customers are your lifeblood. If they are not happy, you will not succeed. An inbound customer call center can help make improving the customer experience a top priority for your business. While it might initially feel disconnecting to use an outsourced service team, you will quickly see that the service team is completely dedicated to providing the best support they can for your customers.
Inbound call centers also come with built-in expertise. With a small amount of onboarding time getting to know your business, the service team can be up and running and helping your customers quickly and effectively.
2. Shorten the Customer Support Timeline
One of the biggest complaints about customer service is having to wait on hold for an extended period. One RingCentral study found that 57% of customers find long hold times frustrating. If your in-house customer service team cannot keep up with service needs, your customers can be left feeling dissatisfied.

Source: https://netstorage.ringcentral.com/documents/rc_cc_long_hold_times_ebook.pdf
The benefit of using an inbound call center is that it is flexible and can adjust to your call volume needs. If there are certain times of day or even specific times of the year when your customer service needs increase, your partnered call center team can seamlessly mirror your needs. This means shorter hold times and more satisfied customers.
3. Collect More Customer Data
Knowing as much as you can about your customers can help you serve them better. If your customer service team is feeling overwhelmed, they might not be getting the right information they need during customer interactions.
An inbound call center team will most likely use a customer relationship management (CRM) system that keeps track of customer requests, interactions, and data in one place. When a customer calls in for help, the service agent can fill in any gaps, such as a missing email address.
4. Enhance Productivity
Partnering with an inbound call center can help improve productivity in numerous areas. A call center can more efficiently manage incoming customer requests and give your internal associates more time to dedicate themselves to other critical tasks, like sales and marketing, that might be better suited to their skills.
5. Streamline Customer Service Operations
In addition to handling calls quickly, a customer service center will route customers to the appropriate department. In addition, a CRM system will send customer data and call notes with the customer, so he or she does not have to repeat themselves to the next agent.
6. Reduce Turnover Rates
Another significant benefit to using an outsourced call center is reducing your internal turnover rate. Your business is good at what it does, and potential employees will likely seek employment with you to help you fulfill that purpose and not answer calls all day. If someone ends up in that role instead of what they want to do, they could burn out quickly and find something new.
With a dedicated call center, customer service agents know what the job will be when they apply. They likely enjoy helping customers and talking on the phone. More satisfied employees are going to stay longer at their jobs.
7. Increase Revenue
Using an inbound call center to handle your customer service needs may seem like a big commitment. However, it can save you money and increase your revenue in the long term. By reducing your turnover rate, you are saving money on recruitment, hiring, and training.
Dedicated customer support centers also lead to happier customers. This leads to more loyal customers who are more likely to continue buying from you. You can consider the 80/20 Rule, which generally states that 80% of your revenue comes from 20% of your customers. These are your happiest, most loyal customers who keep coming back.
Choose the Right Inbound Customer Support Partner
Now that you understand how beneficial an inbound call center can be, you can start considering your options. Choosing the right customer support partner is crucial to your customer service success.
Here at Televerde, we have dedicated teams of inbound customer specialists ready to help with customer service, customer win-back, order processing, help desk services, appointment requests, and whatever else your business may need. We want to deliver the customer care that your clients deserve.
Want to see how we can help you increase your revenue and customer satisfaction? Request a free consultation with Televerde today.