5 Solutions That Improve Your Customer Service Efficiency
Without the right customer service solutions and strategies in place, your company is at risk of losing business at a rapid rate. Today's customers have more options than ever when it comes to choosing products and providers, and more than half of them say they'd stop using a brand after just one poor experience.
When it comes to maintaining high customer loyalty and satisfaction, the margin for error is small. You need customer service solutions that you can rely on to deliver every time.
In this article, we'll explore 5 of the best solutions to consider — plus why outsourcing customer service could be the alternative approach you really need.
Quick Takeaways
Today's customers expect near-immediate responses from businesses, 24/7 availability, and a seamless experience across channels.
Customer service and call center platforms track and store customer interaction data in a single, centralized interface.
AI-powered chatbot technologies enable the type of 24/7 availability customers want.
Outsourcing customer service is a popular alternative to an in-house team and delivers benefits like time and cost savings, access to customer service solution technologies, and greater scalability.
Why does customer service efficiency matter?
In short, customer service efficiency matters because customers expect it. As the technologies and channels available for communication have evolved, so have customer expectations around what it means for customer service to be acceptably efficient.
In 2023, the bar is set high.
HubSpot research reports that 90% of customers say an immediate response — defined as 10 minutes or less — is "important" or "very important" when they have a customer service question. Waiting on hold or having to repeat their information to different representatives are other top sources of customer frustration. 
Further, many customers expect 24/7 availability. They want to be able to contact a business at any time when an issue arises and get the help they need.
Meeting these expectations is impossible with manual processes, and many companies are realizing their in-house customer service teams aren't equipped to handle the speed and scope of the service today's customers demand.
Fortunately, the right customer service solutions exist for companies to automate, streamline, scale, and execute support strategies with confidence. Let's walk through 6 of the top solutions to consider for your business.
5 Customer Service Solutions for Modern Support Teams
Comprehensive Customer Service Platform
Customer service platforms are like a hub for your strategy. They centralize everything about it — interaction history with customers, performance KPIs, support enablement materials, employee communication tools and more — into a single place that your teams can access from anywhere.
A central place to view and manage your support processes and people is a gamechanger for businesses aiming to better understand and improve customer support performance using data insights. User-friendly reporting interfaces and automated tracking make it easy to obtain the information you need to make decisions and develop improvement plans.
At the same time, your customer service employees benefit from having a platform that provides historical customer data for better context, and your customers have a more seamless experience as a result.
Call Center Software
Call center software automates the flow of incoming and outgoing calls between customers and your business. It shares similarities with a comprehensive customer service platform but has a more singular focus on managing communication. Key capabilities include automated routing of calls to the right service teams/reps and integration with your CRM for faster ticket resolution.
This type of solution is best suited for large organizations with sizable call center staff and a high volume of call interactions with customers.
Ticket Routing Optimizers
At first thought, ticket routing optimizers may sound like an antiquated customer service solution. After all, customers no longer want to submit a ticket and wait for it to flow through your system before they get a response, perhaps days later.
Today's ticket routing tools are powered by AI technology that can analyze incoming tickets in near real time as they come in, analyze the issues they contain, and quickly route them to the best team to get it resolved.
With this type of capability added to the process, using a customer service ticket system can be a convenience for your customers rather than a bottleneck to resolution.
AI-Powered Chat Tools
Another top use for AI in customer service solutions is for chatbots — conversational AI tools that can understand human language and respond accordingly.
Customer support is one of the primary functions companies are using chatbots to implement (second only to sales), which isn't surprising given how closely they align with what customers want from service teams.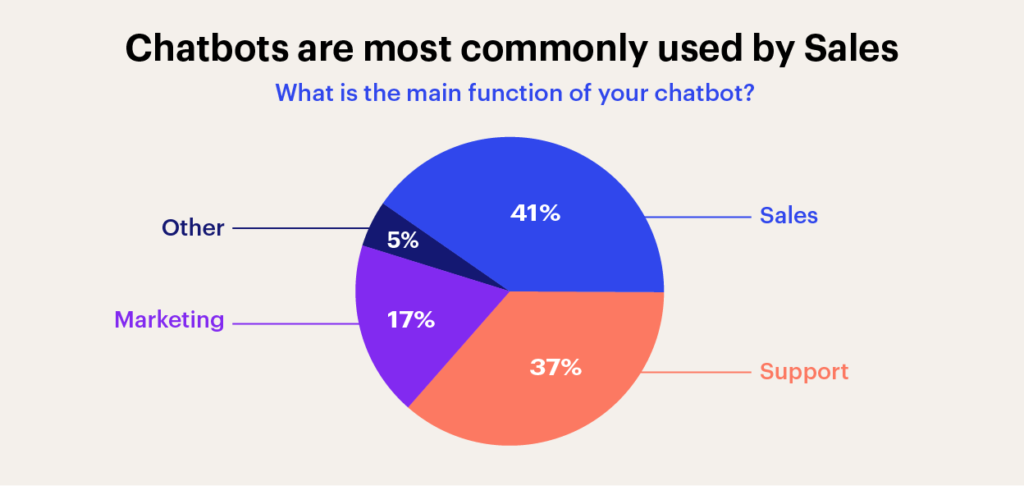 Customers can use chatbots to quickly get FAQs answered or address a common issue without having to contact a real human, something many customers now prefer. Chatbots also enable the 24/7 availability customers want from businesses (but that's nearly impossible to provide with human teams alone).
Appointment Setting Software
Some industries, especially B2B software companies and other technical solution providers, may need to set appointments with customers who need individualized service related to an issue they're experiencing. Appointment setting software automates the process so customers can set appointments with support reps using a self-service system.
This type of customer service solution is especially helpful for companies providing technical support that may require longer chunks of time spent with customers to understand the issues they're experiencing and explore how to resolve them in the customers' systems.
The Outsourcing Alternative
Increasingly, companies are outsourcing customer service as an alternative to hiring a full-time in-house team. By choosing to do so, they get access to the types of customer service solutions outlined in the previous section and an experienced customer service team well-trained and knowledgeable about providing customer support — all without having to invest in and manage them internally.
Outsourcing also delivers overhead cost savings, greater scalability, and the ability to prioritize customer service without sacrificing bandwidth in other areas.
Signs you should consider outsourcing as your main customer service solution include:
Seasonal customer service demand that requires scaling staffing and resources
Lack of in-house bandwidth, resources, or customer service expertise
Low customer service performance despite efforts to optimize and improve it
The cost of your in-house customer service team is too high
When you outsource customer service, you can focus on the mission-critical activities required to grow your business without worrying that the customer experience is suffering as a result.
Explore Outsourced Customer Service Solutions with Televerde
Televerde has decades of experience helping businesses meet their customer care goals. Our teams are expertly trained to adapt to each unique business and can begin working with your customers with little downtime.
Ready to explore an outsourced customer service strategy? Contact Televerde today to learn how to get started.